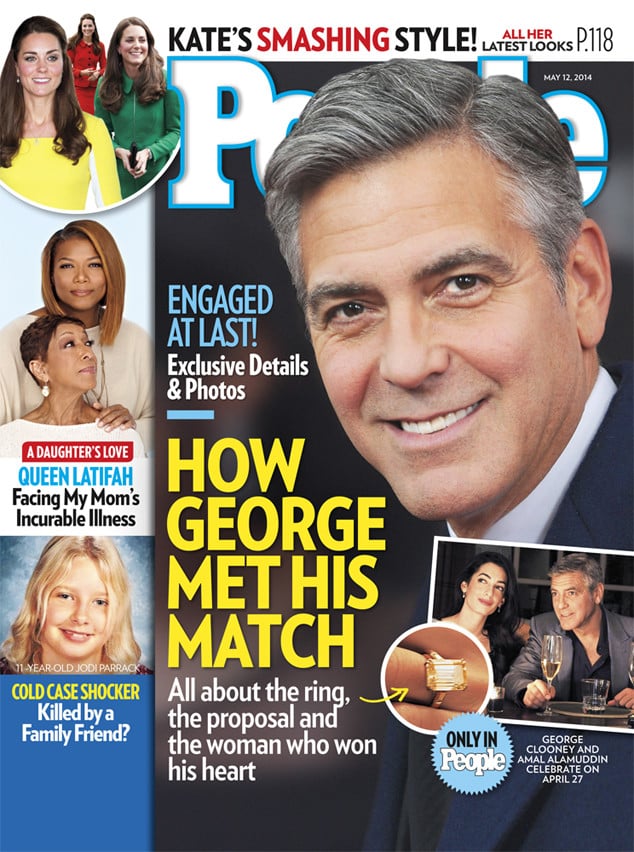 Find out how George Clooney proposed to Amal Alamuddin, and see her stunning engagement ring [1].
In less lavish news, Prince William and Kate Middleton had a "low-key" third wedding anniversary [2] yesterday.
Gwyneth Paltrow is healing postsplit by singing backup for Holly Williams [3]. The actress showed off her pipes at a concert in LA.
It's the 10-year anniversary of Mean Girls! Celebrate by wearing pink and finding out what the cast is up to now [4] and which character you are [5].
Beyoncé sent 90 roses and a handwritten note to young fan Chelsea Lee James's grieving family [6]. Chelsea passed away at the age of 15 on April 21 after a 10-year battle with cancer, and Beyoncé memorably sang "Halo" to her on stage in 2009.
Gwen Stefani confirmed she's joining The Voice [7], and Christina Aguilera gave her a warm welcome on Twitter.
So excited to have you join #TheVoice [8] squad @GwenStefani [9]! Welcome to our crazy fam! Kisses- xoxo #blondesdoitbest [10]

— Christina Aguilera (@xtina) April 29, 2014 [11]
Emma Stone opened up about her private life with boyfriend Andrew Garfield [12] in a rare moment, saying, "I love him very much."
The Newsroom's Olivia Munn and her boyfriend, Joel Kinnaman, split [13] after two years together.
Wondering about that Selena Gomez drama? She reportedly freaked out about Kylie Jenner [14] getting "flirty" with Justin Bieber, but it's "all is good now."
Kaley Cuoco went topless in a surprising way [15]. Yes, that's her husband Ryan Sweeting's arm as her "tattoo bikini."
Rumors swirled that Naya Rivera was fired from Glee [16] and written out of the season five finale, but her reps claim it's not true.
Bob Hoskins died at the age of 71 [17]. He is best known for Who Framed Roger Rabbit and playing Smee in Hook.
A botched lethal injection caused an inmate to have a heart attack and die in Oklahoma [18]. He moved and reportedly tried to talk long after being given the execution drugs, as they never reached his system.
Two former Navy SEALS died from a mix of alcohol and heroin [19] aboard infamous cargo ship Maersk Alabama, which was the inspiration for Captain Phillips.
Your daily dose of cute: here are tiny hamsters eating tiny burritos.