Did You Know Morgan Freeman Produces Teen Mom?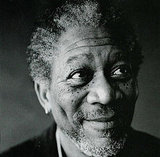 So, the last time I was home my mom was telling me about the MTV series Teen Mom and how she was addicted. She had a justification, too: she figured it was good because Morgan Freeman produced it, and did I know that? I didn't, and I was very impressed.
After watching an entire soul-sucking hour, the credits rolled and I did indeed see Morgan Freeman's name: Morgan J. Freeman. Wah wah.