Do you dare to wear a bodysuit?
Celebrities go Gaga for bodysuits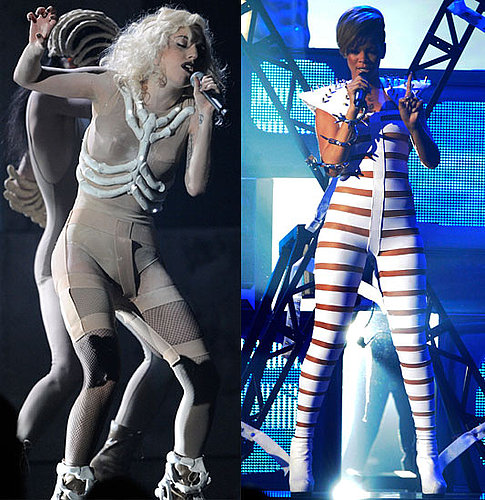 Lady Gaga and Rihanna battle it out in 80s style body suits. Who wore it best?
If there was any two outlandish celebrities that could pull off these quirky bodysuits, then Lady Gaga and Rihanna would certainly do. At the American Music Awards the pair seemed to have derived a fetish for outrageous costumes, in the form of white pvc and eccentric structures. Whilst Lady Gaga stepped out in her usual strangely quirky bodysuit with yet another absence of trousers, Rihanna went for the revealing slashed catsuit with on-trend shoulder pads which somehow, she seemed to pull off.
Gaga's nude body suit was covered in bandages and skeleton bones whilst rihanna's shoulder pads were embellished with what appeared to be spikes. Rihianna also stepped out with a new blonde hairdo and it seems Rihanna's 'Good girl gone bad' image has certainly went to extremes of late. Her new tough image works well for her as she continues to set super-cool trends.