Earlier this year, Drake and Rihanna [1] starred in the supersexy music video for their song "Work [2]," and the rapper popped up onstage with her sexy singer at a handful of her concerts to help perform the hit. It wasn't long before rumors swirled that the former couple could be giving things another try [3]. In case you're not familiar with their back and forth, we've created a complete overview of Drake and Rihanna [4]'s make-up and breakup history over the years. Scroll down for a timeline of their on-and-off romance.
Part 1: The Beginning, Then the End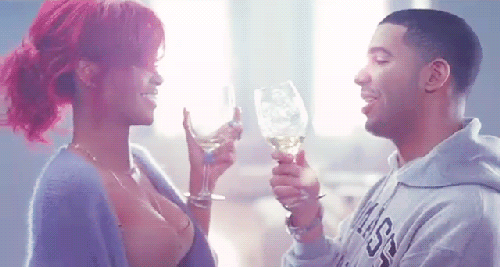 May 2009: After breaking up with Chris Brown [5] earlier in the year, Rihanna [6] is spotted smooching a mystery man at the Lucky Strike bowling alley in LA. He is later identified as an actor-turned-rapper named Aubrey "Drake" Graham.
April 2010: Drake puts his feelings about Rihanna on wax in the song "Fireworks." He alludes to their night at the bowling alley [7], rapping, "Who coulda predicted Lucky Strike would have you stuck with me? What happened between us that night, it always seems to trouble me," and "I'll never forget it baby, what an experience/You coulda been the one, but it wasn't that serious."
June 2010: In an interview with the NY Times [8], Drake vents about his short-lived relationship with the singer, saying, "I was a pawn. You know what she was doing to me? She was doing exactly what I've done to so many women throughout my life, which is show them quality time, then disappear. I was like, wow, this feels terrible."
Source: RihannaVEVO [9]
Part 2: Making Sweet Music Together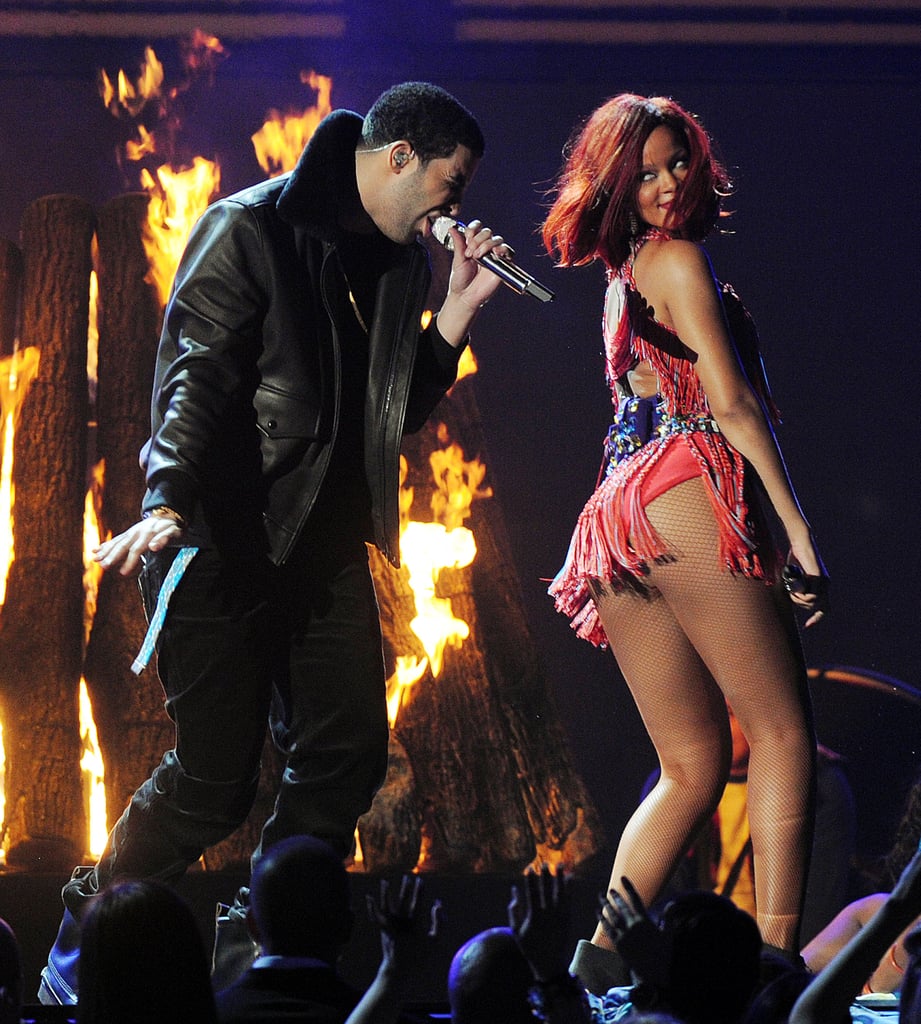 October 2010: The duo's song, "What's My Name?" leaks on the Internet. The lyrics are telling of Drake and Rihanna [10]'s rendezvous: "Good weed, white wine/
I come alive in the night time/OK, away we go
/Only thing we have on is the radio
." At the time, Rihanna is dating LA Dodgers player Matt Kemp.
November 2010: The video for the song [11] is released and proves to be just as steamy as the song itself. Shortly after the clip hits the internet, Rihanna responds to Drake's claims of heartbreak in a radio interview, saying, "That was wrong; he doesn't know what he's talking about." She added, "We just became friends, and we left it at that. We get along really well."
February 2011: Drake and Rihanna hit the stage for a supersexy performance of "What's My Name" at the Grammys. Their onstage chemistry and afterparty antics spark rumors that the two are back together, especially since Rihanna has since split from Matt Kemp.
May 2011: Plot twist — Rihanna begins exchanging suggestive, lovey-dovey text messages with her ex-boyfriend Chris Brown [12], stirring up reports that the two are rekindling their rocky romance.
Part 3: We Cry and Bottles Fly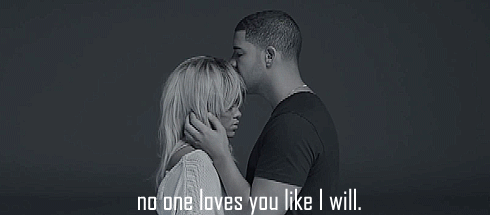 April 2012: The video for Drake and Rihanna [13]'s second duet, "Take Care," is released. The song depicts a couple acknowledging they have been hurt in their pasts but will look after one another, and the accompanying black and white clip shows the former couple looking emotional and embracing each other with Drake kissing Rihanna [14] on her forehead at the end. We shed a tear.
June 2012: Despite their coziness in the "Take Care" video, it looks more and more like Rihanna is ditching Drake for a reconciliation with Chris Brown [15]. The former flames are spotted out at a nightclub together [16] even though Chris is dating Karrueche Tran. Just a week later, Chris and Drake are at the same NYC hotspot when a physical altercation breaks out [17] — reportedly stemming from the fact that both men dated Rihanna — and Chris winds up getting hit in the head with a bottle.
February 2013: Rihanna and Chris Brown publicly confirm their reunion at the Grammy Awards, where they walk the red carpet solo but cuddle up in the front row [18]. Weeks later, the two celebrate Rihanna's 25th birthday together [19] in Hawaii. Sorry, Aubrey.
Source: DrakeVEVO [20]
Part 4: Breakups, Makeups, and Mitzvahs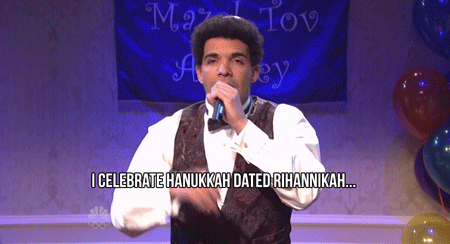 August 2013: Chris and Rihanna [21] part ways, this time for good. Shortly after the split, she and Drake are spotted partying together [22] after the MTV VMAs.
September 2013: During an appearance on The Ellen DeGeneres Show [23], Drake gets grilled about his famous girlfriends and admits to dating Rihanna [24] as well as going on "one date" with Tyra Banks [25].
November 2013: Rihanna and Drake hit up a Houston strip club [26] together. They reportedly arrive separately but requested that their tables be side by side. Between the two of them, they spend $17,000 on lap dances — the couple that makes it rain together, stays together.
January 2014: Drake once again reminds us that he and Rihanna had a thing going in a Bar Mitzvah-inspired sketch during his SNL hosting gig [27]. It's like, "OMG, we get it!" you know? He also blows off the Grammys to party with Rihanna in Hollywood.
Part 5: Just Friends? OK, We'll Buy That
February 2014: In a Rolling Stone interview [28], Drake reveals that he doesn't have a girlfriend and that he and Rihanna [29] are just friends, saying, "She's the ultimate fantasy. I mean, I think about it. Like, 'Man, that would be good.' We have fun together, she's cool and sh*t. But we're just friends. That's my dog for life." Sure, Jan [30].
March 2014: Drake and Rihanna kick off the month with a series of romantic-looking dates overseas. Rihanna joins Drake on stage during his tour stop in Paris, and they go to dinner after the show. They are also spotted leaving restaurants and clubs together in Amsterdam and London, and the dating rumors pick up speed when they are caught holding hands [31] while leaving a bowling alley in Manchester, England. What is it with these two and bowling?
April 2014: The pair keeps us guessing about their relationship status weeks later when they step out together — but kind of not together — to watch the LA Clippers play the Oklahoma City Thunder in LA [32]. Rihanna is all smiles while sitting courtside with her best friend, Melissa Forde, snacking on popcorn and snapping selfies with some fellow front-row fans. Meanwhile, Drake sits a bit farther down from his rumored girlfriend and looks equally happy while watching the game. Even though they don't sit together, they meet up during the game for a sweet hug.
Part 6: Separate Ways, New Baes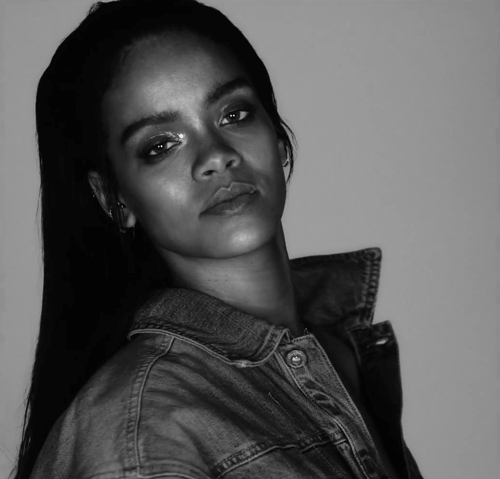 April 2015: Things are pretty quiet on the Drake/Rihanna [33] front for a while, but fast forward a year and the rumor mill is back in business. When Drake hits the stage at Coachella — and has an epic makeout session with Madonna [34] — Rihanna [35] is front and center, watching from the audience. According to an eyewitness [36], she and Drake are also spotted looking "very couple-ey" after his set.
August 2015: By Summer, things seem to be back "off" for the two, as Drake is seen smooching it up with Serena Williams [37] at a fancy dinner at upscale restaurant Sotto in Cincinnati, OH.
September 2015: Not long after Drake and Serena are caught playing tonsil hockey, Rihanna is spotted packing on the PDA with rapper Travis Scott [38], and it is soon reported that they are "dating, officially," with a source saying, "It's already very serious. He's very into her." While that's happening, Serena loses the US Open match, and social media wastes no time blaming Drake [39] for her unprecedented upset.
October 2015: In an exclusive interview with Vanity Fair [40], Rihanna says that her "last real, official boyfriend" was Chris Brown [41], and makes no mention of Drake. Meanwhile, Drake releases the video for "Hotline Bling" and becomes an instant Internet sensation [42].
Part 7: "Work"-ing on Their Relationship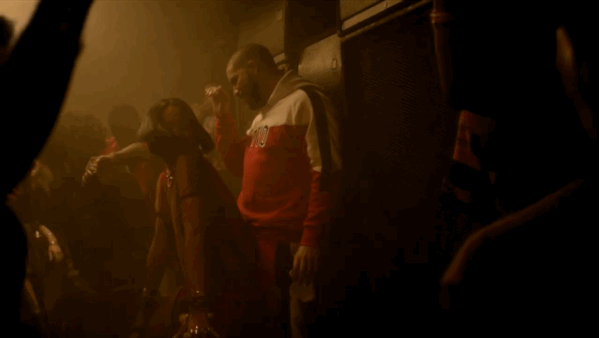 January 2016: Rihanna [43] finally releases the first single from her highly anticipated eighth album, Anti — and it features Drake [44]! "Work" races up the charts, and fans wait with bated breath to see them reunited in the music video (never mind the fact that Rihanna [45] is rumored to be hooking up with Leonardo DiCaprio again [46]).
February 2016: Rihanna addresses her relationship status in an interview with Ellen DeGeneres [47]. "I'm single right now," she told the host, adding, "I have so much on my plate that I can't even find the time to entertain a steady relationship or anything serious or even a text." When Ellen hints that she and Drake may be rekindling their romance on the road, Rihanna shuts down dating rumors but adds, "I would love to go on tour with Drake. That has to happen." Two weeks later, the "Work" video drops [48], featuring a hotter-than-ever RiRi dropping it low for Drake, who can only pray that what he's seeing is real. In a second installment of the 7-minute-long saga, Rihanna rubs salt in the wound that is her and Drake's relationship, twerking in front of him while crooning lyrics like "If I get another chance to / I will never, no, never neglect you / I mean who am I to hold your past against you?" Heavy stuff.
Part 8: Fuel, Meet Fire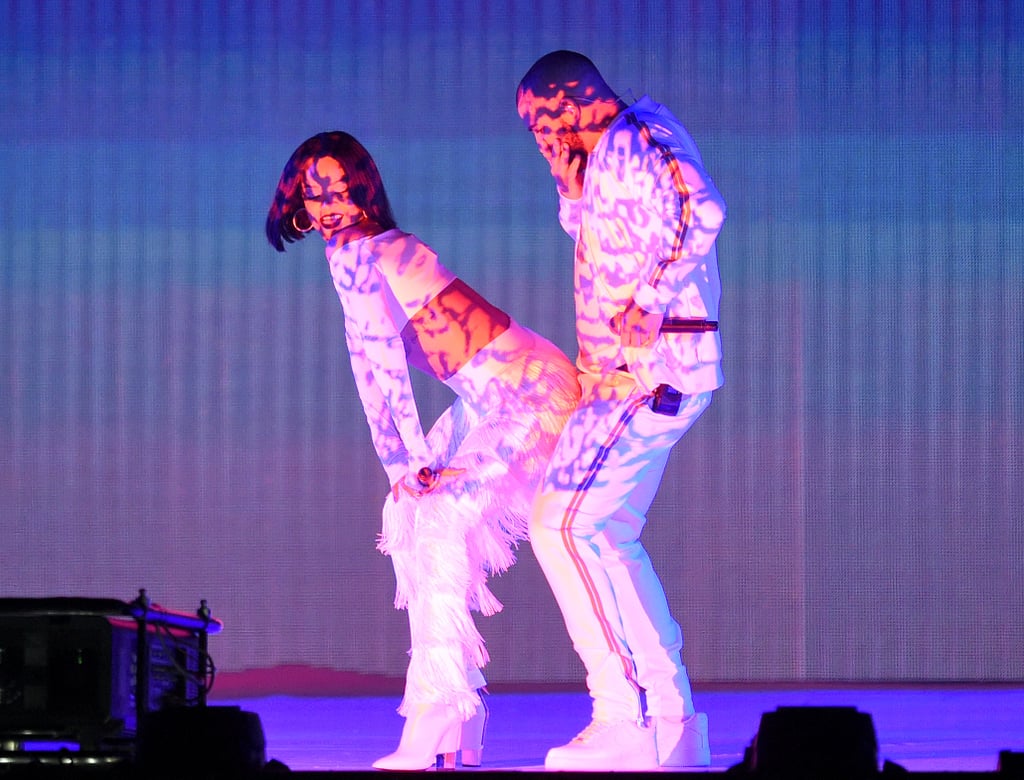 March 2016: After a sexually-charged performance at the BRIT Awards [49], Drake and Rihanna [50] decide to take their chemistry on the road. During her ANTI World Tour stop in Miami, Rih brings Drake onstage [51] to help her sing "Work," and yes, twerking and flirting ensued.
April 2016: Drake releases his album Views, which includes the song "Too Good" featuring — guess who? — Rihanna [52]. The up-tempo, dancehall-inspired banger includes lyrics like, "I'm way too good to you / You take my love for granted / I just don't understand it." About working with Rihanna on the track, Drake told Beats 1's Zane Lowe, "'Too Good' came to fruition after we did 'Work.' I was like, I think I have one that would follow this one up really nicely. She got in the studio and just bodied it. It was like a flawless victory when she sent it back. . . We have a genuine energy between us."

May 2016: Though Rihanna earlier insisted that she's single, rumors flare that she and Drake are giving things yet another try. A source told People [53] that the two had been "secretly dating for months," a report that is fueled by the fact that Drake hopped on stage with Rihanna again during her show in LA. Only time will tell. . .