Kate Moss [1] will cover the January issue of Playboy, and today we got to see the first photo from the shoot [2]. Instead of going nude, Kate posed seductively in the famous bunny costume. Back when Kate was tapped to appear on the 60th anniversary issue [3], the magazine's editorial director called her an icon and elaborated on the choice of cover model: "You're talking about the face of Burberry [4], the biggest supermodel in the world on the cover of Playboy. She's the perfect partner for us to help launch the next 60 years."
So is Playboy the new Vogue? Not quite, but Kate, who has posed nude before for high-fashion editorials, wouldn't be the only high-profile star to strip for Hugh Hefner. Actresses including Sharon Stone [5], Shannen Doherty, and Drew Barrymore [6] have posed for Playboy, as have reality stars Heidi Montag [7] and Kim Kardashian [8]. See 16 famous women and their Playboy covers now.
Sharon Stone [9] posed for the July 1990 issue to help raise publicity for her new movie with Arnold Schwarzenegger [10], Total Recall.
Farrah Fawcett was playful on the December 1987 cover of Playboy and would later do another pictorial in 1997 at the age of 50.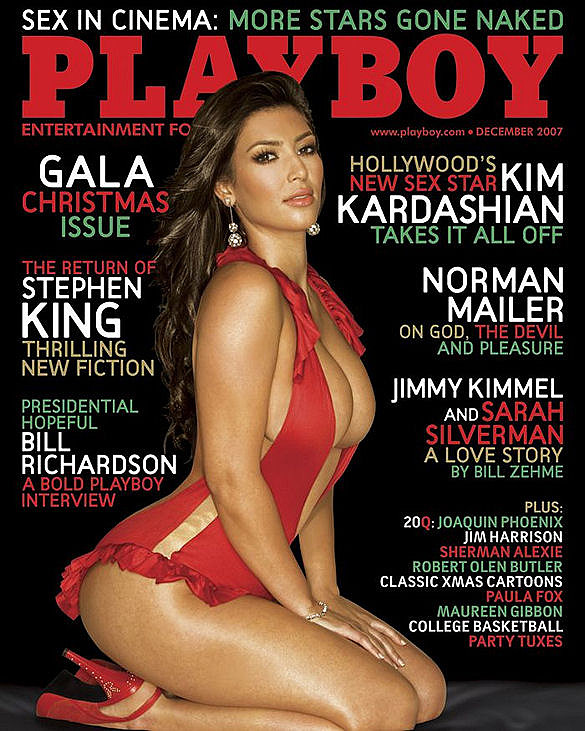 Mom Kris convinced Kim Kardashian [11] to pose for the December 2007 issue, and the photo shoot was documented on their family's reality show.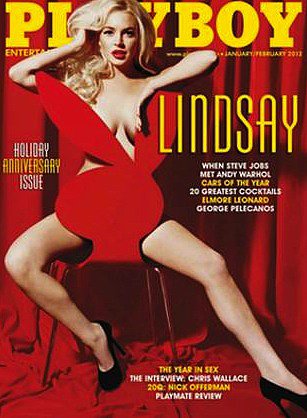 Lindsay Lohan [12] sat on a strategically shaped bunny chair for her December 2011 cover.
Drew Barrymore [13] posed nude for the January 1995 issue. Her godfather, Steven Spielberg [14], later sent her the shots with clothes photoshopped on for her 20th birthday, along with a note reading, "Cover yourself up."
Back in October 1978, Dolly Parton sported some bunny ears for the cover. Maybe it was her Halloween [15] costume!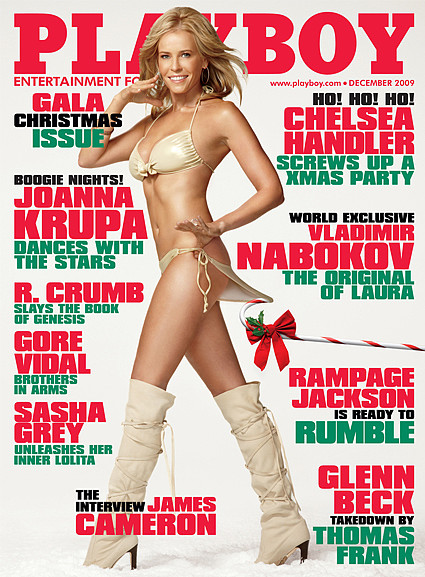 Chelsea Handler got cheeky on the December 2009 issue, although her pictorial inside was not nude.
Nude photos of Charlize Theron [16] graced the cover of the May 1999 issue, but the rising actress later claimed that she never intended for the photos to be published.
A 1987 issue of Playboy featured photos of Vanna White before she became a star on Wheel of Fortune.
Beverly Hills, 90210 bad girl Shannen Doherty has posed nude several times for Playboy, in 1993, 1994, and 2003.
Mariah Carey [17] looked hot on the March 2007 cover. Inside she posed for nonnude photos.
Tara Reid [18] showed off her assets on the cover of a January/February 2010 issue.
Paris Hilton [19] graced the cover of the March 2005 issue, although she was not too happy about it, because she never actually posed for the magazine.
Inside this 2004 issue, Denise Richards [20] posed nude, just five months after giving birth.
Carmen Electra [21] graced the cover of Playboy three times, and her initial nude pictorial in 1996 helped raise her public profile.
Heidi Montag [22] literally got dirty in the September 2009 issue.