Easy Ways to Cut Back on Sugar
10 Easy Ways to Reduce your Daily Sugar Intake (even during the holidays!)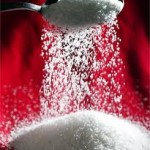 Are you struggling with weight loss? Sugar may be the reason you aren't losing weight. Reducing your daily sugar intake can help with everything from weight loss, to improved energy and immunity, along with a lower risk of diabetes and cancer. With added sugars in almost all packaged food, you'd be surprised at how much hidden sugar you could be consuming on a daily basis. The average American consumer 135 pounds of sugar per year!
While you don't have to cut out sweets entirely, there are a few things you can do to cut down without feeling deprived.
Here are 10 tips on how to reduce your daily sugar intake for good:
#10) Avoid the cereal aisle. Eat eggs for breakfast instead.
#9) Make your own tomato sauces.
#8) Skip fruit juices, sports and energy drinks.
#7) Go Greek with your yogurt.
#6) Replace your Starbucks with a green tea.
#5) Dress your salad simply (skip most bottled dressings, or make your own).
#4) Imbibe smart – skip the Cosmos and sip a Skinny Girl Margarita instead.
#3) Don't succumb to the 'baby food diet' – it's loaded with sugar!
#2) Drink water. This one sounds so simple, but how many of us actually do it? Diet soda can increase sugar cravings, so skip those too.
#1) What's the #1 way to cut down on your sugar intake? Eat whole, unprocessed foods as often as possible.