Eminem's Spike Lee-directed video for "Headlights" [1] is an emotional apology letter to his mother, and it will make you cry.
Jennifer Lawrence [2] said working with boyfriend Nicholas Hoult in X-Men was wonderful [3] — and he's also a great roommate.
Speaking of wonderful X-Men, watch Hugh Jackman make one lucky fan's dreams come true. [4]
Bad news for Pippa Middleton: her newspaper column was axed after just six months [5] at the Daily Telegraph. There was reportedly too much negative mail coming in for her.
In other royal news, Lupo is the star of a new children's book series [6]! Prince William and Kate Middleton's dog "tackles treachery and deception and even comes to blows with a dastardly

corgi

called Vulcan," according to the press release.
Frozen [7] fans, rejoice! In last night's Once Upon a Time [8] finale, ice princess Elsa made a quick appearance [9], which teases that she will be part of season four.
Miley Cyrus made a date rape joke [10] during a gay nightclub appearance in London. She said, "You know, everyone's a little bit gay . . . it's the truth. Everyone's gay, all it takes is one cocktail. And if that doesn't work, sprinkle something in their drink. That's what I always do."
Victoria Beckham is singing again [11] — but not with the Spice Girls. Over the weekend, she shared a photo of her belting out a song on top of a grand piano with a friend.
Stacy Keibler showed off her baby bump in her bikini to celebrate Mother's Day [12]:
LA Clippers owner Donald Sterling apologized for his racist comments [13], telling Anderson Cooper [14] he is "not a racist" and it was a "terrible mistake." He blamed his girlfriend V. Stiviano for it all, saying, "I don't know why the girl had me say those things." This interview comes on the heels of his wife saying that he suffers from "the onset of dementia." [15]
After Miami Dolphins player Don Jones called openly gay NFL player Michael Sam [16]'s celebratory kiss "horrible," he was fined by the Dolphins and barred from team activities [17] until he completes "training for his recent comments made on social media."
The Washington Monument reopens today for tours after nearly three years [18]. It has been closed since August 2011, when it was severely damaged by an earthquake.
A hot air balloon exploded and killed three people [19] near the University of Richmond over the weekend. The balloon drifted into a power line and immediately burst into flames and fell into the Virginia woods.
A Texas panhandle wildfire [20] that destroyed 100 homes and forced a major evacuation is now 75 percent contained. Up to 1,500 acres burned, and the cause of the fire has not been determined.
Tornadoes whipped across Missouri, Kansas, and Nebraska [21] over the weekend, and severe weather will continue across the central US this week — including heavy snow and thunderstorms.
Ann Curry was rescued by Boy Scouts after she broke her ankle [22] during a hike. The Scouts splinted up her ankles and made a makeshift stretcher from "two strong sticks" and a tarp.
Your daily dose of cute: this kitten is not ready for Monday.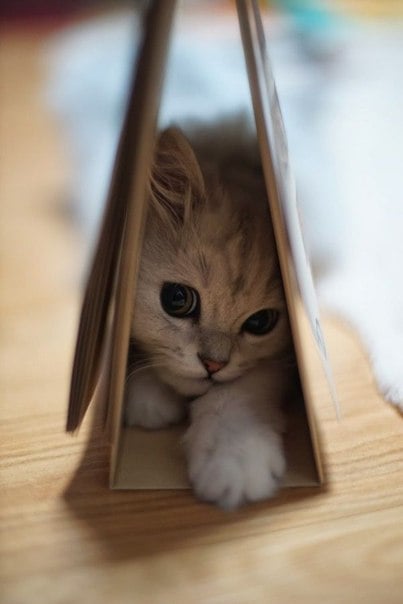 Source: Imgur [23]