Evanescence and the band's connection with The Mortal Instruments…
Evanescence and the band's connection with The Mortal Instruments…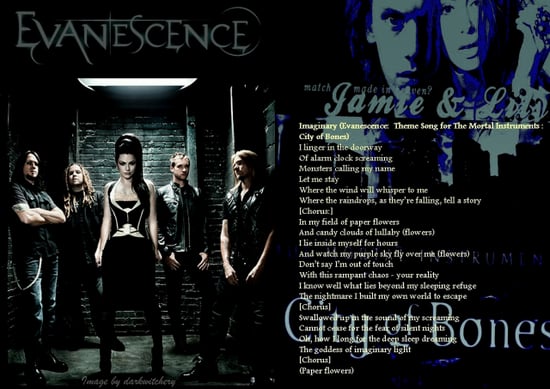 Director Scott Stewart (Priest) during the interview stated that Music is one of the significant elements as it will infuse the euphoria level of the story as it goes along.
And I hope it is Amy Lee from the Evanescence on her song; Imaginary to be chosen for the theme song of The Mortal Instruments: City of Bones.
Well, I know that Imaginary could be meant for anything. But Imaginary in my case, it signifies all about Clary on her biggest dream to be more than just a mundane and her journey venturing to the underworld especially part Amy sang,
'Swallowed up in the sound of my screaming
Cannot cease for the fear of silent nights
Oh, how I long for the deep sleep dreaming
The goddess of imaginary light..'
Aside from the lyrics, I think the rhythm is best fit for the ads trailer. There is one point particularly the sound of drums-bashing in the middle presentation of music backdrops before the entry of Imaginary lyrics ('I linger in the doorway…') At this point, I can actually depict Jace Wayland (Jamie Campbell Bower) at his first encounter with Clary with all his stunning action sequences by sliding down to his knees onto floor right after slashing a demon.
Last and needless to say, Amy Lee's surrealism vocal known for the streamline of dark, supernatural and emo-complications, I have a fullest faith that her voice will transport TMI fans into fantasy world of The Mortal Instruments.