What better way to spend a rainy, muggy, fourth of July than in the movie theater? Yesterday (after watching 2 DVDs at home) my husband and I took our 5 year old daughter to see Ratatouille and Transformers. Besides the fact that my daughter had too much candy and started bouncing around during Transformers, we had a great time.
First we sat Ratatouille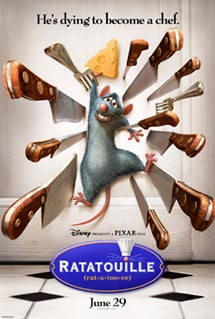 We missed the very beginning of the movie (and the shorts DARNED TICKET LADY!!!) but we were rolling (as in on th floor laughing) through the whole movie. We love Brad Bird, who also did The Incredibles and he certainly did not disappoint us. Patton Oswald voices Remy with great success. He is now one of my favorite comedians (after hearing him on NPR comparing George Bush and Dick Cheney to Bo and Luke Duke). The good thing about todays animated films is that they are designed to be kid friendly, but to also have a little adult humor sprinkled in for good measure. I also love how the endings are generally not over sappily happy. Great Family Film.
Next we saw Transformers.
Buzz Sugar reviewed the movie and only gave it 2 stars. I wholeheartedly disagree. Now, the movie did not have great depth to its characters or a storyline that inspired any thought whatsoever, but it's based on an 80s cartoon for Pete's sake! Taken for what it is - a Micheal Bay whirlwind action pic - this movie fairs very well. I think Shia LaBeouf did an awesome job in this movie, and it didn't hurt that Tyrese (and his teeth LAWD) in the movie as well.
We have done pretty well this summer with Family Friendly flics. Can't wait until Harry Potter comes out next week!