FitSugar's Fitness and Health for 2010
FitSugar's Fitness and Health for 2010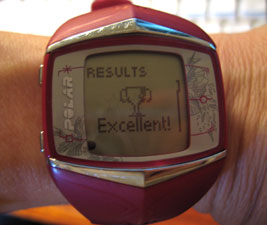 Run a half marathon and train injury free. This is a but intimidating I have only raced in 5ks and triathlons with 4 mile runs as the last leg of the race, so upping my mileage to 13.1 seems huge, but I am excited. I also have a tendency to go overboard and end up hurting myself and this time I don't want to do that. I have my eye on a half marathon in the end of March, but I will keep you all posted.
Swim a mile comfortably, which once again means upping my workouts. I think 2010 is the year of endurance for me.
Floss daily — it may seem futile that I make this one almost every year, but I like recommitting to gum health annually. I have manged to floss the first nine days of the year and feel like I am on a roll.
Eat five servings of fruits or veggies daily and I mean daily. I meet this goal often, but I really want to commit to upping plant intake so it become habitual rather than something I have to push myself to do.
Last but not least, this year I want to conquer chin-up! By midnight on 12/31/10, I want to be able to pull myself up with an underhand grip three times. Might not seem like a lot, but all I can do is a half pull-up.
I am hoping my heart rate monitor will give me weekly feedback with this image of a trophy icon — its way of congratulating me for a week of hard work.