Flaked Rice & Potatoes (Bataka Pauva)
Flaked Rice & Potatoes (Bataka Pauva)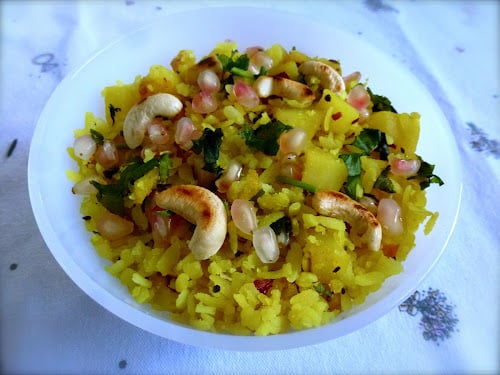 Poha or pauva (as it's called in Gujarati) is flaked rice that is typically used to make a number of light and easy fast food snacks. In Gujarat, the pauva is traditionally combined with bataka (potatoes) to create a quick dish that's a been firm favourite in my family for as long as I can remember. Ever since I first learnt to make this as a little girl, I've experimented by adding different ingredients and flavours to the dish. This variation finally got my mum's seal of approval! 
For authentic bataka pauva, omit the pomegranate seeds and cashew nuts. Replace the red chilli flakes with 2 finely chopped green chillies which are lightly sautéed with the spices. 
Check out the recipe here.