GOP Investigates Possible White House Link to Prostitution Scandal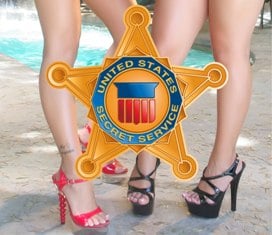 Can the Secret Service prostitution controversy be connected to President Obama's White House? Sen. Chuck Grassley wants to know.
CNN reports that Grassley, the top Republican on the Senate Judiciary Committee, asked the Secret Service in a letter on Friday if their investigation into a prostitution scandal in Columbia involves looking into possible connections to two White House offices, the White House Communications Agency and the White House Office of Advance. In the letter addressed to Secret Service Director Mark Sullivan and Acting Inspector General Charles Edwards, Grassley asked if White House staffers reserved or shared rooms with the Secret Service while in Colombia.
His call for a widened investigation was backed up by Sen. Joseph Lieberman on Sunday. The Senate Homeland Security chairman told Fox News that "it's a reasonable question" to ask about possible White House involvement in the scandal.
But asked whether Obama should be held responsible for the prostitution scandal, Lieberman offered a nuanced response, saying that it "would be unfair to hold President Obama responsible for this outrageous behavior by the Secret Service" but that "it is fair to hold a president accountable."
The scandal involving service members and Secret Service agents hiring prostitutes in Colombia has resulted in six Secret Service agents losing their jobs. A total of 22 men from the Secret Service and the military are suspected of having participated in a night of partying in Colombia two nights before President Obama's scheduled visit to Cartagena for an international summit. The agents were part of an advance team preparing for the president's arrival.
http://slatest.slate.com/posts/2012/04/23/chuck_grassley_questions_secre...