We narrowed down 64 of the hottest shirtless [1] studs of the year, and now it's up to you guys to pick the 32 who will make it into the second round of our Summer Shirtless [2] Bracket. These matches close tomorrow [3], and a few guys really need your votes! Here's a rundown on some of the men who need a few last minute rallies [4]: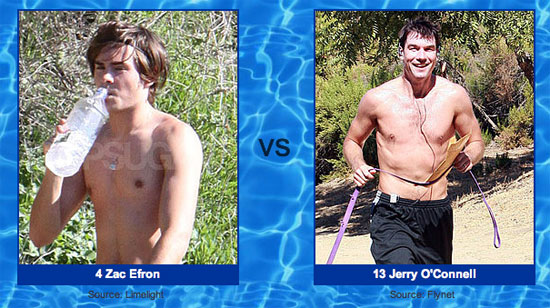 [5]
Zac Efron [6] vs. Jerry O'Connell [7]: Jerry has a few years on Zac, but it's Zac who's apparently running away with this matchup — it's a relatively close one, but the High School Musical [8] star is still winning by a fair margin.
Matt Damon [9] vs. Justin Chambers: The Grey's Anatomy [10] star has the slimmest lead over the leading man from the Bourne Identity [11] — Justin is beating Matt by only 175 votes.
Channing Tatum [12] vs. Justin Timberlake [13]: It's also a close one between Channing and Justin — they both have killer dance moves, but it look like JT might lose in this faceoff.
The round will close tomorrow at midnight  — make sure to fill out your ballots [14] before then!