Grey's Anatomy Recap Episode "Hook, Line and Sinner"
Grey's Anatomy Rundown, "Hook, Line and Sinner"
Grey's Anatomy is back this week and wastes no time at all diving into the good stuff. Within minutes there's a baby being born right on Mark's living room floor, and the drama just keeps on building from there. The themes of the night? Loyalty and family issues up the wazoo.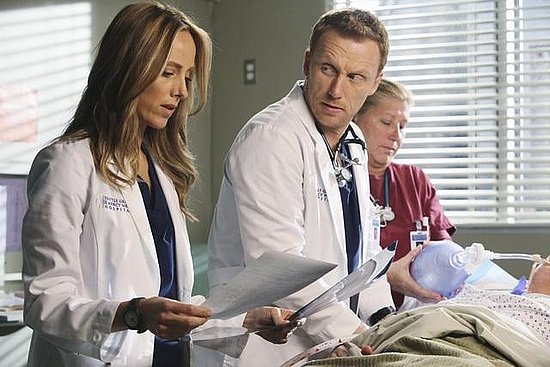 Callie and Arizona are still at odds over having a baby someday, while Mark quickly bonds with his brand new grandson. Karev keeps working on earning the douche bag of the year award, but Lexie finally grows a pair. To get into all the Seattle Grace goodness, just
.
So not even the birth of Lil Sloan's baby boy can melt Arizona's stone cold feelings about having a kid of her own someday. Callie does everything she can to convince her otherwise, but even when she has her "aha" moment (realizing that Arizona's brother passed away), Arizona refuses to be labeled as "damaged" and stands her ground. Though Callie is back in Arizona's arms at the end of the episode, maternal feelings like that don't just go away.
Now let's talk about baby Sloan. First off, I was kind of shocked that the Grey's writers didn't want to milk the incident for all its worth. No emergency surgery? No complications? Nope, just two minutes and boom! A healthy baby boy arrives, and Mark is instantly in love. It's pretty sweet to see him all glowing and cooing over his grandson, even if his daughter is becoming more irritating every episode. All's well that end's well though: Mark hands the baby over to a pair of competent adoptive parents, and finally gives Sloan the love and attention she's craved her whole life. The real question is whether or not this is the last we'll see of Mark the family man. (Might I suggest he and Callie join forces? Just saying).
Teddy goes from hero to zero when another fancy cardio god named Tom Evans starts sniffing around for her job. As it turns out, Teddy's job isn't permanent, and her dire straits couldn't come at a worse time. A cold causes her to screw up a surgery, giving Shepherd severe doubts about her abilities. And whose arms does she go running to? Why, Owen's of course. His soothing turns to some very intense staring and they're nanoseconds away from making out when the elevator door opens. As always. The catch here is that after this episode it's clear that it's not just Teddy who's harboring bottled up feelings. Owen can't really control himself either, which is confirmed when Cristina tells him to persuade Derek to keep Teddy — and he does just the opposite.
Little Grey comes into her own this week with some help from Bailey. It's clear who's calling the shots in her relationship with Karev from the get-go: he up and leaves her in bed when both of them are paged at the beginning of the episode. As the day goes on, he continues to treat her like crap and make fun of her for no real reason. Lexie finally gets an earful from Bailey, who tells her that she's giving Alex all the power in exchange for sex, an that she needs to take it back. (Love this line: "I'm Dr. Bailey. I know everything.") Lexie takes his advice and gives Alex her two cents, not once but twice. As much as I wish Lexie would just dump Alex's sorry ass already, at least she's not his doormat anymore.
Are you glad Grey's is finally back in your Thursday night lineup? Were you happy with the way Mere handled Dr. Kepner's crush on Derek? And did anyone else gag at the sight of that giant fishhook? Sound off in the comments, and check out the Grey's Anatomy McAddicts group in the Buzz Community!
Photo copyright 2010 ABC, Inc.