Healthy Donut Recipe and Lattes
Donuts & Lattes... Oh YES!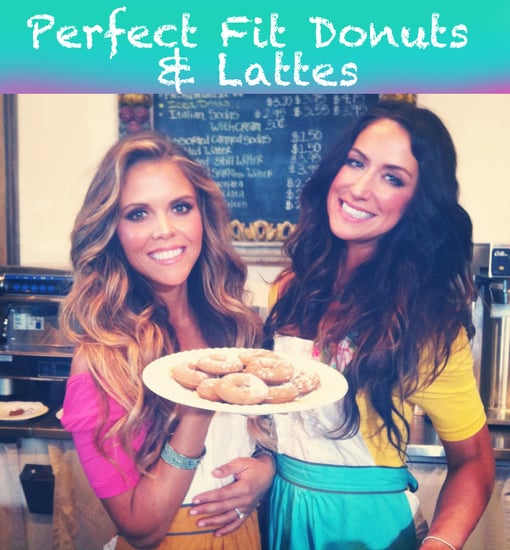 Hi Fitsugar Community!  We have a special treat for YOU!  
We teamed up with Livestrong to open up a cafe in Manhattan Beach...okay just for a day :) We can dream right?
We perfected your Donuts & Lattes!!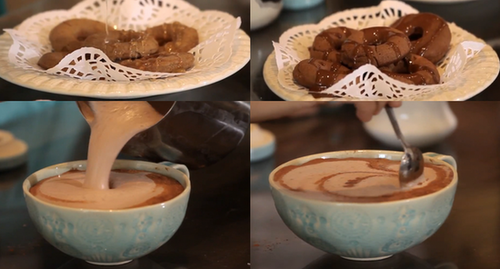 Honey Glaze Donuts, Crazy for Chocolate Donuts & Cinnamon Sugar~ our fav!
We were promising you these recipes for a while... so here they are!!  If you make any variations of Perfect Fit donuts or lattes, share them with us and the fitsugar community!! Perfect Fit Donuts :) you heard right!
Donuts with nutrients- they help you recover from your workouts, they're packed with vitamins and protein, no sugar, no starches (gluten-free) they're 100% organic and best of all, delicious! It's so important to be aware of what we put in our bodies. You're going to love these for you, and for the whole family!
The Perfect Fit Donut Recipe~
1 cup Perfect Fit Protein- raw, certified organic, gluten-free, Non-GMO

1 tsp baking powder

3 tsp Coconut oil

1 tsp vanilla extract

1 cup unsweetened vanilla almond milk (chocolate almond milk for chocolate donuts)

1/3 cups egg whites (Vegan, make 3 flax eggs~ 2tbs flaxseed meal & 1/4 cup water)

1 tsp stevia (or organic sugar, it's up to you)

dash of cinnamon

(add 2 tbs cocoa powder if you're making chocolate donuts!)

Place into your donut machine- we picked ours up at Target!  $30, holla! ;)
Share your recipes with us!! Did you make donuts?  Lattes?
♥ Honey Glaze Donuts~ Drizzle with organic honey
♥ Cinnamon Sugar~ Sprinkle donuts with a pinch of cinnamon and crystallized stevia or organic sugar
♥ Crazy for Chocolate~ put 2 tbs cocoa powder in your recipe mix! Top with melted organic dark chocolate.
***You can also shake a little Perfect Fit over your donuts to make them "Powdered Sugar Donuts" :)
Behind the scenes... Katrina mixing up the batter!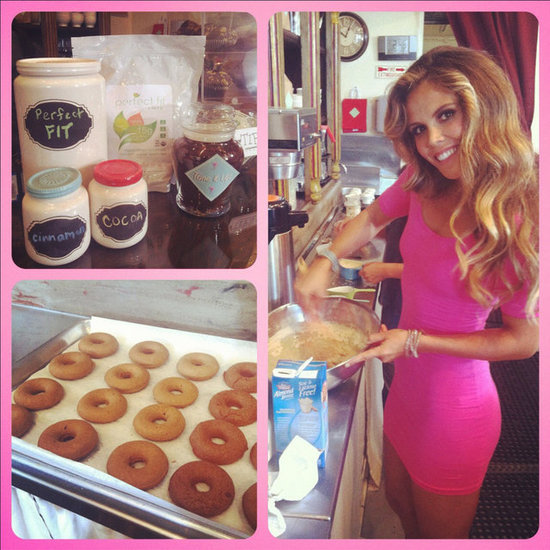 Double Shot Espresso (or 4 oz. strong coffee)

6 oz. Unsweetened Vanilla Almond Milk

1 Tbs. Perfect Fit (1/2 packet if you're one-the-go!)

Shake Perfect Fit with Almond milk (we use a shaker bottle) Steam & froth!

Pour mixture into a coffee cup with espresso
Double Shot Espresso (or 4 oz. strong coffee)

1 Tbs. Pumpkin Puree

1/2 tsp. cloves (you can also add nutmeg)

1/2 tsp. pumpkin pie spice (any pumpkin spice from the grocery store)

Mix all ingredients together

Top with 6 oz. steamed Almond Milk! You may steam Perfect Fit here too
Double Shot Espresso (or 4 oz. strong coffee)

Add 1 tsp cocoa powder to espresso and mix thoroughly

Top with 6 oz. Unsweetened Steamed Chocolate Almond Milk with 1 tbs Perfect Fit
Mix & make a design!!  Tweet us your Mocha Latte Pics :) @ToneItUp & @Fitsugar
Your trainers,
Karena & Katrina
Tone It Up