{Holiday Recipe} Mini Gingerbread Donuts (Grain-free, Paleo, Refined Sugar free)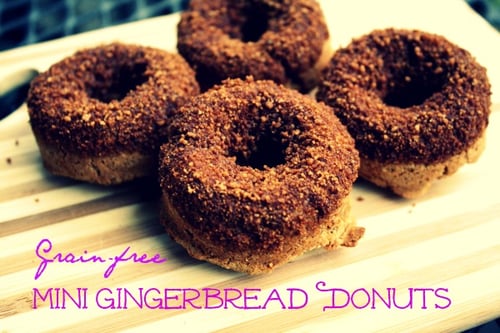 Ingredients
1/2 cup coconut flour

2 Tbsp ground ginger (I like my extra gingery, so if you're not so much into ginger, just use 1 to 1 1/2 Tbsp)

1 Tbsp cinnamon

1/2 tsp ground cloves

1/2 tsp salt

1 tsp baking powder

2 Tbsp butter, melted

2 eggs

2 Tbsp maple syrup

3 Tbsp molasses

1/4 cup coconut milk

2 Tbsp butter (melted for coating donuts)

1/4 cup coconut palm sugar

1 Tbsp cinnamon
Instructions
Preheat your oven to 350 F and grease a mini donut pan with coconut oil

In a large bowl, mix your melted butter, eggs, maple syrup, molasses, and coconut milk.

In a small bowl combine your coconut flour, ginger, cinnamon, cloves, baking powder and salt.

Gradually add the dry ingredients to the wet and mix until just combined.

Fill the donut pan and bake for 15 minutes or until they pass a toothpick test

Cool on a wire rack.

Once cool, dip the donuts in melted butter and roll in cinnamon sugar.

Enjoy!

 
Recipe by Allison Nichols | Frisky Lemon Nutrition | Health Coaching to Find Food Freedom at http://friskylemon.com/2012/12/11/holiday-recipe-mini-gingerbread-donuts-grain-free/