In Honour of Funny Brit Man - John Cleese
HAPPY BIRTHDAY JOHN - AND THANK YOU FOR MAKING US LAUGH ALL THESE DECADES!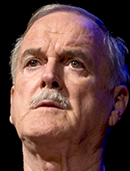 John Cleese Biography
in full John Marwood Cleese
(born October 27, 1939, Weston-super-Mare, Somerset [now in Avon], England) British comic actor best known for his television work on Monty Python's Flying Circus and Fawlty Towers.
Cleese began writing and performing in comedy revues at Clifton College in Bristol, England, and was a member of the renowned Footlights Club while a law student at the University of Cambridge. The 1963 Footlights revue, A Clump of Plinths, toured parts of the world as Cambridge Circus and landed Cleese a writing job for BBC radio.
In the 1960s Cleese worked as a writer and performer on David Frost's television programs That Was the Week That Was (1963), The Frost Report (1966), and At Last the 1948 Show (1967). On these shows Cleese developed a comic style of looking absolutely normal—"like an accountant," as one critic described him—while doing and saying the most absurd things. Cleese's success on the Frost shows led to a small role in Interlude (1968), his first film appearance.
In 1969 Cleese, along with writing partner Graham Chapman, American animator Terry Gilliam, writer-performer Eric Idle, and former Frost writers Terry Jones and Michael Palin, created Monty Python's Flying Circus for television. A surrealistic mix of verbal and physical comedy sketches linked by bizarre animation, the show had some popularity in England; when the episodes were broadcast on American public television a few years later, Monty Python became a phenomenon. Although Cleese did not appear in the fourth and final season of the show, he remained with the group for recordings, stage shows, and several movies, including Monty Python and the Holy Grail (1975), Life of Brian (1979), and Monty Python's The Meaning of Life (1983).
Cleese's next television venture was Fawlty Towers (1975 and 1979), considered by many to be one of the funniest and best-written situation comedies ever produced. Portraying Basil Fawlty, a rude hotel manager always on the brink of nervous collapse, Cleese turned the slow burn into high comic art. He and his then wife, Connie Booth, wrote each of the six episodes that aired in 1975, as well as an additional six that were broadcast in 1979. Fawlty Towers was hugely popular in the United Kingdom, and it became a cult favourite in the United States.