How to pop the question: Will you be my bridesmaid?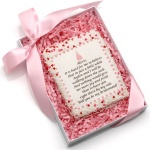 Have you popped the question... "Will you be my bridesmaid?" Most every aspect of planning a wedding is full of excitement and anticipation. Asking your closest friends and family to do you the honor of standing up with you is certainly no exception! So, how will you ask… what will they say… and after the day, will they remember how you did it?  Sound familiar?  I can imagine it is quite similar to asking your significant other to marry him or her. Here are some great ideas for you bridal planning book as you take one of the first steps in your planning process.
Give a tote packed with bridesmaid goodies: They're sure to say "I do" when they open a package packed with bridesmaid goodies to put them in the wedding spirit. Pack an adorable tote with necessities for planning a perfect wedding; note pads to jot notes as you quickly rattle off your favorite ideas, bridesmaid wine glasses for toasting to the big event and your friendship, bridesmaid cosmetic bag, photo frame, and compact. Try these great gifts and more from

The Brown Bow Gift Co.
Send a beautiful square photo vase for them to remember your gesture long after the day. Fill each side with memoirs and sentiments of your relationship. An old photo of the two of you, a new photo of the two of you, a poem that describes your friendship perfectly, and finally a personal note asking him or her to do you the honor of being a bridesmaid. You could even send your vase with a fabulous bouquet of fresh flowers within!
Build a personalized and hand created memory album that timelines your friendship. Fill with anything and everything from old pictures to handwritten recounts of fun times and great memories to telling her just what it is that makes her so special. The grand finale page will pop your question… will you be my bridesmaid? Try this personalized silver stamped album from The Brown Bow Gift Co.
T-shirt rolled up w/ letter inside: For a cute and casual way to ask your bridesmaid to make your wedding day complete, send a simple rolled up bridesmaid t-shirt with your personal letter rolled gently inside. Send it in a unique mailing tube that will immediately get her attention.
Or send a cookie invitation, new by special order at The Brown Bow Gift Co.  Find all these gift ideas and more for your bridesmaids and entire wedding party at The Brown Bow Gift Co. Bridal Shop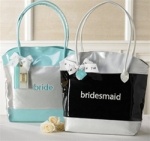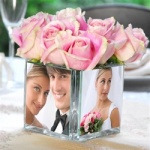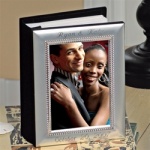 Source: The Art of Gifting