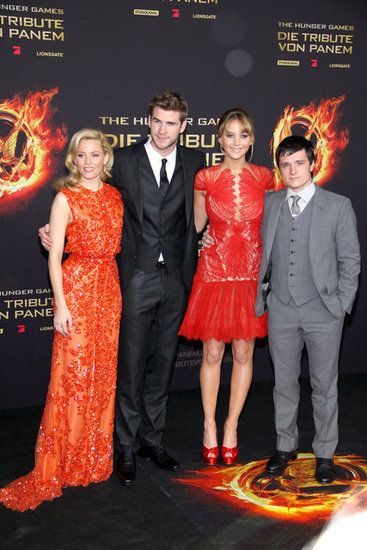 Mar 16 2012 - 10:40pm
The Hunger Games rolled into Berlin today for the film's latest premiere. Jennifer Lawrence and Elizabeth Banks arrived in fiery hues while Liam Hemsworth and Josh Hutcherson stuck with traditional dark suits. Germany marks the third stop on the European leg of their international press tour following layovers earlier this week in Paris and London.
Elizabeth picked a bright Elie Saab for today's event while Jennifer switched up her look by choosing a short red Marchesa, which showed off her fit legs. Her legs and arms were a hot topic recently while chatting with press about her action scenes. Jennifer describes her running in the film as "unfortunate" due to her "karate hands." We talked with her condtioning coach and got the behind-the-scenes secrets to achieving Katniss's form — stay tuned for more on how to run like Jennifer and how she got in shape for the role of a lifetime.