An Incredibly Easy Dessert: Puff Pastry with Chocolate and Almonds
To be honest the majority of the time, I don't like Martha Stewart recipes as they are usually unnecessarily complicated but I happened across this incredibly easy Martha Stewart recipe for a quick puff pastry dessert.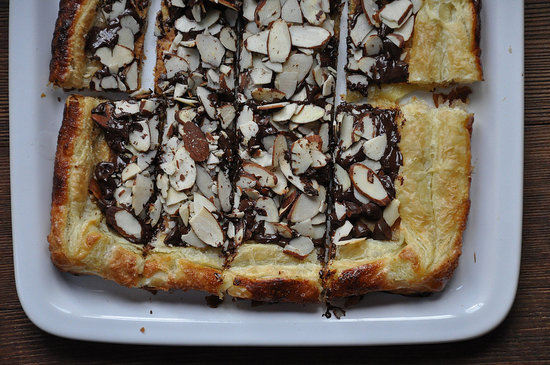 It only required puff pastry, an egg lightly beaten, sugar for sprinkling, chocolate chips, honey, almond slices and sea salt. Simply defrost the puff pastry, place it on a cookie sheet and create a 1/2 inch crust all the way around and prick the middle of the dough with a fork to avoid air bubbles. Brush a light coating of egg wash on the crust and sprinkle with sugar. Cook at 450 for 15 to 20 minutes until the puff pastry is nearly cooked. Remove the pastry from the oven and sprinkle with chocolate chips, salt and almonds slices. Drizzle with honey. Bake for a couple more minutes until the chocolate is melted. I served mine with a scoop of vanilla ice cream. It not terribly involved but trust me is tasty and perfect to accompany an afternoon coffee.
Before: