Jen and Violet Still Joined at the Hip
Hooray! Not only are we getting a great Jen and Violet sighting not at the park, but also Jen looks so cute in her dress even though she's still carrying the backpack. I appreciate her laid-back life and am enjoying the change of scenery, but being a mom I know that you don't have to sacrifice sporting a fabulous bag to carry all your baby accessories. The happy mommy/daughter duo was out in LA running errands yesterday. Jen's film Catch and Release came out on DVD this week. If you missed it at the theater (and most of you did) it's perfect for a romantic night in.
I bet these two have some great Mother's Day plans. For ideas for your own mom just click here.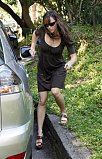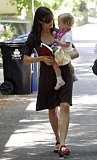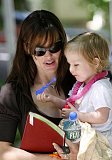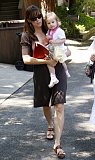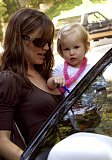 For more cute pics of the Garner Afflecks just read more