Jennifer Aniston [1] has always been idolized for her effortless style [2], and in a recent interview with Yahoo Beauty editor [3] and makeup artist Bobbi Brown, Jennifer opened up about her personal life and spilled major secrets on her style — did you know she tailors her t-shirts [4]? — and even revealed how her fiancé, Justin Theroux [5], would feel if she went under the knife, saying that he "will put a gun to my head if I touch my face in any way." Keep reading for some of Jen's most inspiring and hilarious quotes about her personal style.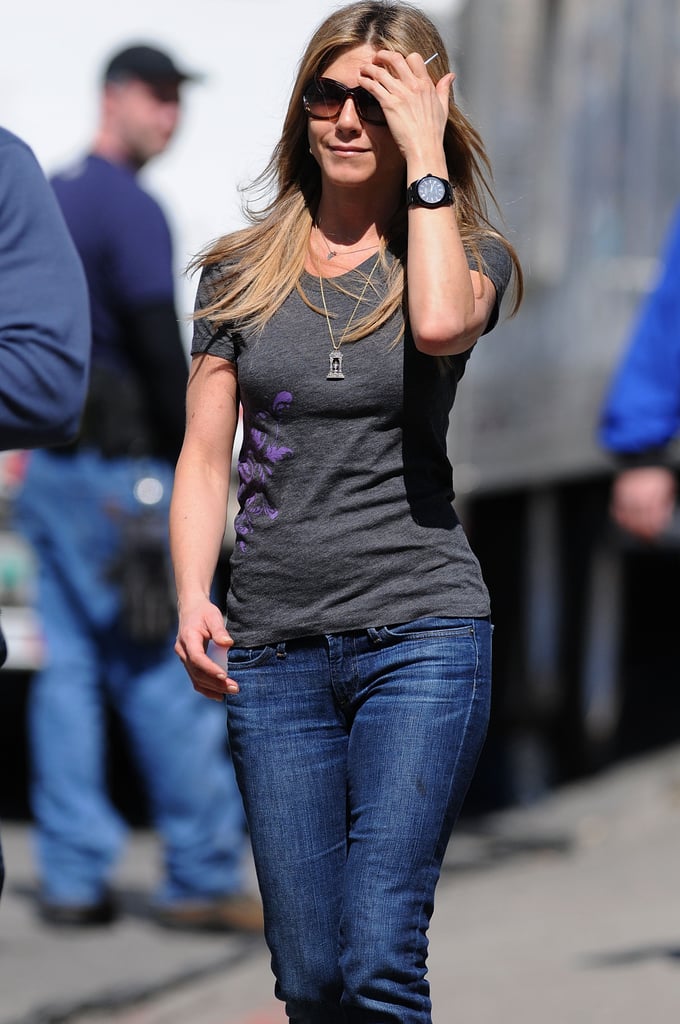 On her iconic laid-back style: "You know what that is? It's just called laziness. This is my secret: the trick to t-shirts is I that I usually tailor them. Which is silly, but it works. Or you just have to find the perfect one. James Perse has really great t-shirts and tank tops, Theory is great for t-shirts and basics, and for jeans, I have these Genetic jeans that they don't even make anymore. I take the pockets off of Hudson jeans, because I like the fit but not the pockets. Helmut Lang does a good skinny jean too. And I wear Saint Laurent jackets."
On her diet: "I just had a bagel. I usually give myself bread on the weekends, but really, my body doesn't love carbs. These days, if I was being superpicky, I would love to drop five pounds. That is just where I have always been really comfortable at about 110 to 113 pounds. But it is harder to get that down, at this age."
On her antiaging secret: "My dad is 100 percent Greek; he turned 81, and he barely has a wrinkle. And neither does my grandmother, who was 95 when she died. But it's also just water, drinking a lot of water, using really nice good products for your face. Don't overproduct; that's the other thing. Getting proper sleep is always important."
On seeing photos of herself: "The truth is you just go, 'If they get a picture, that picture comes and goes, so who cares?' Then you have 30 mean people who sit at their computers and spend their entire day picking apart and insulting celebrities about how ugly they are just so they can feel better — I guess — about themselves. I don't understand it."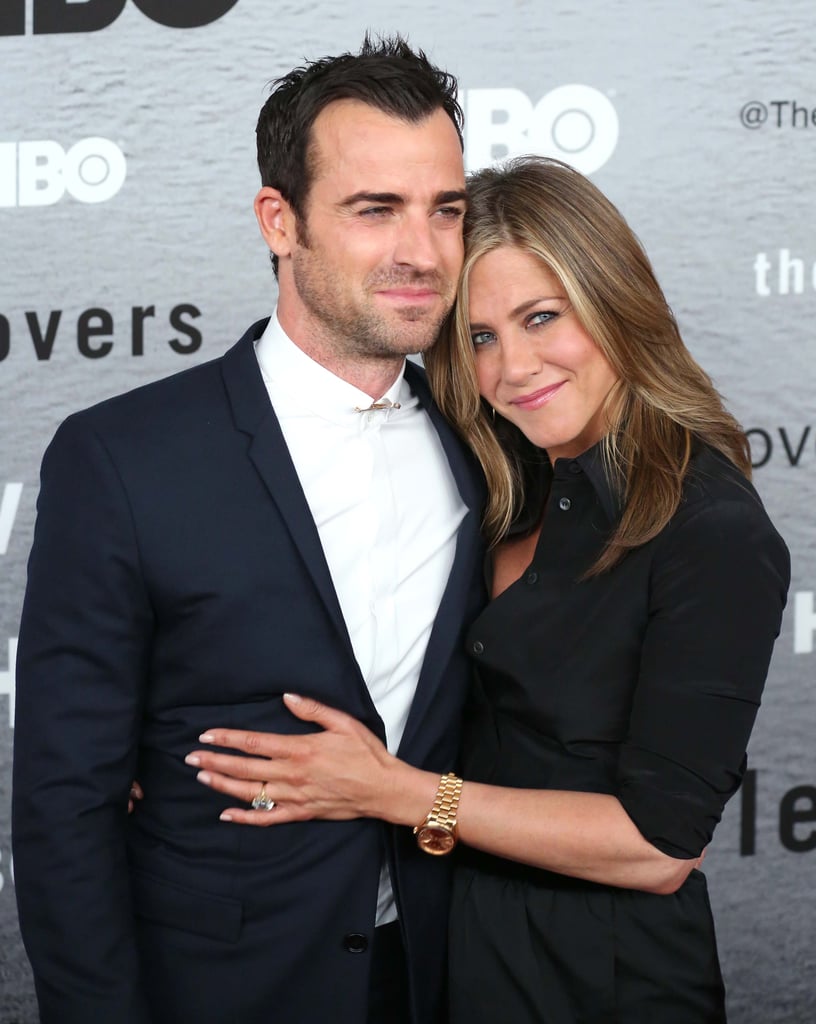 On aging: "There is also this pressure in Hollywood to be ageless. I think what I have been witness to is seeing women trying to stay ageless with what they are doing to themselves. I am grateful to learn from their mistakes, because I am not injecting sh*t into my face. Honestly, I see them and my heart breaks. I think, 'Oh god, if you only know how much older you look.' They are trying to stop the clock, and all you can see is an insecure person who won't let themselves just age. I also have a fiancé [Justin Theroux] who will put a gun to my head if I touch my face in any way."
On her beauty idols: "I understand that age is kind of awesome. I am fortunate enough to know women like Gloria Steinem, who, I think, is one of the most stunning women on the planet and doesn't touch her face. Diane Keaton [6], Annette Bening, all of these fabulous fearless women who are flawless, they embrace it! You know, to each their own; I don't judge it if you do it, but sometimes I wish I could beg the people I know, who I am very near and dear to, to not touch their face."
On beauty-industry standards: "I think fashion people need to start incorporating all ages, not just these 20-something perfect people, or not just for antiaging [ads]. Represent beauty in all ages! You know what I mean?"