Source: Getty / Venturelli [1]
The drama just doesn't stop for Justin Bieber. The singer is in hot water after two never-before-seen video clips were leaked that showed Justin telling racist jokes [2] and repeatedly using the n-word. The videos were taped when Justin was 14 and 15 for his Never Say Never documentary. The singer has apologized for both of the videos, but critics are still upset with the singer, and a new report says that there are even more videos of Justin making offensive remarks [3] about black people. While it seems like the past few months have been dominated by Justin's controversies, his troubles have been brewing for some time now, with his bad press getting particularly heavy over the past year. So, what turned Justin from a sweet tween heartthrob into constant tabloid fodder? We're looking back at his biggest press moments from the past year to try to make sense of his slow slide into never-ending scandals.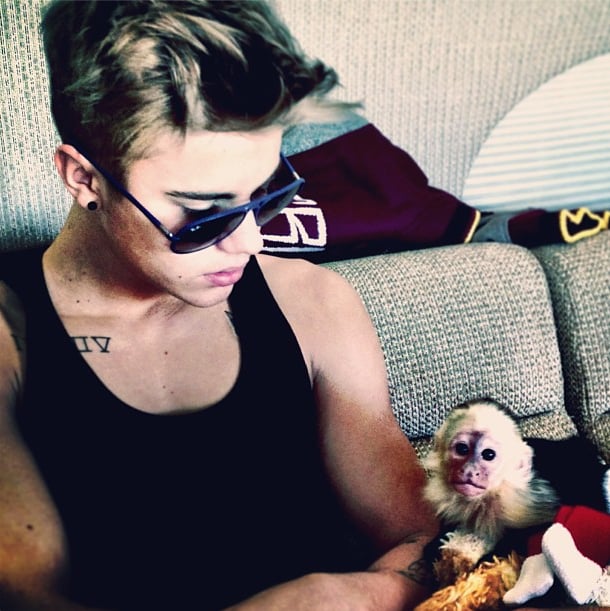 Source: Instagram user justinbieber [4]
March 23, 2013
Justin was accused by his neighbor of spitting in his face and threatening to kill him during an argument in their Calabasas neighborhood in LA. The argument reportedly started after the neighbor confronted Justin about his speeding. Justin was investigated by police for the spitting and verbal threats, but in October, the police said they would not be pressing charges.
Late March 2013
Justin angered the German government and animal rights activists when he was caught with a capuchin monkey [5] in Munich. The animal, known as Mally, was confiscated by police, and the singer had until May 7, 2013, to claim the animal, which he never did. In August, the German government asked Justin to pay for Mally's upkeep after she was moved to a zoo.
April 13, 2013
Justin angered many Anne Frank fans after he visited the Anne Frank House [6] in the Netherlands during a European tour. The museum posted Justin's guestbook message, which said that he hoped "she would have been a Belieber" if she was alive today. However, Anne's family members came to Justin's defense [7], calling the outrage "childish," saying, "He's a young man and she was a young girl, and she liked film stars and music."
April 25, 2013
While on tour in Stockholm, Justin's bus was searched by police [8], where they found a small amount of drugs and a stun gun. However, no one was ever charged, as the bus was empty at the time of the search.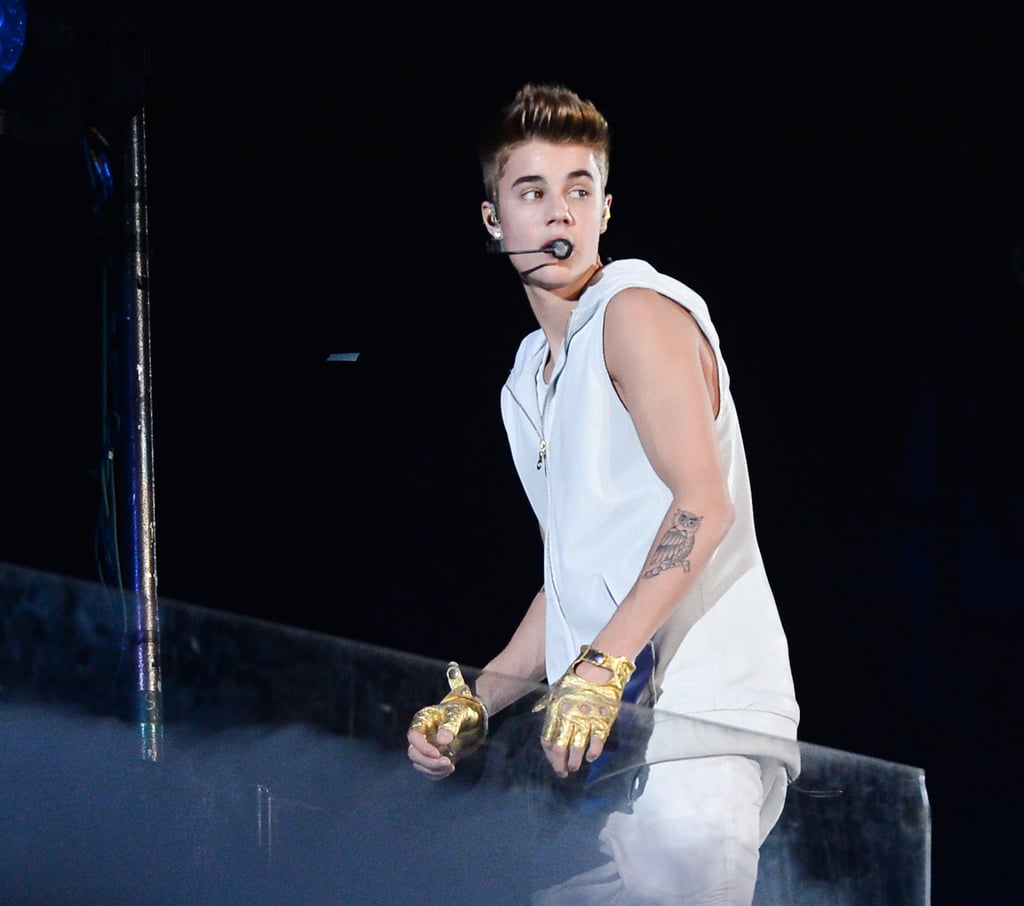 Source: Getty/George Pimentel [9]
July 25, 2013
The pop singer caused Internet outrage when he was photographed while allegedly spitting on fans outside his hotel [10] in Toronto. However, Justin's rep later clarified that he was not spitting on fans but did not explain who or what he was spitting on.
Oct. 12, 2013
Justin was in hot water yet again when DJ Michael Woods's tour manager, Alex Madden, accused the teen of assaulting him during Michael's set [11] in Seoul. The DJ tweeted, "Story is Justin and his army of heavy security muscled in to the DJ booth half-way through my set in South Korea, demanding hip hop. So when I told Justin to f*ck off and put some clothes on, he took a cheap shot at my tour manager and fled behind his wall of security." He later added, "Dear Justin, would you please grow the f*ck up already? In the meantime, put a shirt on and stay away from nightclubs."
Nov. 2, 2013
Things got icky for Justin during a tour stop in Brazil when he was photographed while allegedly leaving a brothel in Rio [12]. The snaps showed Justin wrapped up in a sheet with his telltale tattoos poking out from underneath.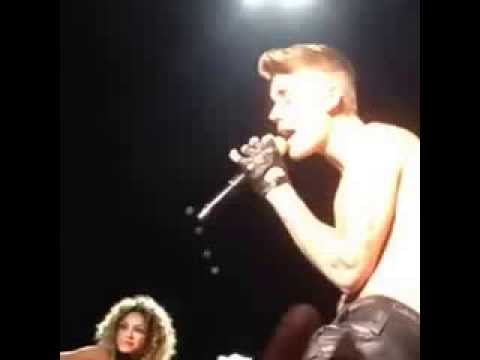 Nov. 4, 2013
Talk about a bad day. Justin was understandably upset after a fan beaned him with a water bottle during a concert in Sao Paulo, Brazil. The singer stormed off the stage and cut his concert short.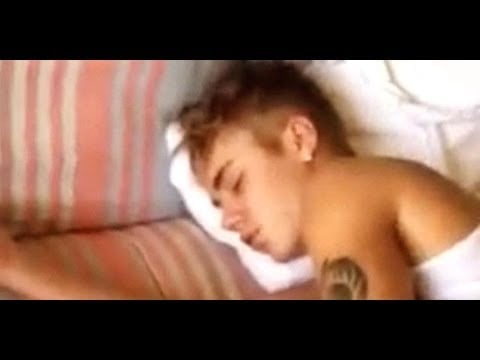 Nov. 6, 2013
Justin made headlines again when a woman, model Tati Neves, recorded a video of the pop star sleeping [13] in his bed in a Rio hotel. While the video didn't show anything untoward, the woman later spoke out publicly about her night with Justin, saying that he is "well endowed" and "very good in bed."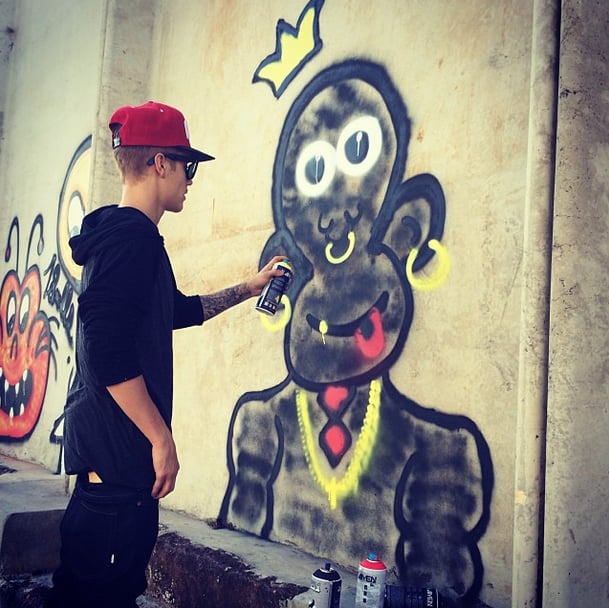 Source: Instagram user justinbieber [14]
Nov. 8, 2013
Brazil just wasn't a good time for Justin. The singer was charged with vandalism in Rio [15] after he was caught painting graffiti on a wall. Justin didn't face any jail time for the graffiti, instead offering to pay a fine for an unreported sum.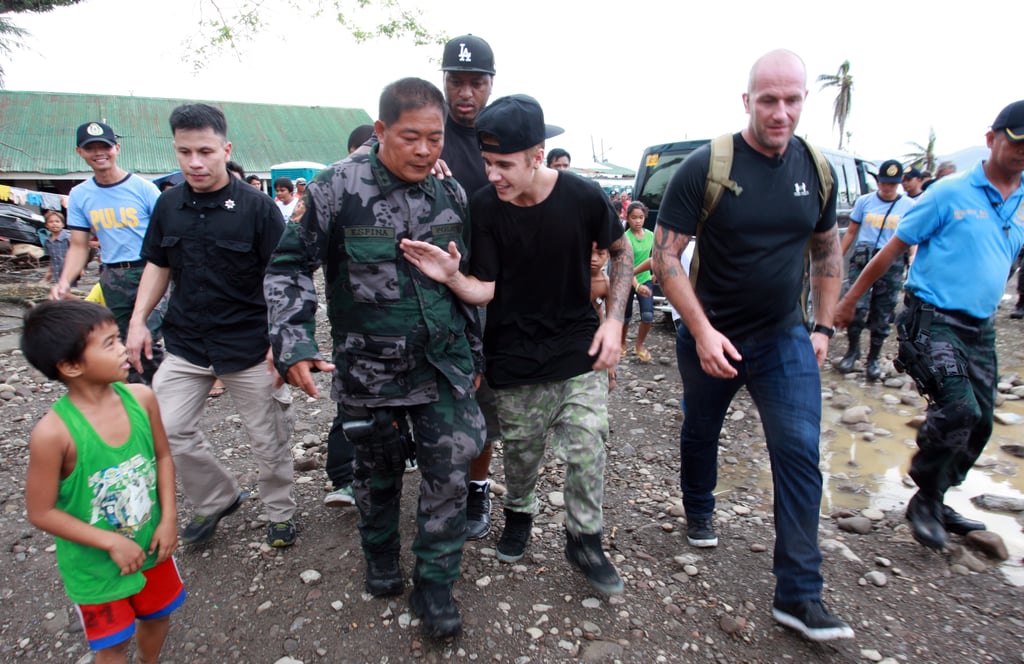 Source: Getty/Jeoffrey Maitem [16]
Dec. 10, 2013
The pop star got some much-needed good press when he visited an area of the Philippines that was left devastated by the recent typhoon. He spent the day meeting with children and playing basketball with a group of teenagers.
Dec. 24, 2013
Justin sent his fans into chaos when he announced via Twitter that he was "officially retiring." [17] However, he quickly backtracked and claimed it was just a joke. A source close to the singer claimed that he did it to show "how quickly news spreads without anyone vetting if it's true or not."
Dec. 25, 2013
On Christmas Day, Justin released Believe, the movie followup to his wildly successful first documentary, Never Say Never. However, the film was considered a bomb for the pop star, only earning $3.1 million in its opening week. For the sake of comparison, Never Say Never earned $29.5 million its opening weekend.
Jan. 10, 2014
Justin allegedly egged a neighbor's home [18] inside his ritzy Calabasas neighborhood. The neighbor released a video of the incident, which contains the voice of a young man who sounds like Justin cursing out his neighbor while throwing eggs. The neighbor called the cops on Justin and reported $20,000 in damage.
Jan. 14, 2014
The star's Calabasas home was raided as part of a police investigation related to his alleged egging incident. Justin's friend Lil Za was arrested [19] in Bieber's home for felony drug possession as part of the raid. He was released a few hours later but was arrested once again after he broke a phone inside the jail.
Jan. 21, 2014
Justin reportedly spent $75,000 at a strip club in Miami [20] while celebrating the birthday of Love & Hip Hop Atlanta star Lil Scrappy.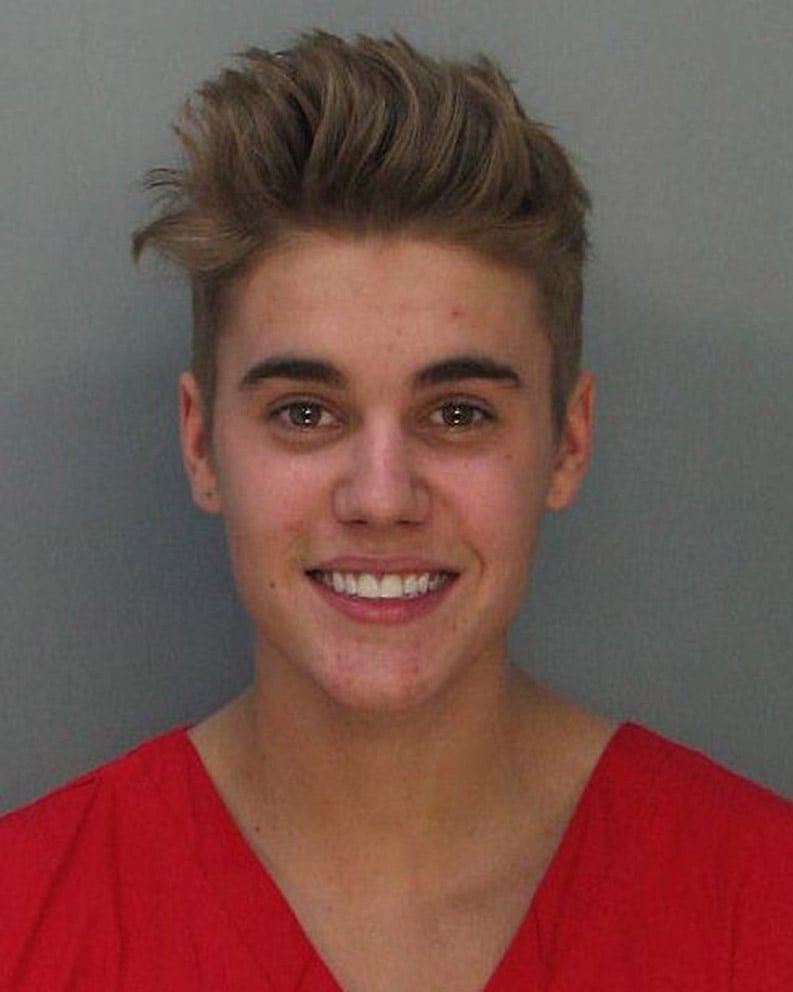 Source: Twitter user MiamiBeachPD [21]
Jan. 23
In the early hours of Jan. 23, Justin was arrested in Miami for a DUI, resisting arrest, and driving with a suspended license. He was confronted by police while riding in a rented yellow Lamborghini with model Chantel Jeffries [22]. Police initially pulled him over for speeding and then gave him a field sobriety test, which he failed. He later also failed a DUI test inside the police station. In a mug shot [23] that was released to the public (above), Justin was smiling, but he later appeared stone-faced when he appeared in court to have his bond set.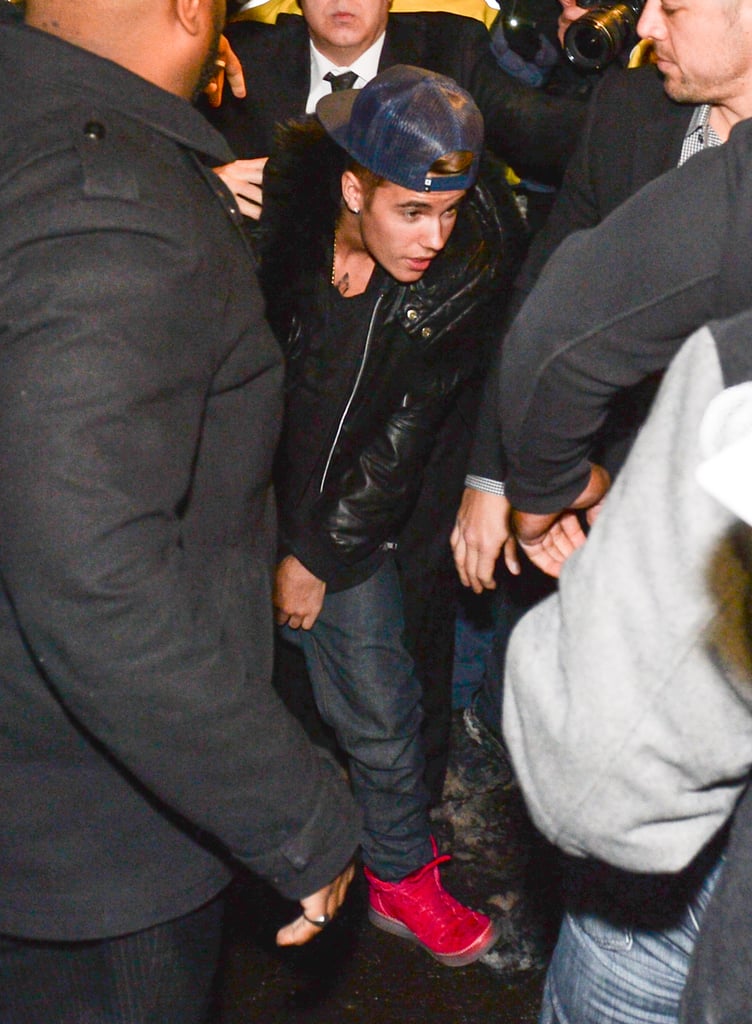 Source: Getty/George Pimentel [24]
Jan. 29
Justin made headlines again when he turned himself into Toronto police to be charged with criminal assault. The charge resulted from a December incident in which he allegedly roughed up a limo driver. It was a big day for Bieber, as he also released a video for his new song, "Confident," [25] and pleaded not guilty to the DUI and drag racing charges in Miami.
Jan. 31
Justin's private plane was searched by police at an airport in New Jersey after the authorities detected a strong odor of marijuana coming from the plane. Justin, who was traveling with his father and 10 friends, was eventually allowed by authorities to leave the airport. He reportedly admitted to smoking pot and drinking, but since there were no more drugs on the plane, the police had to let him go. Over the weekend, he attended several Super Bowl parties in NYC.
Feb. 5
NBC News obtained the official report [26] from Justin's plane drama before the Super Bowl, and the new revelations won't pay the pop star any favors. According to the pilots and the flight attendant, Justin and his friends were smoking so much weed on the plane that the crew all had to wear gas masks. Justin and his entourage were asked to stop smoking, but they refused to listen to the crew. In addition, Justin and his father, Jeremy, were allegedly "extremely abusive verbally" to the flight attendant, so much so that the captain asked her to stay in the cockpit to avoid interacting with Justin and his team.
June 4
In the first week of June, never-before-seen video of Justin repeatedly making racist remarks [27] surfaced online. The first video, which was shot when Justin was 15 for his Never Say Never documentary, showed Justin making a racist joke using the n-word. The singer quickly apologized, but another video soon surfaced from around the same time period that showed the then-14-year-old Justin singing his hit song "One Less Lonely Girl" while replacing "girl" with the n-word. Justin was forced to apologize, again.