Jimmy Fallon [1] is the latest celebrity to accept the ALS Ice Bucket Challenge! The Tonight Show host was joined by The Roots and Rob Riggle to take part in the chilly trend after he was challenged by his good friend Justin Timberlake [2]. The singer, along with his band The Tennessee Kids, drenched himself in cold water [3] to benefit the cause, which has been trending worldwide over the past couple of weeks; people are nominated by their friends to go through with the stunt and share video proof via social media within 24 hours. If they don't follow through, they're encouraged to at least make a donation to ALS Association [4]. So far, stars like Ansel Elgort, Elizabeth Banks, and even Martha Stewart [5] have gotten in on the freezing-cold fun, as did Justin's former *NSYNC bandmate Lance Bass. Watch Justin and Jimmy's ALS Ice Bucket Challenge videos below now.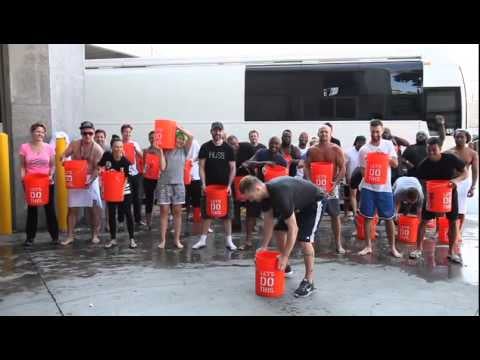 Justin took part in the challenge and also sent a message to Jimmy Fallon [6].
Jimmy responded to Justin's challenge on The Tonight Show.