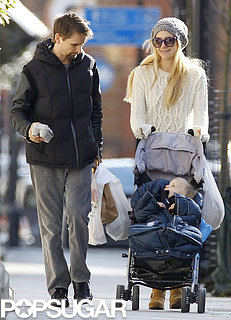 Feb 18 2013 - 1:12am
Kate Hudson pushed her son Bingham in his stroller while visiting a London farmers market with Matthew Bellamy yesterday. Matthew and Kate smiled and laughed as they shopped with their 1-and-a-half-year-old son. Tonight, though, will be all about work for Matthew — he and his band Muse are playing a show in London tonight. They'll soon be heading to the US to continue their tour in Florida on Friday.
Matthew was not the only one with a busy schedule during the London stay. Kate was able to catch up with her England-based pals. Last week, Kate donned a red Stella McCartney gown to make an appearance at the Elle UK Style Awards with Stella herself.