Kate Middleton turns 32 on Thursday and we're celebrating by looking at her best official appearances over the years. Ever since becoming a member of the royal family with her wedding [1] to Prince William in April 2009, the Duchess of Cambridge has been steadily increasing her amount of royal work, which includes visits to charities, taking part in tours alongside William, and attending glittering galas. Click through to see all of Kate's best appearances!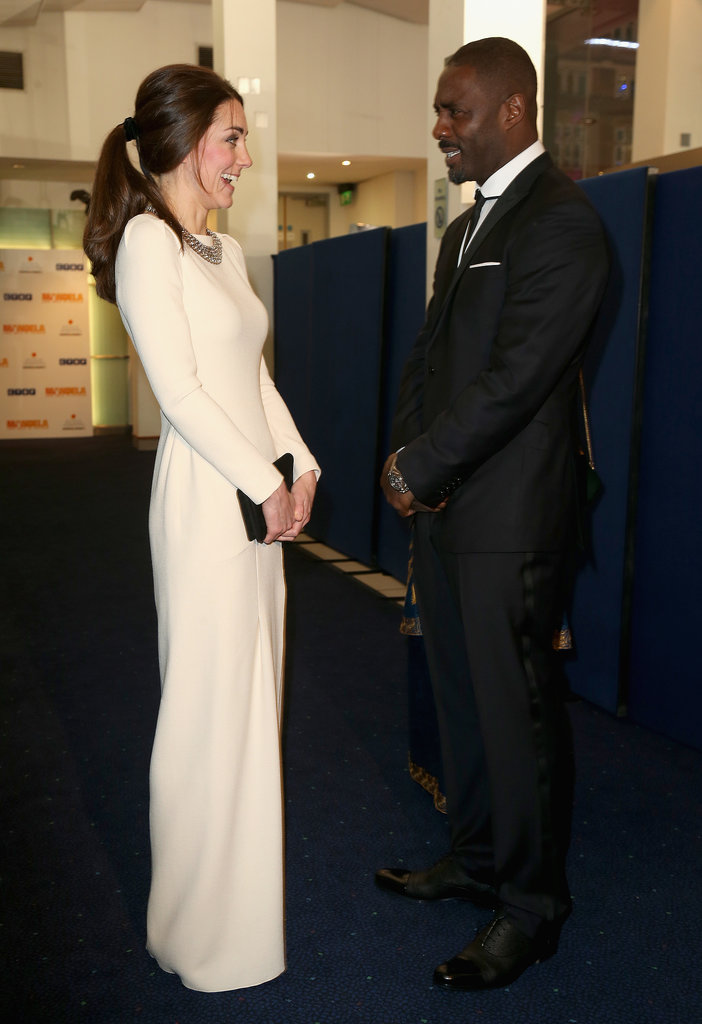 Kate got to meet Idris Elba at the premiere of Mandela: Long Walk to Freedom in London in December 2013.
Kate and William were transformed into cowpokes during a July 2011 stop in Calgary, Canada.
In October 2013, the duchess made her first postbaby solo appearance at a Sportaid athlete workshop in London.
In September 2012, Kate and William visited the Kranji Commonwealth War Cemetery in Singapore during their Asia tour.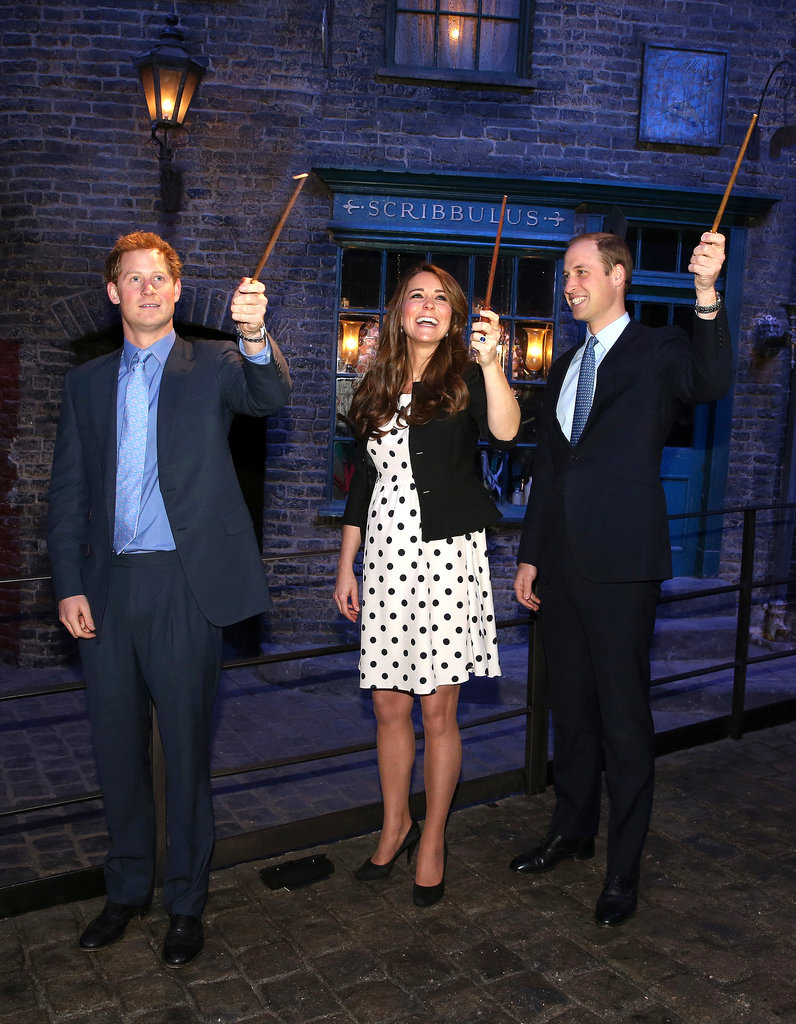 Kate had fun with Prince Harry and William when the royals toured a Harry Potter set [2] at Warner Bros. Studios in London in April 2013.
In September 2012, the couple donned traditional island clothing when they visited the governor general's house in the Solomon Islands.
Kate chatted with Camilla, Duchess of Cornwall, and Sophie Rhys-Jones at the Order of the Garter service at St. George's Chapel in Windsor back in June 2011.
She met a young woman during a visit to The Treehouse, a children's hospice in Ipswich, England, back in March 2012.
Kate and William visited the Assyakirin Mosque in Kuala Lumpur, Malaysia, during the couple's Asia tour in September 2012.
In July 2013, Kate and William posed for a photo-op with newborn Prince George while leaving St. Mary's Hospital.
In July 2011, the duchess showed off her culinary skills during a cooking workshop at the Institut de Tourisme et d'Hotellerie in Quebec.
She looked stunning on the red carpet when she attended a launch party for the London Paralympics in May 2012 with Prince William.
Kate was all smiles when she took Prince George to his christening in London in October 2013.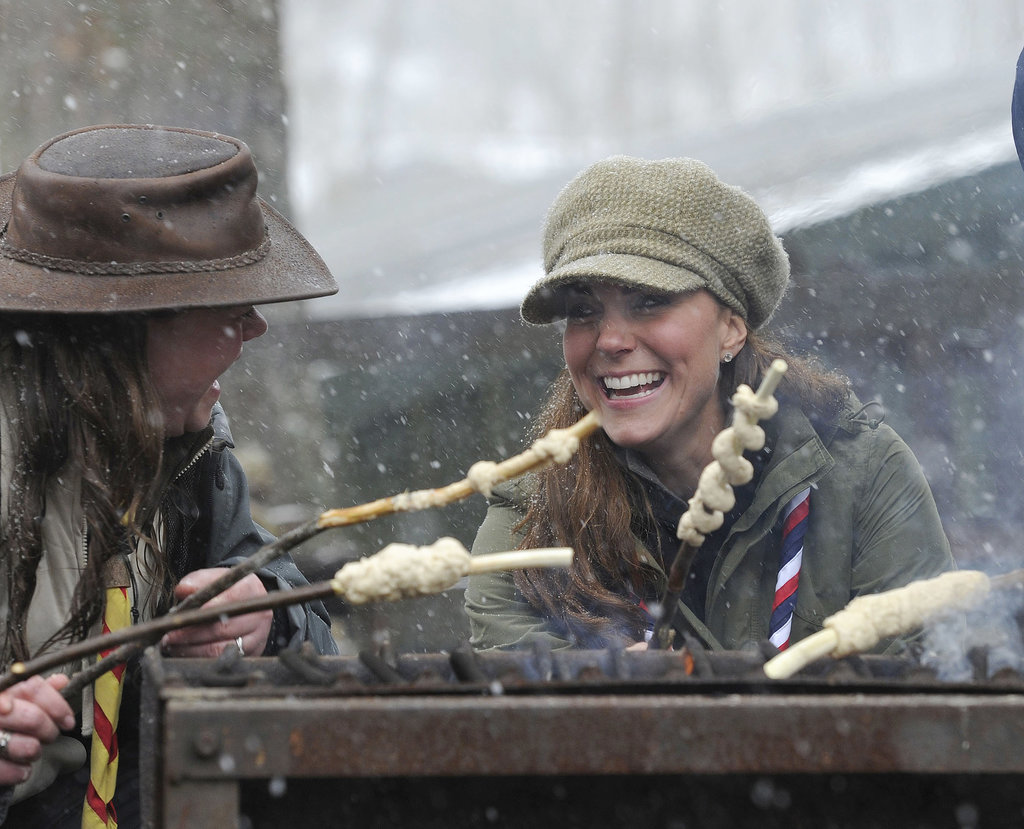 Kate showed off her camping skills [3] when she attended a volunteer training day for the Scouts in Cumbria, England, in March 2013.
She caused a sensation when she debuted her short-lived bangs during a trip to London's National History Museum in November 2012.
In March 2012, Kate joined up with Queen Elizabeth II and Camilla when they visited the Fortnum & Mason store in London.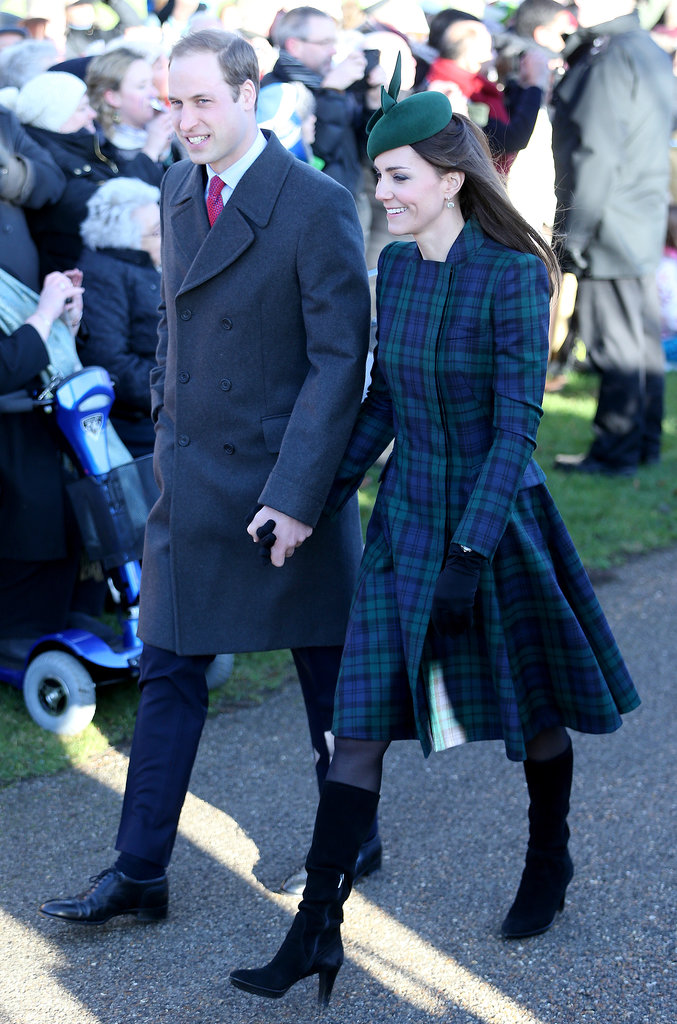 Kate and William held hands when they attended Christmas Day service at Sandringham in December 2013.
Kate had William by her side when she wore a black lace gown to attend the January 2012 premiere of War Horse in London.
She put her athletic prowess on display when she played a game of hockey during a visit to the Olympic Park in March 2012.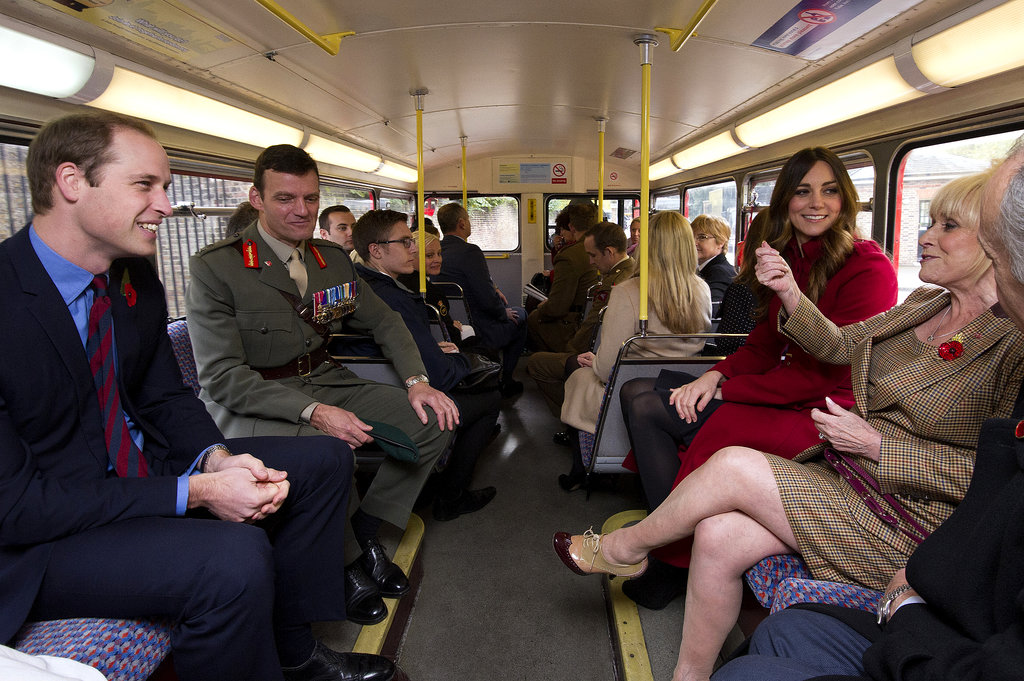 In November 2013, Kate rode the bus with William for Poppy Day in London.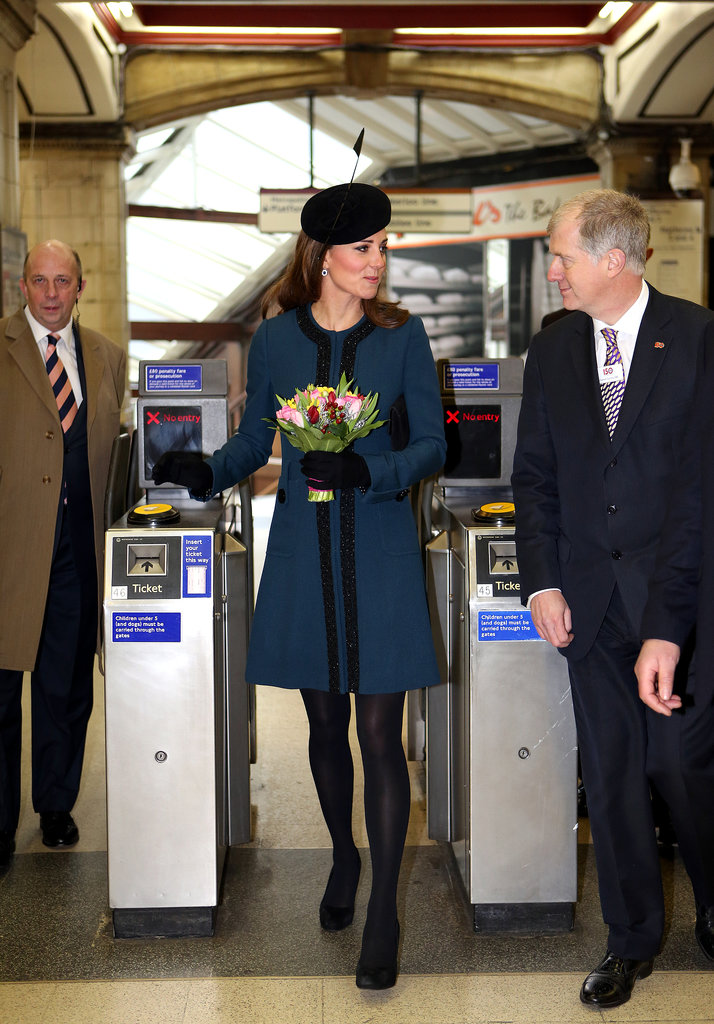 Kate toured a subway station [4] in London with Queen Elizabeth II in March 2013.
William shielded his wife from the rain when they dropped by the premiere of African Cats in London in April 2012.
Kate got into the island spirit during a September 2012 visit to the Solomon Islands.
She also got lei'd after she arrived at the Solomon Islands with Prince William in September 2012.
Kate stood at attention while handing out medals at the London Paralympics in August 2012.
In July 2011, Kate met with Reese Witherspoon [5] at a charity event in Santa Barbara, CA.
She attended a welcome ceremony in her honor during her September 2012 visit to Singapore.
In July 2012, the duchess joked around with her duke during their visit to Bacon's College in London.
Kate donned a purple frock for a special event in Ottawa, Canada, during her royal visit in July 2011.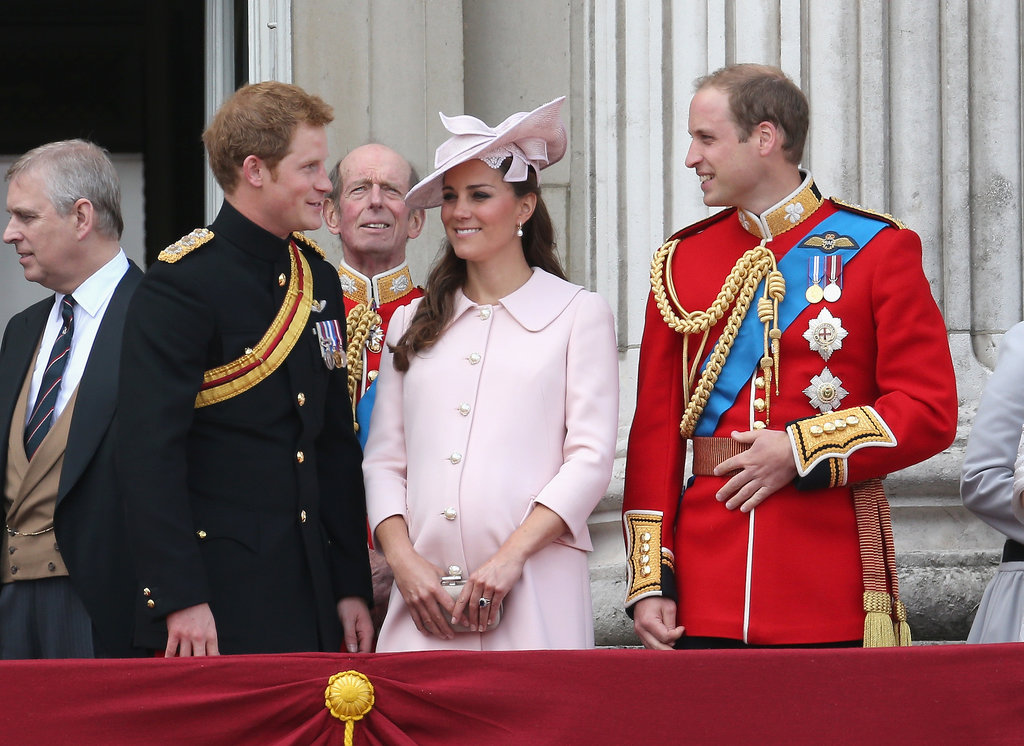 In June 2013, Kate made her final public appearance while pregnant [6] when she attended the Trooping the Colour parade with Harry and William in London.
Kate, William, Prince George, and their dog Lupo all posed for George's first official portrait in Kate's family home in August 2013.
Kate and William hosted a BAFTA event during their trip to LA in July 2011.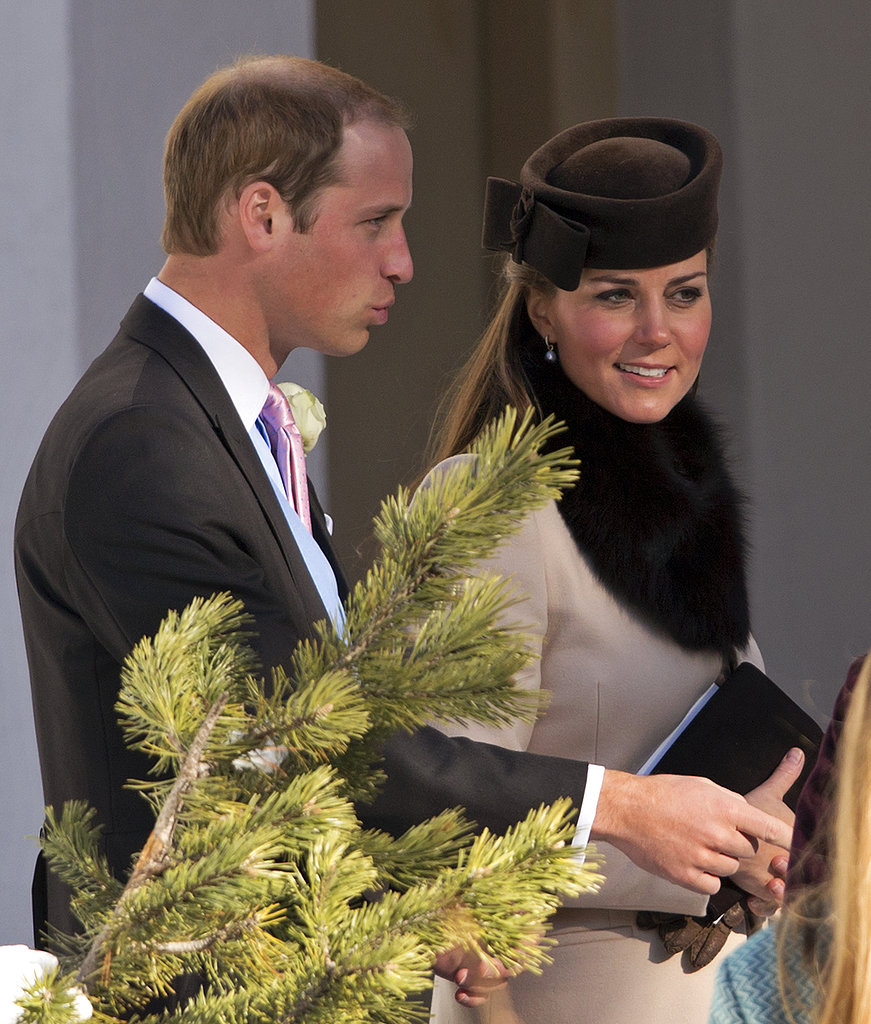 Kate, William, and Harry attended a friend's March 2013 wedding [7] in Arosa, Switzerland.
She got a giggle while visiting the Rose Hill Primary School in Oxford, England, in February 2012.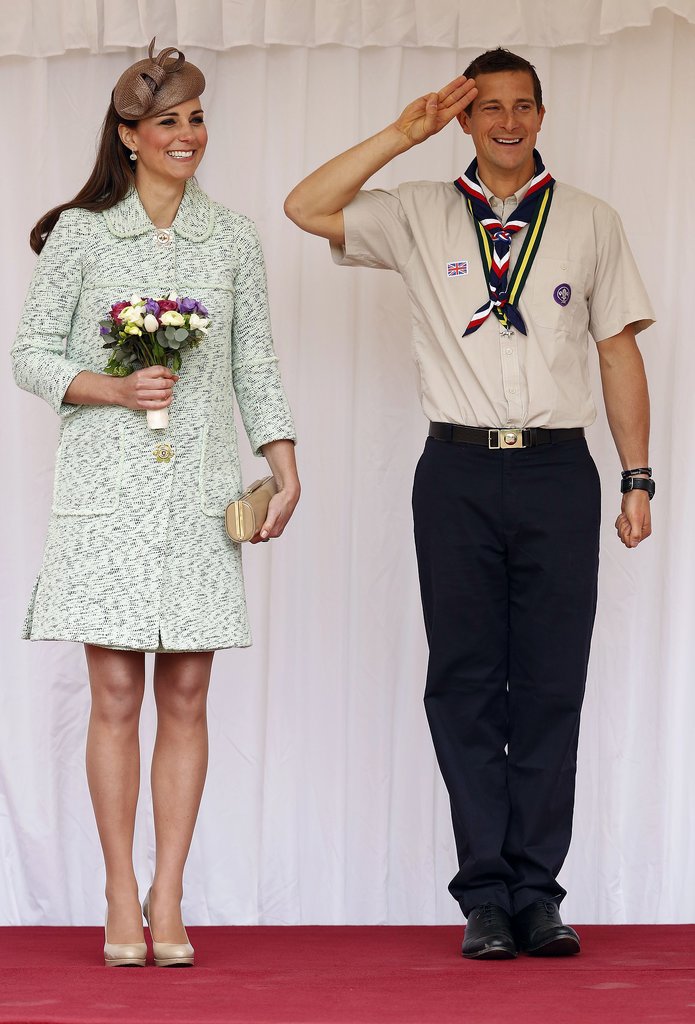 The duchess donned a mint Mulberry coat when she stood alongside Bear Grylls to review the Scouts at Windsor Castle on behalf of the queen in April 2013.
Kate earned high fashion marks in Canada when she wore a red maple-leaf hat during a Canada Day 2011 visit in Gatineau.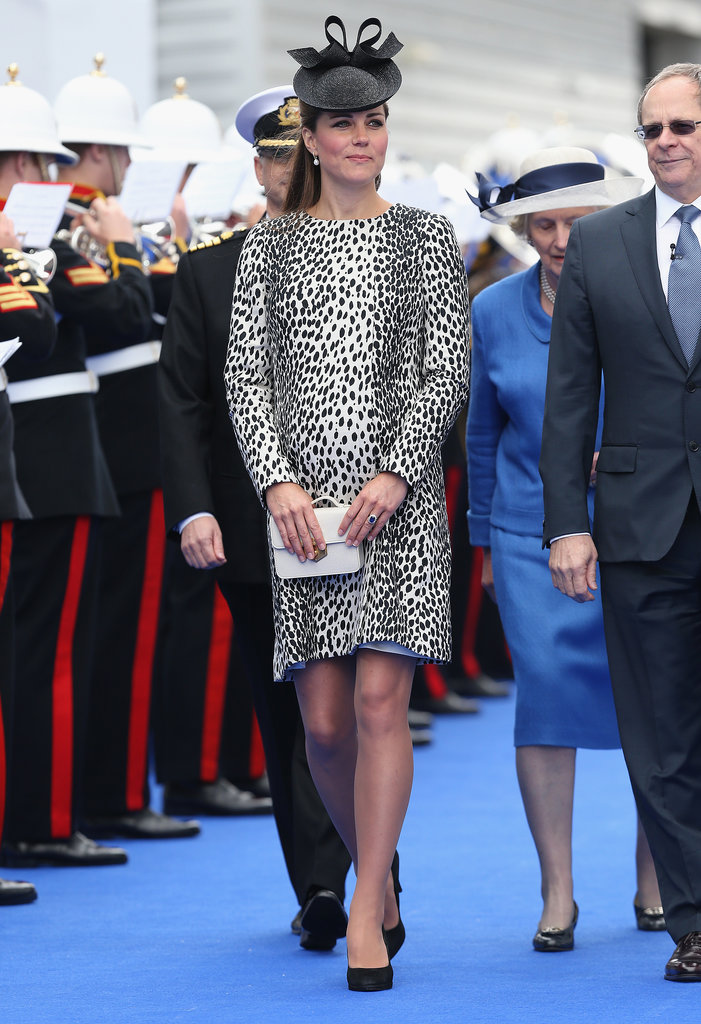 Kate wore an animal-print coat when she visited Southampton, England, in June 2013 where she christened a Princess Cruises ship.
Kate wore a white and gold number when she attended a state dinner in Kuala Lumpur, Malaysia, back in September 2012.
You can't forget this iconic photo! Kate and Prince William announced their engagement to the world during a press photo op at Clarence House in London back in November 2010.
Kate chatted with Camilla while watching the Garter Service pass by in Windsor, England, in June 2011.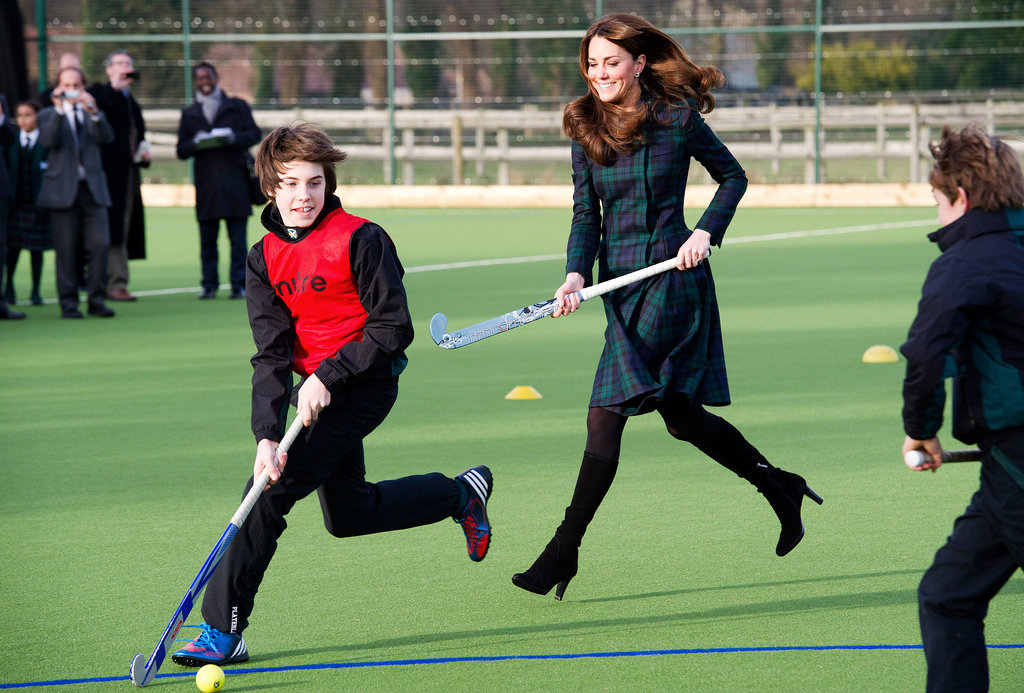 Just before her pregnancy announcement, Kate played field hockey in November 2012 with a group of children at St. Andrew's School in Berkshire, England.
She got in the military mood during a June 2011 visit with William to the Victoria Barracks in Windsor.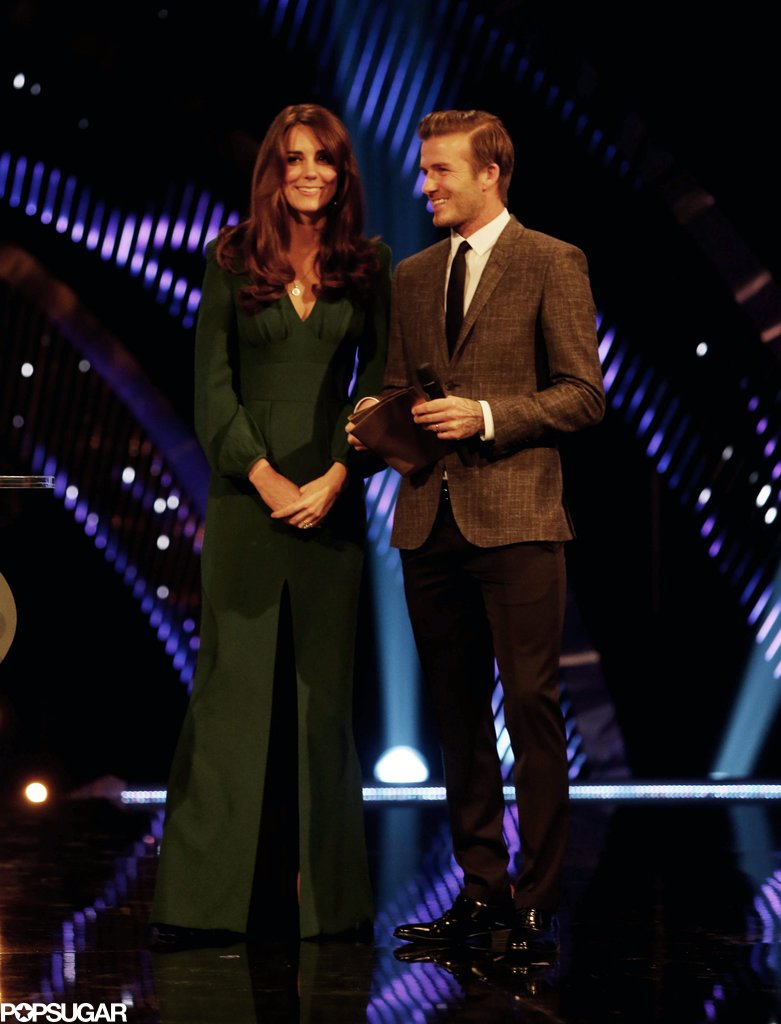 Kate made her first posthospitalization appearance with David Beckham [8] when she presented at the BBC Sports Personality of the Year Awards on December 2012.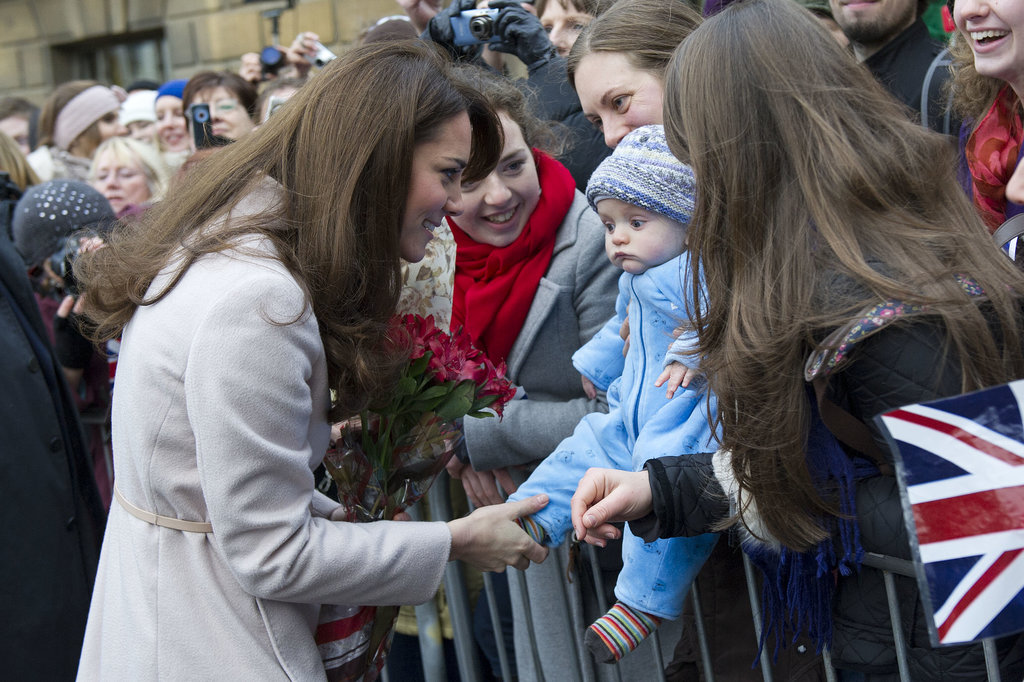 She was still keeping her pregnancy a secret in November 2012 when she was joined by Prince William to visit their namesake town, Cambridge [9].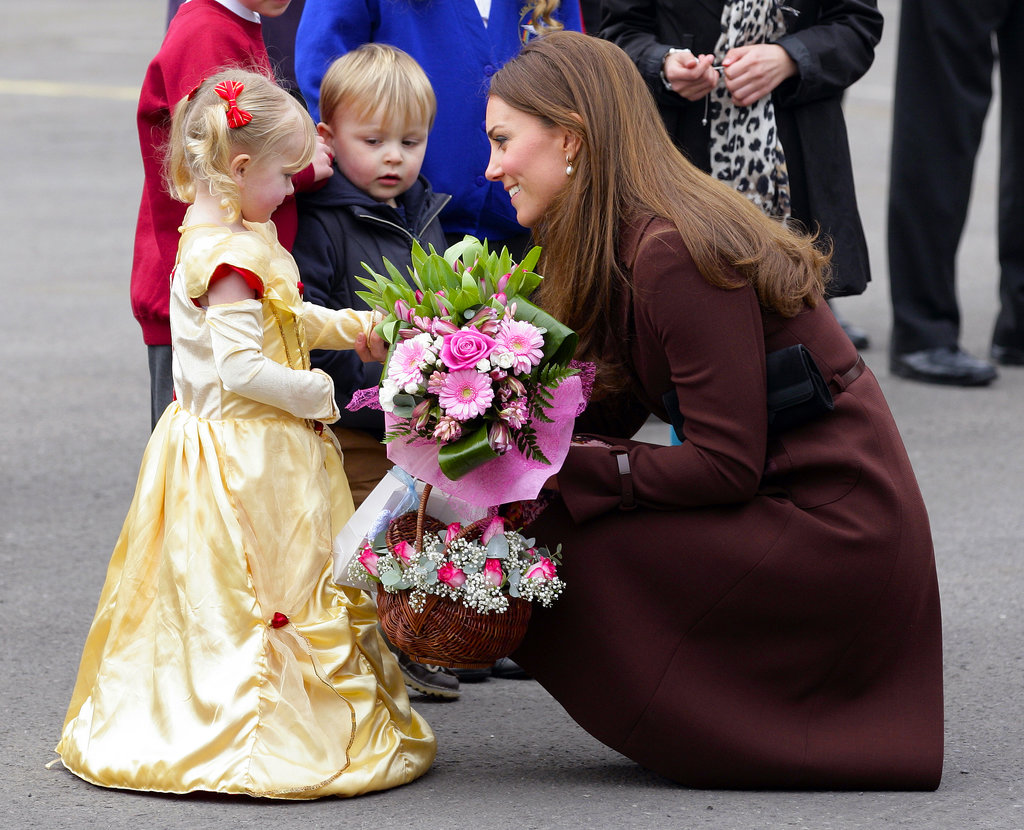 Kate chatted with a girl in a princess costume [10] in March 2013 when she toured the town of Grimsby in England.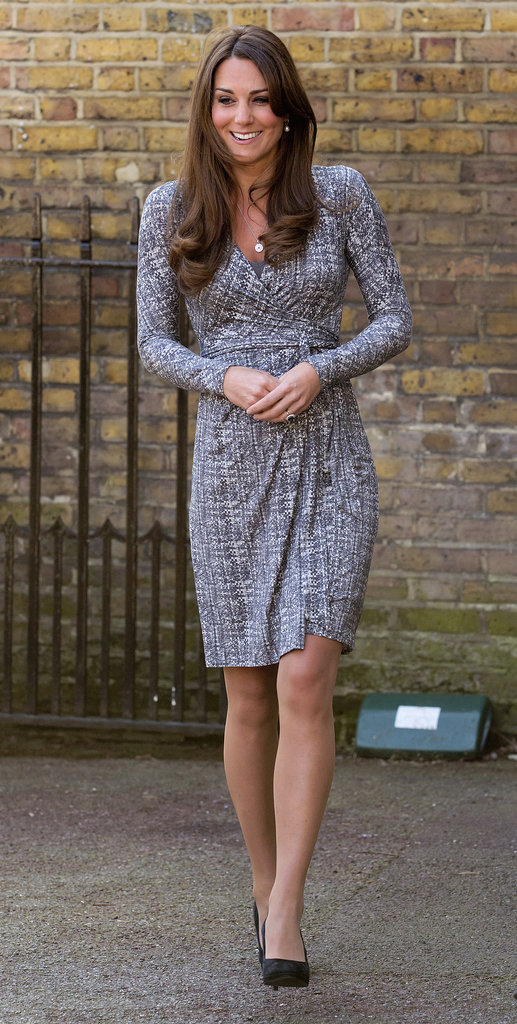 In February 2013, Kate visited Hope House [11] in London after taking a short vacation with her family and Prince William.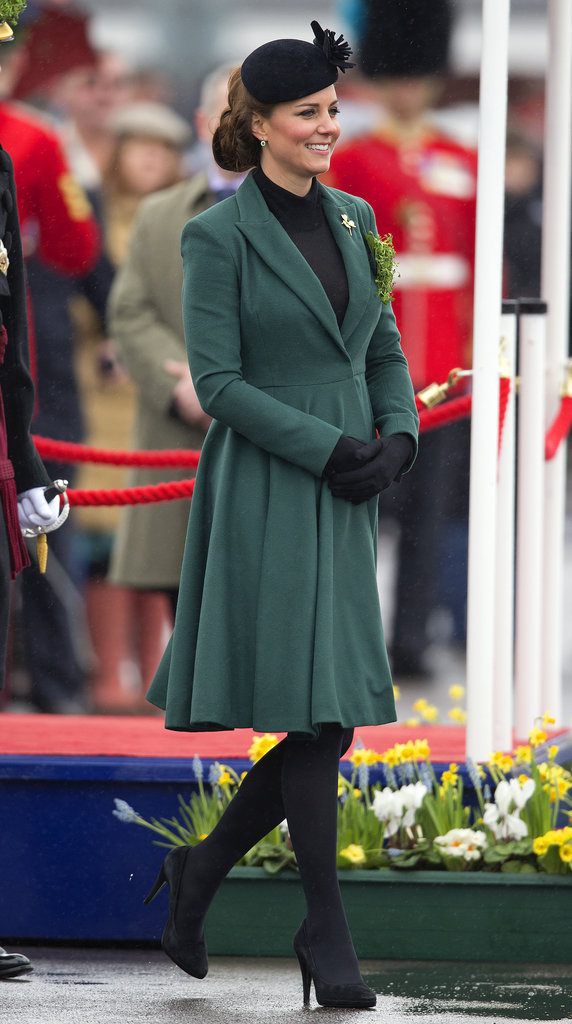 The duchess celebrated St. Patrick's Day 2013 [12] by visiting the barracks at Aldershot, England, to pin clovers on soldiers.
Kate shook hands with a punk while visiting a drop-in center for homeless and young people in Quebec back in July 2011.
She donned jeans during a stop by Blachford Lake in Canada in July 2011.
In September 2013, Kate wore a Jenny Packham [13] gown for a night out with Prince William at the Tusk Conservation Awards in London.
Kate and William wore red poppies on their clothes as they attended a November 2011 reception for the National Memorial Arboretum Appeal at St. James's Palace.
Kate shimmered in a pink frock when she attended the June 2011 benefit for the Absolute Return for Kids nonprofit with Prince William in London.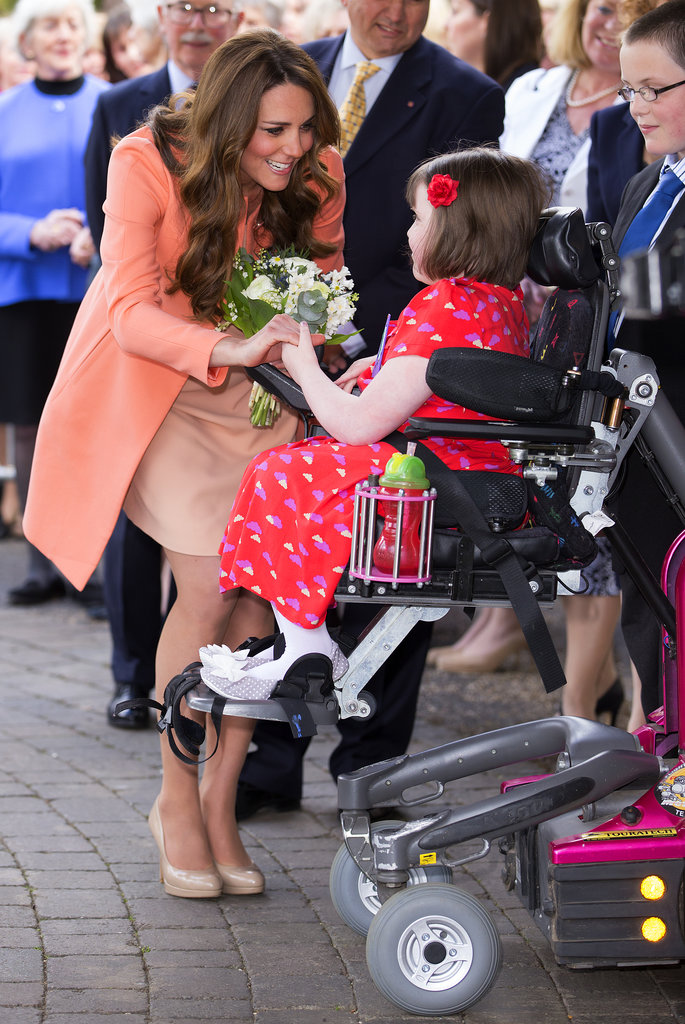 She celebrated her wedding anniversary [14] in April 2013 by visiting the Naomi House Children's Hospice in Hampshire, England.
In October 2012, Kate and William tested their fitness abilities during a visit to The Football Association's National Football Centre at St George's Park in Burton-upon-Trent.
In June 2012, Kate put her camping skills to the test during a visit to an outdoor camp in Wrotham.
She made her first official royal appearance in February 2011 when she christened a lifeboat in Wales with Prince William.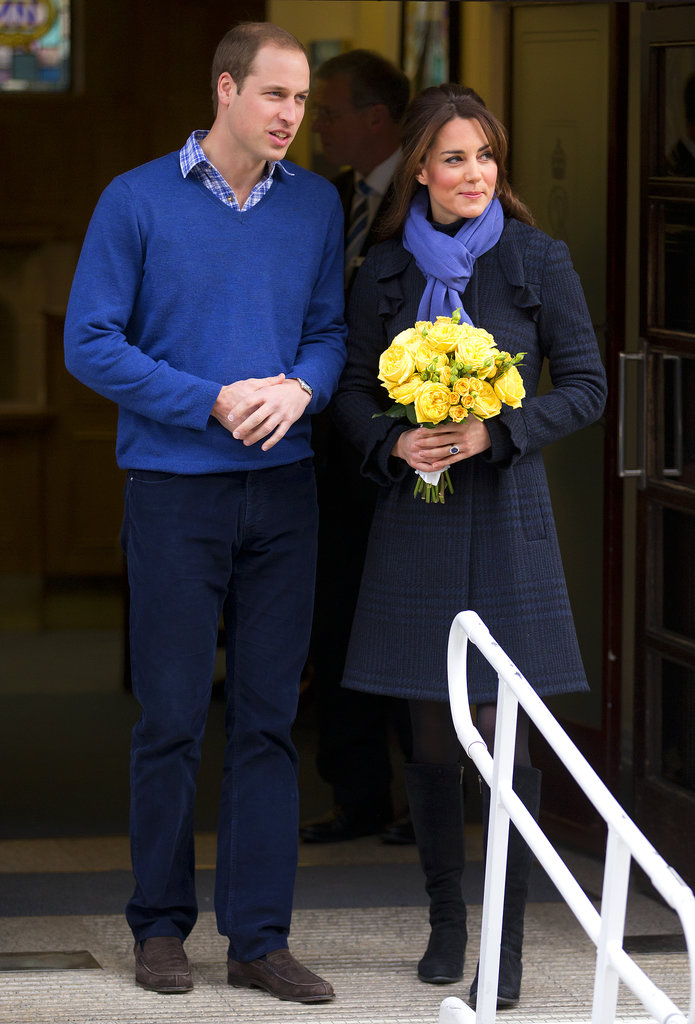 After being admitted to the King Edward VII Hospital [15] for acute morning sickness, Kate got picked up by William to go home in December 2012.
Kate showed skin in October 2011 when she made a stop by the In Kind Direct charity bash at Clarence House in London.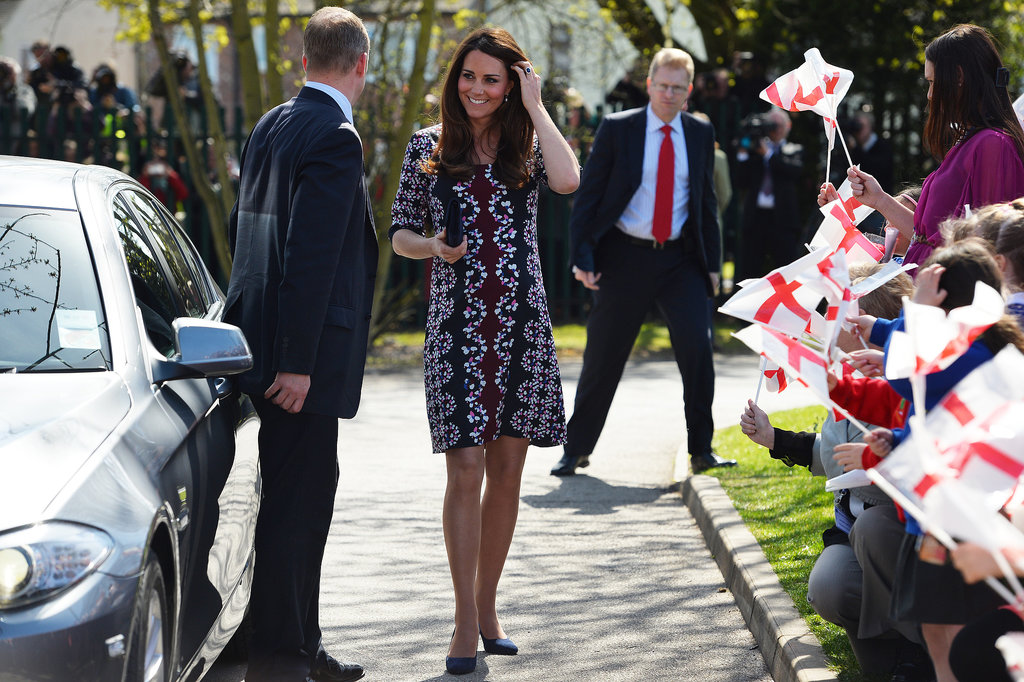 In April 2013, Kate was all smiles when she dropped by the Willows Primary School [16] in Manchester, England, in a patterned Erdem [17] dress.
She joined Prince William for a charity polo match for his foundation with Prince Harry during their July 2011 visit to Santa Barbara, CA.
Who could forget the royal wedding [18]? Kate married William in a massive ceremony at Westminster [19] Abbey on April 29, 2011.
Kate and William met with President Barack Obama and First Lady Michelle Obama when the Obamas made a state visit to London in May 2011.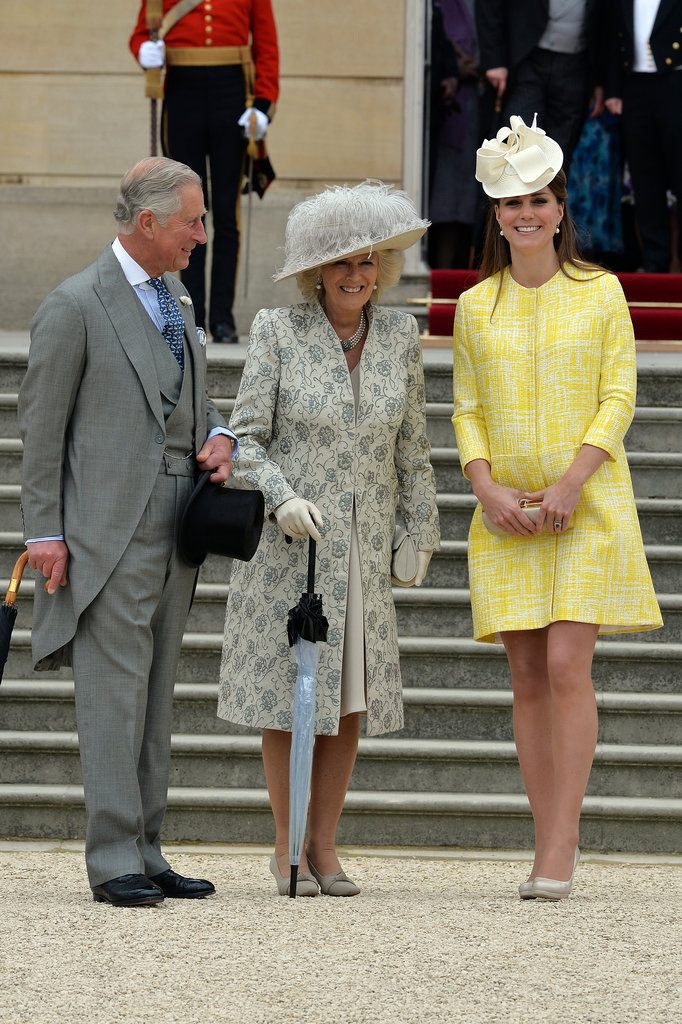 Kate joined Prince Charles and Camilla at Queen Elizabeth II's annual garden party [20] in May 2013 in London.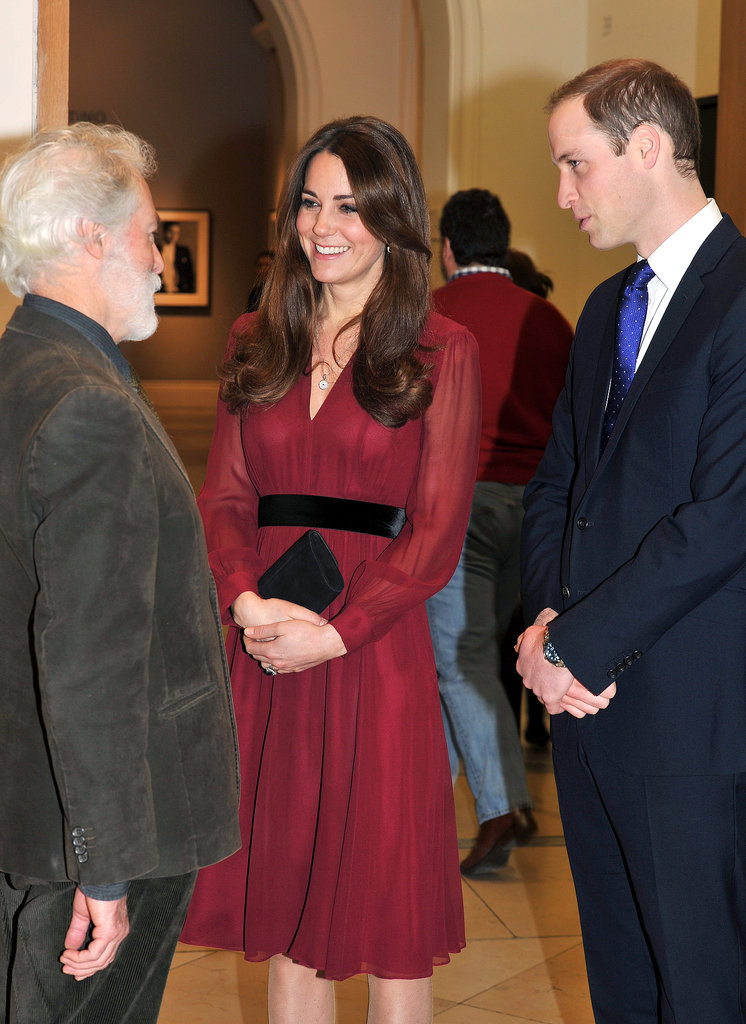 Kate smiled with artist Paul Emsley and Prince William when she attended an unveiling of her official portrait [21] at the National Portrait Gallery in January 2013.
She went for a pink ensemble at the May 2012 garden party at Buckingham Palace.
Kate and William stepped out for the Diamond Jubilee pageant on the Thames River in June 2012.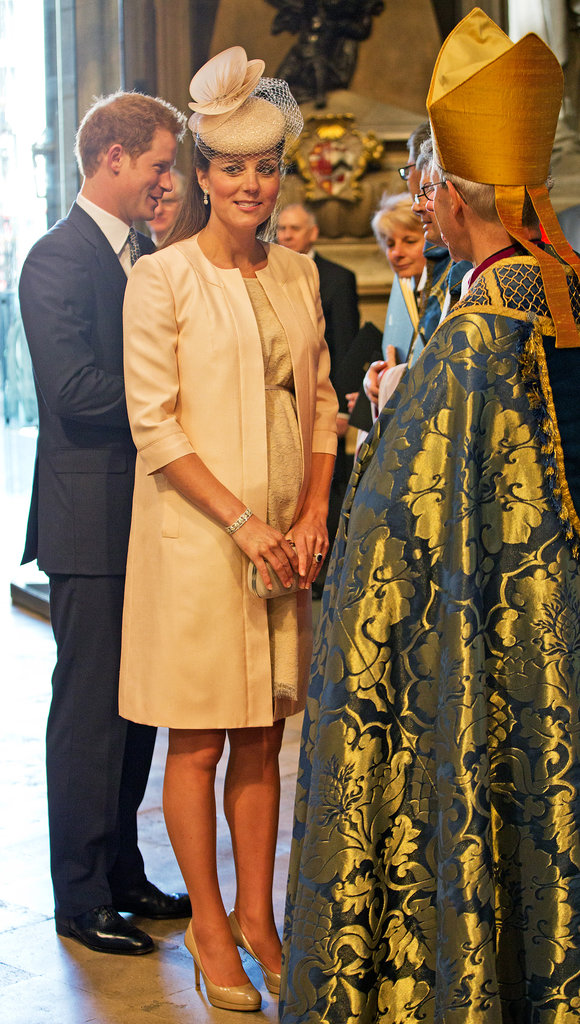 She attended Queen Elizabeth II's 60th coronation anniversary [22] service at Westminster [23] Abbey in London in June 2013.
Kate sat with Harry and Camilla while riding with the June 2012 Trooping the Colour parade in London.
In September 2012, Kate and William looked stylish as they left Kuala Lumpur, Malaysia, during their official royal trip.
In September 2012, the duchess received a gift during her trip to the Solomon Islands.