Kate Middleton held her own in a room full of A-listers when she joined Queen Elizabeth II in a special reception at Buckingham Palace on Monday for stars like Helen Mirren [1], Helena Bonham Carter, and many other British celebrities. The Duchess of Cambridge pulled another outfit repeat, donning the same red Alexander McQueen dress she wore to the queen's Diamond Jubilee celebration on June 3, 2012. This isn't the duchess's first time attending a royal event with her grandmother-in-law, but it is her first time playing her right-hand woman at an event at the palace. Last week, Kate's schedule was busy with two solo events, including a gala at the National Portrait Gallery [2] on Tuesday and an art-therapy room opening at a high school in London [3] on Valentine's Day. At the gala, Kate received a special treat, the queen's Nizam of Hyderabad Cartier necklace, to wear to the event, marking the start of the duchess's "royal makeover," [4] which will reportedly involve more jewelry, more tiaras, and longer hemlines.
While Kate has been grabbing headlines with her glamorous appearances, her husband, Prince William, and his brother, Prince Harry, have been experiencing a surprising bout of negative press over the past week. Critics have been calling the two royals hypocrites for campaigning against illegal hunting in Africa while partaking in hunting trips of their own. Meanwhile, Harry and William showed a rare display of annoyance [5] when reporters spotted them helping with flood relief in Datchet, England, on Friday. William asked reporters to put down their cameras and help them with their work, only to be told by the royals' aides that they weren't allowed to pitch in due to lack of proper clothing. Harry also ruffled feathers when he told reporters that he was having fun with relief efforts until they showed up. Despite the negative press, William proved he was still the king of hearts on Sunday, when he made a dapper (albeit solo) appearance at the BAFTAs [6] to present Helen Mirren with a special award.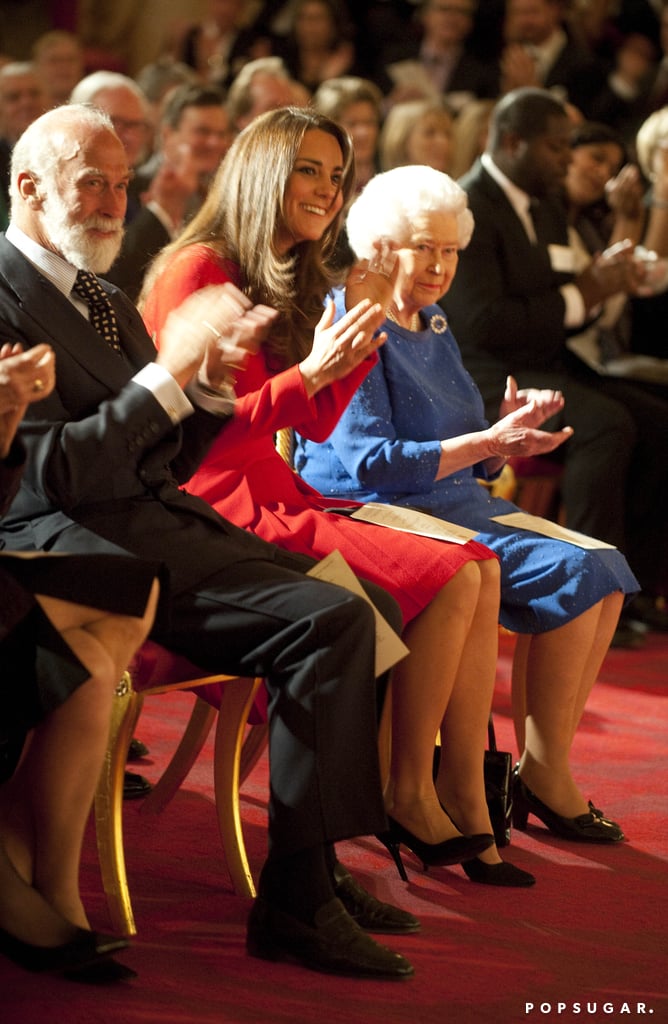 Queen Elizabeth shook hands with Helen Mirren [7], who has portrayed her in the past.
Kate Middleton met with Helen Mirren [8].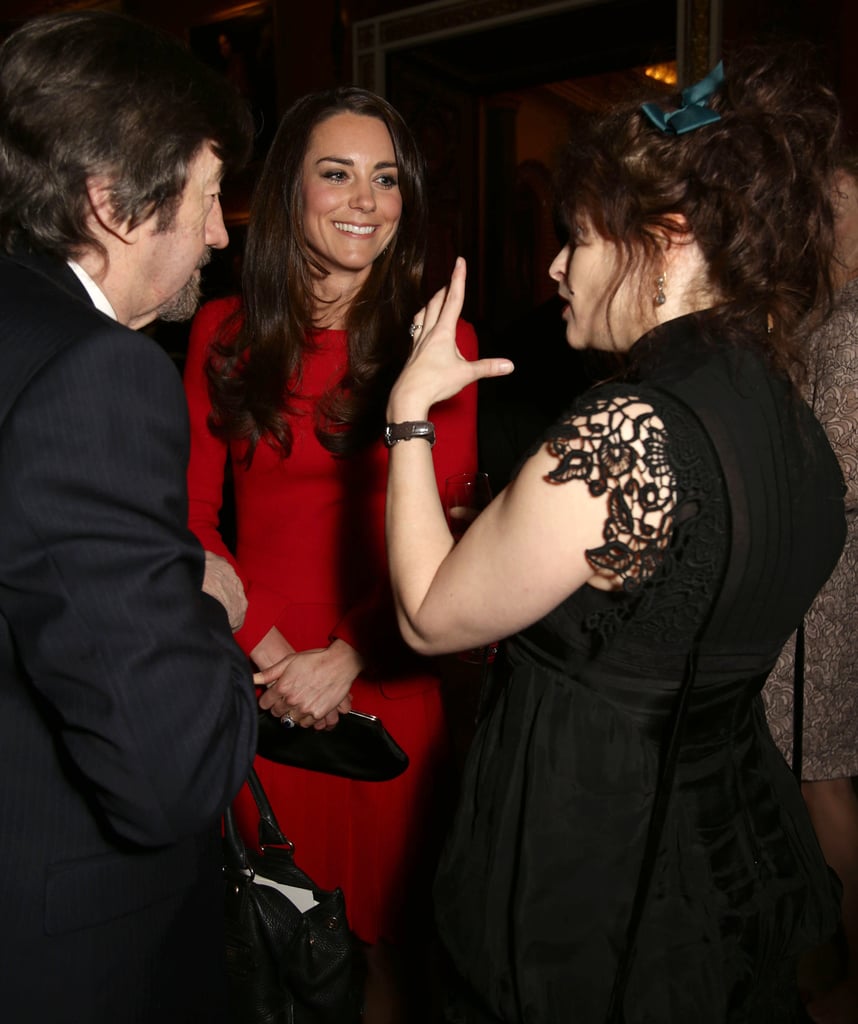 Kate chatted with Helena Bonham Carter and Sir Trevor Nunn.
Kate showed off some fancy earrings.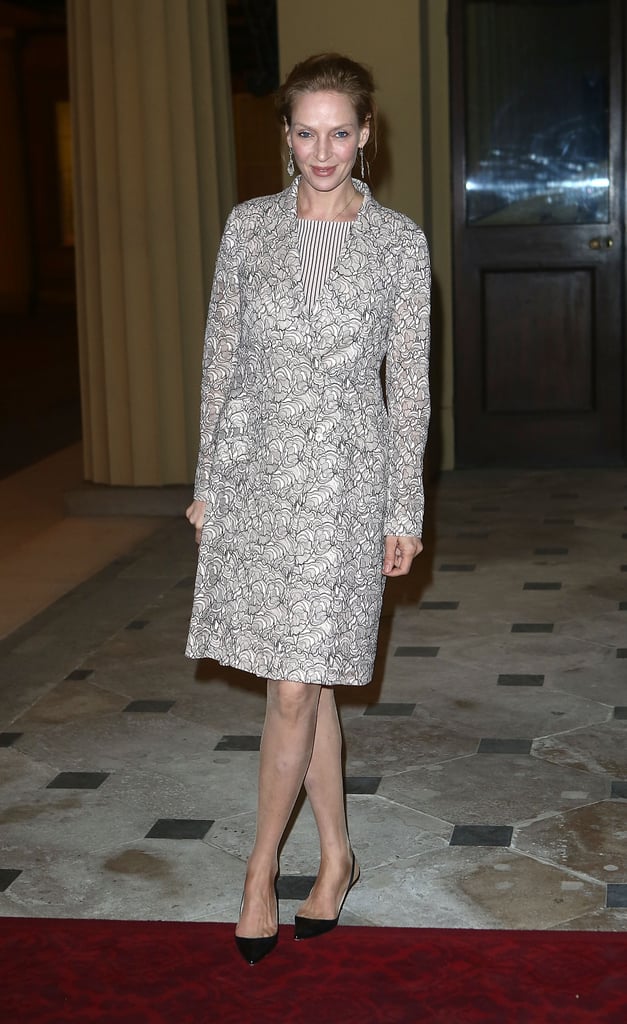 Uma Thurman [9] attended the reception at Buckingham Palace.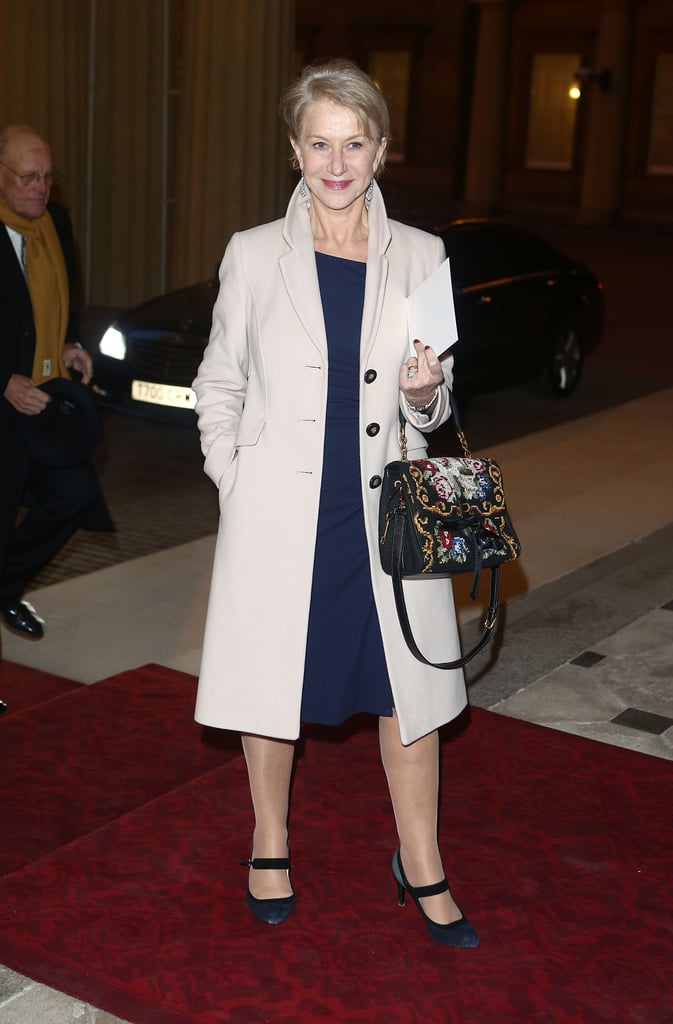 Helen Mirren [10] arrived at Buckingham Palace.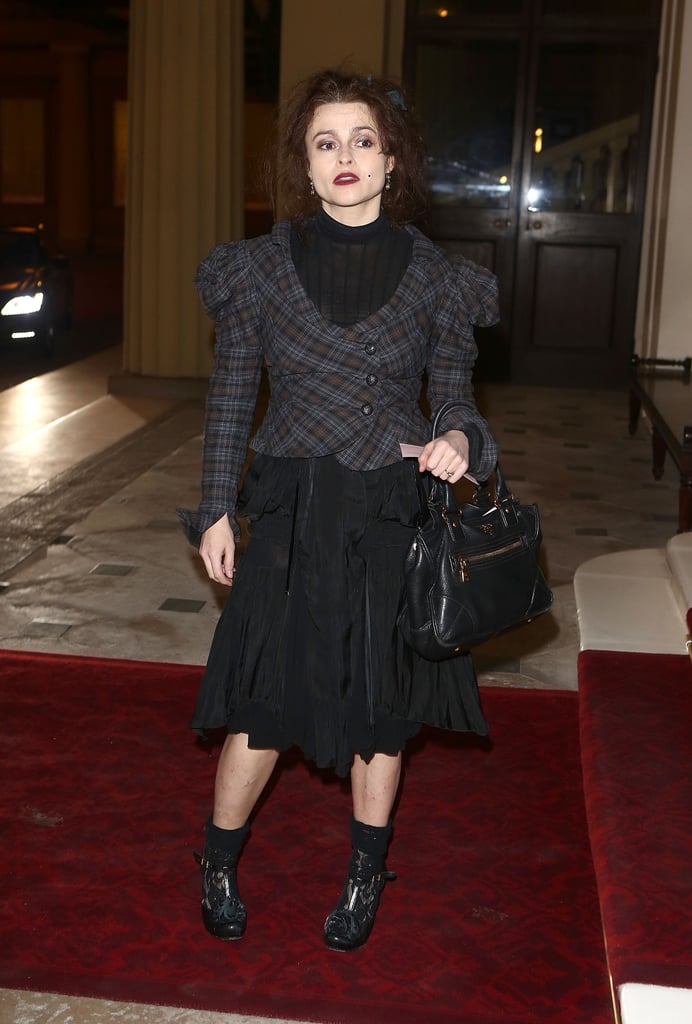 Helena Bonham Carter walked the red carpet to meet Kate and the queen.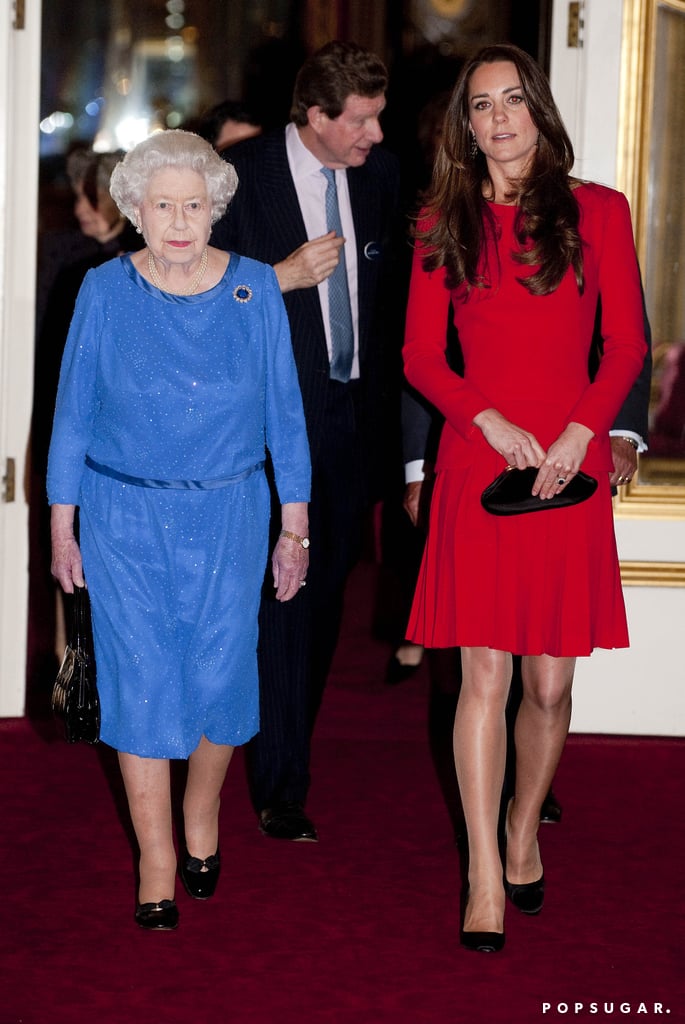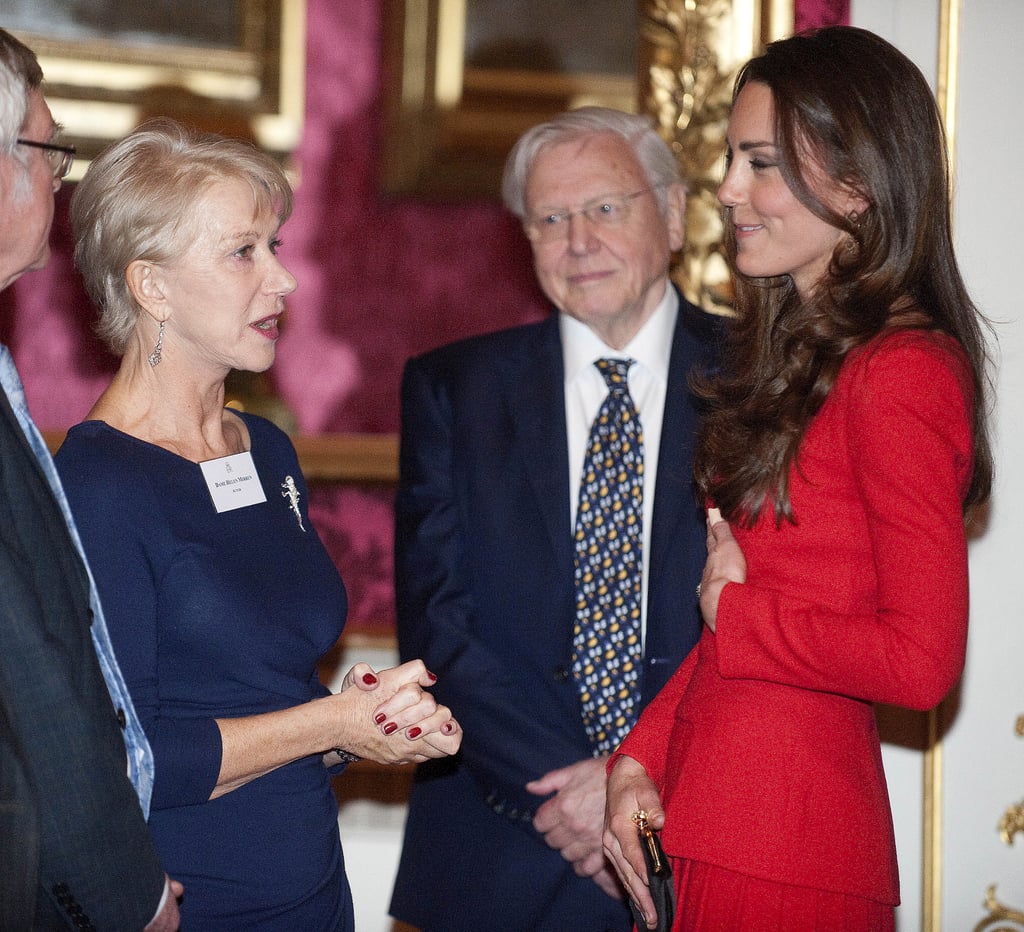 Kate caught up with Helen Mirren [11].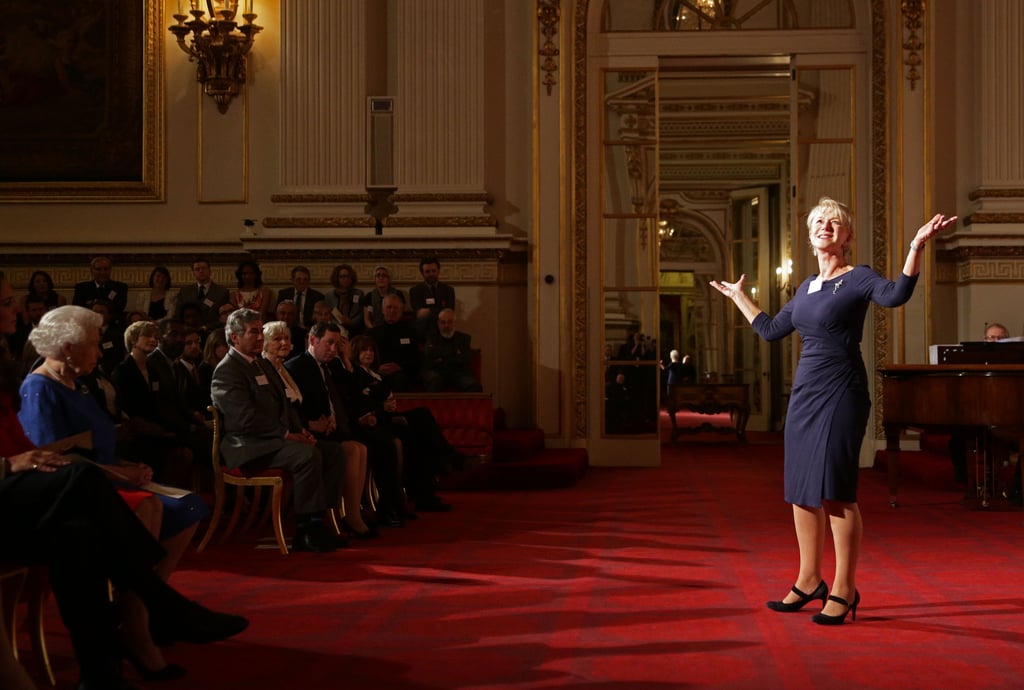 Helen Mirren [12] delivered a speech from Shakespeare.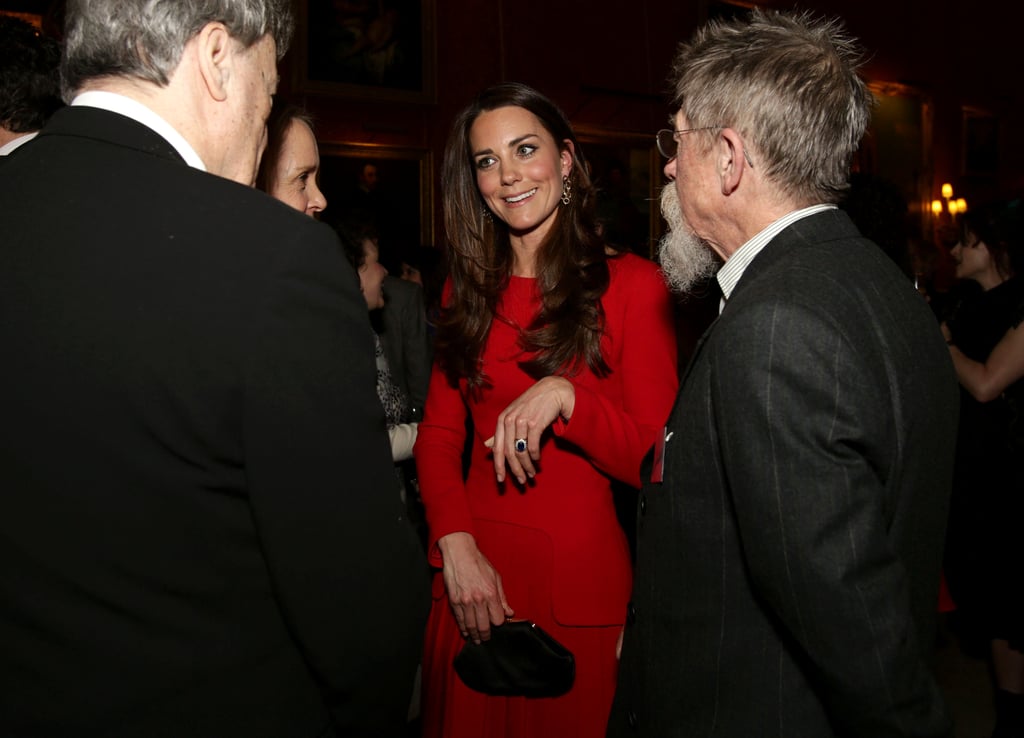 Kate Middleton met with actors during the event.