It's been a whirlwind few years for Kim Kardashian [1] and Kanye West [2], who started dating in Spring 2012; welcomed their first child, North West, last June; and got engaged just months later. Over the weekend they made it official with lavish wedding [3] celebrations in Paris, France, and Florence, Italy. We first got a sneak peek at Kim and Kanye as a bride and groom in their Vogue spread [4], and we saw the real deal on Tuesday, when Kim revealed photos from their ceremony [5]. Now that they're married, let's take a look back at how it all started.
Source: Splash News Online [6]
October 2010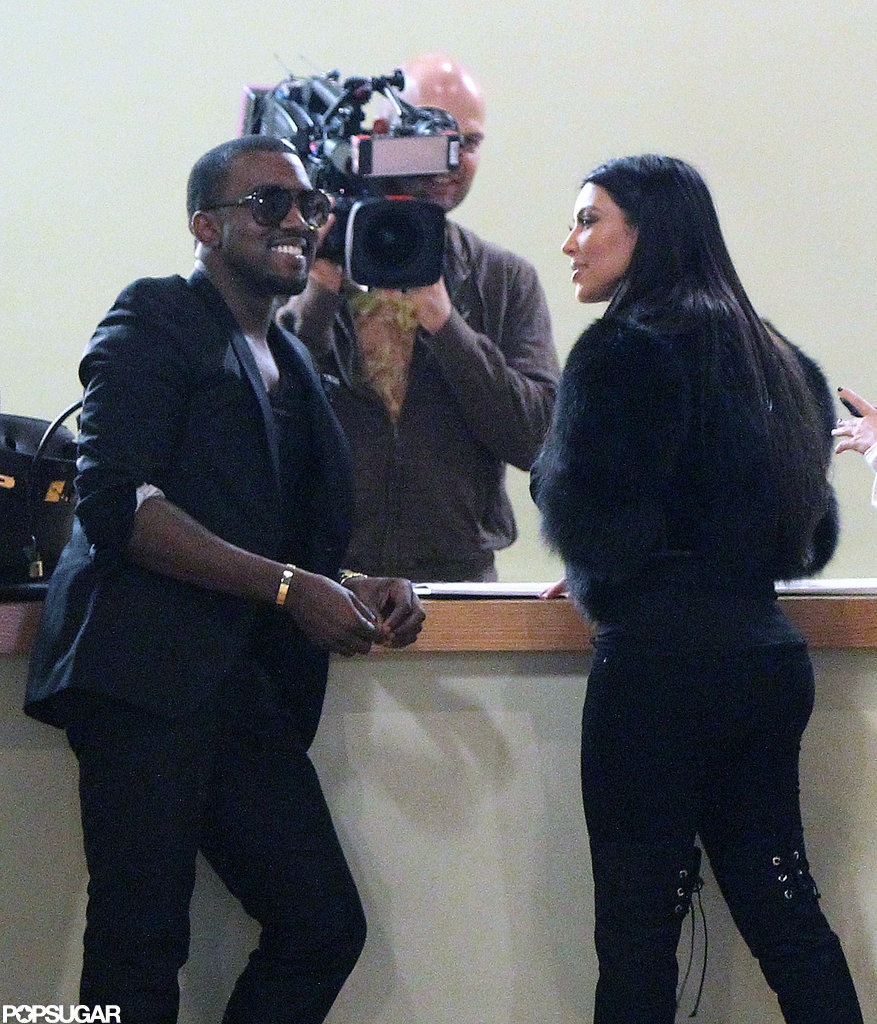 Kanye met up with Kim in NYC while she filmed Keeping Up With the Kardashians. At the time, Kim was rumored to be dating model Gabriel Aubry [7], while Kanye had just ended his relationship with Amber Rose.
April 2012
Kanye released his new track "Theraflu," revealing the lyrics "and I'll admit, I fell in love with Kim 'round the same time she had fell in love wit' him. Well, that's cool, baby girl, do ya thing," in reference to Kim's relationship with Kris Humphries.
The next day, Kim responded during a Today show interview [8], saying, "Kanye and I have been friends for years, and you never know what the future holds or where my life will take me. I like the song."
April 2012
Khloé Kardashian coyly addressed rumors that her sister Kim was dating Kanye by saying, "We've known Kanye forever. He's been a great family friend. . . . I think they're cute together. . . . They're compatible."
April 2012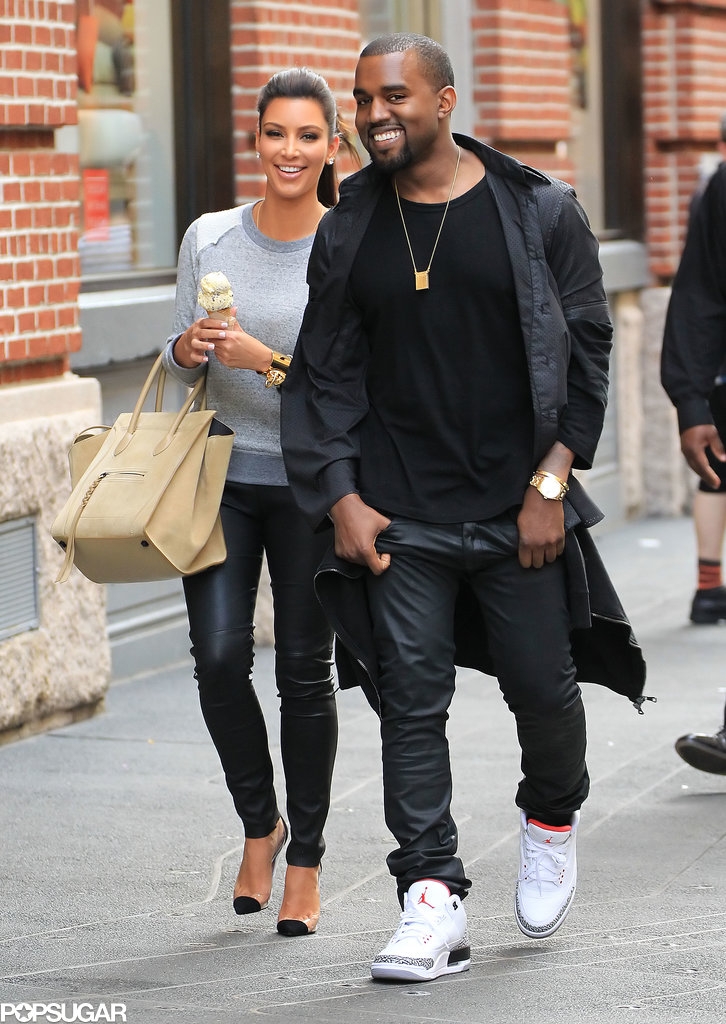 The duo made their public debut as a couple [9] on the streets of NYC after weeks of rumors that they were dating.
May 2012
Kim and Kanye West [10] showed their first PDA on the set of her Vogue Italia photo shoot in LA. The kiss came just a few days after Kanye attended Kim's sister Kourney's baby shower with the whole Kardashian family.
July 2012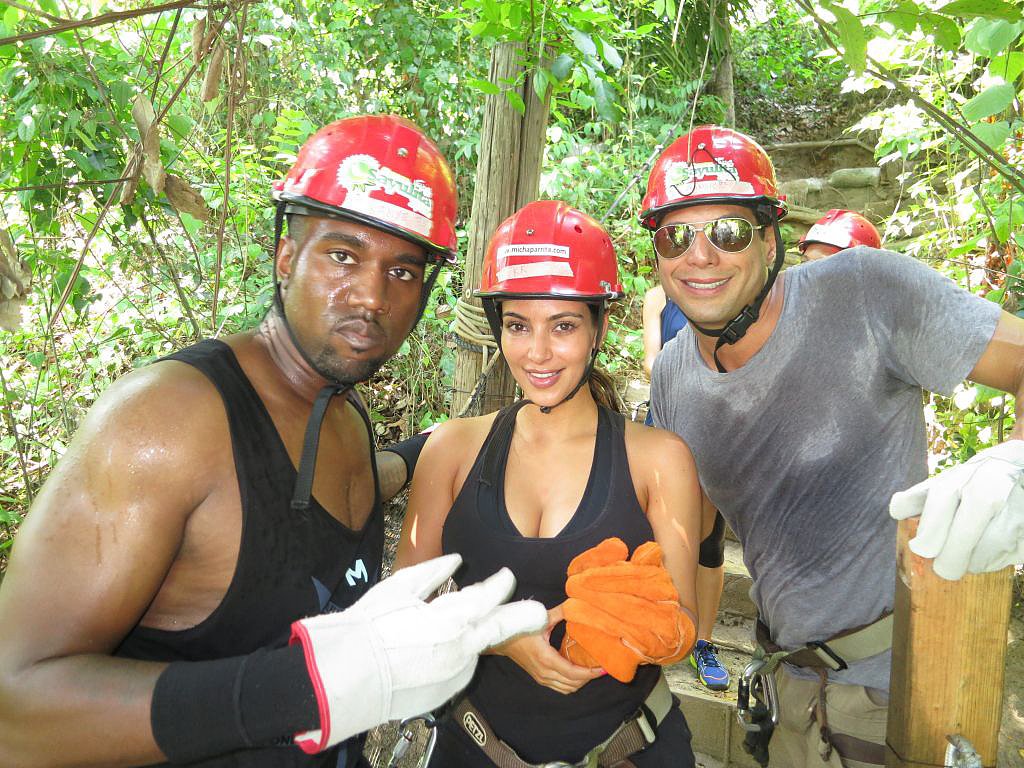 Things got more serious as the couple escaped to Mexico for a vacation with pal Joe Francis.
Source: Twitter user RealJoeFrancis [11]
September 2012
Kim and Kanye made the rounds during Paris Fashion Week, and Kim broke from the festivities to gush about Kanye's great taste. She told E! news that she wasn't worried about what Kanye would give her [12] for her birthday, saying, "See, the thing is, my boyfriend, he has such good taste that I don't need to [tell him]."
December 2012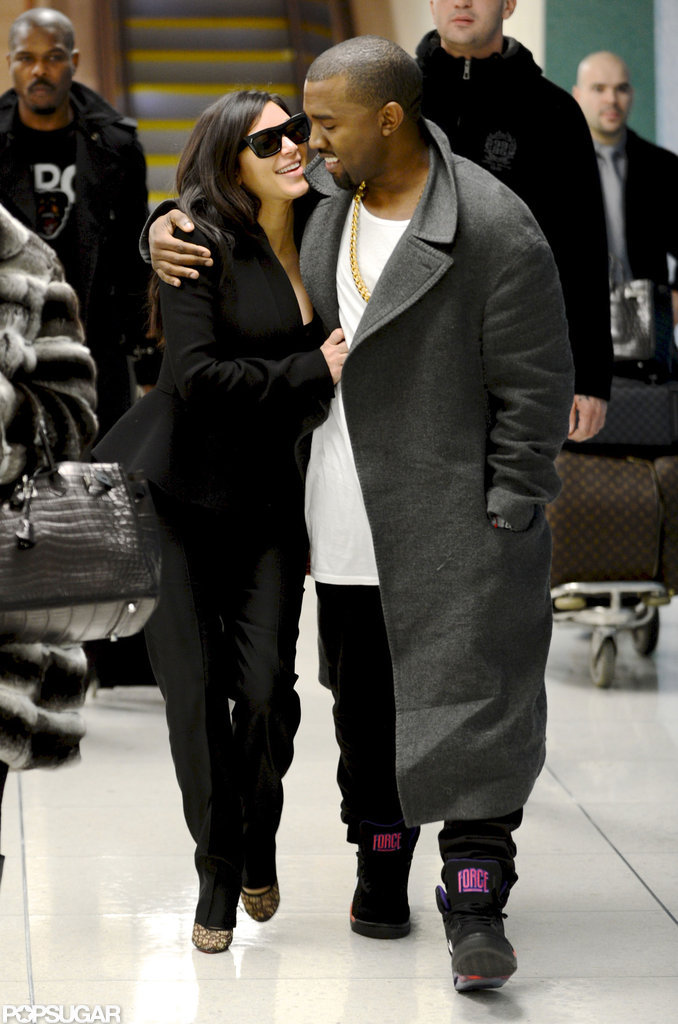 They showed lots of love [13] just days after Kanye announced Kim's pregnancy during a concert in Atlantic City, NJ. Kim later took to her website to confirm the news, writing, "It's true!! Kanye and I are expecting a baby. We feel so blessed and lucky and wish that in addition to both of our families, his mom and my dad could be here to celebrate this special time with us. Looking forward to great new beginnings in 2013 and to starting a family. Happy New Year!!!"
January 2013
Kanye and Kim celebrated their baby news by ringing in the New Year in Las Vegas. The next week, it was reported that they purchased an $11 Bel Air mansion [14] in LA together.
February 2013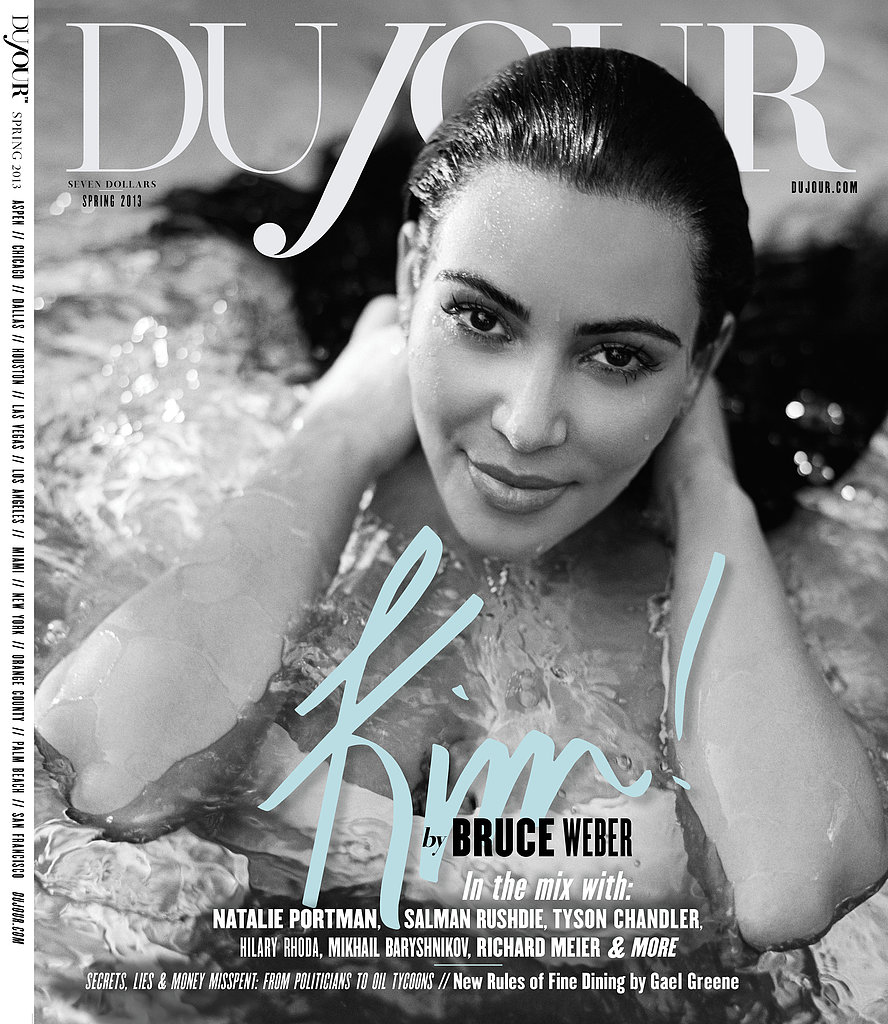 Kim posed for DuJour magazine's Spring 2013 issue [15] and revealed how dating Kanye changed her: "My boyfriend has taught me a lot about privacy. I'm ready to be a little less open about some things, like my relationships. I'm realizing everyone doesn't need to know everything. I'm shifting my priorities."
Source: Bruce Weber for DuJour magazine [16]
February 2013
Kim and Kanye shared a rare glimpse at their relationship in a steamy cover shot for L'Officiel Hommes.
March 2013
Kim showed off her growing bump at the premiere of Temptation in Atlanta, where she opened up about the pregnancy after a miscarriage scare earlier in the month. Kim said, "Being pregnant is not as easy as my sister made it look or my mom made it look. It's a little more painful. I've gotten sick a couple times."
March 2013
She sat down on The Tonight Show to talk baby names with Jay Leno [17]. At the time, she and Kanye hadn't revealed if they were expecting a boy or a girl, but she and Jay threw around ideas with Kim, sharing that she and Kanye "have a list, and some of them are K names and some of them aren't." Jay brought up the rumor that they were thinking of North West, and Kim quickly denied the idea, going on to say, "One of the names I do like — I like Easton. Easton West. I think that's cute."
April 2013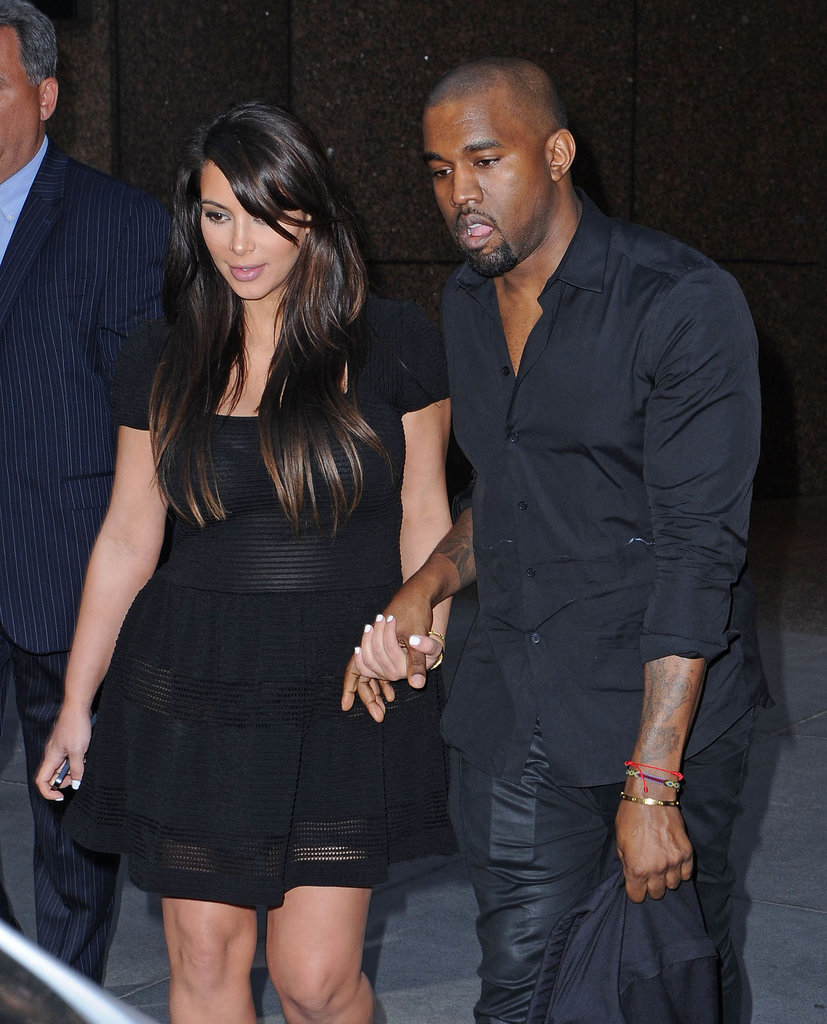 Kim and Kanye stepped out in NYC as news broke that Kim and Kris Humphries had reached a divorce settlement. Earlier, she had expressed concern about still being legally married [18] to Kris when giving birth to her child with Kanye: "I firmly believe that an immediate dissolution of our marriage will help create a new, full life for me. I do not want to be married . . . when I have my baby."
May 2013
Kanye and Kim reportedly went house hunting as they prepped for the arrival of their first child. The couple remained quiet on the gender of their baby, though it was all but confirmed they'd be having a girl when pink baby-shower invitations featuring a ballerina were sent out.
May 2013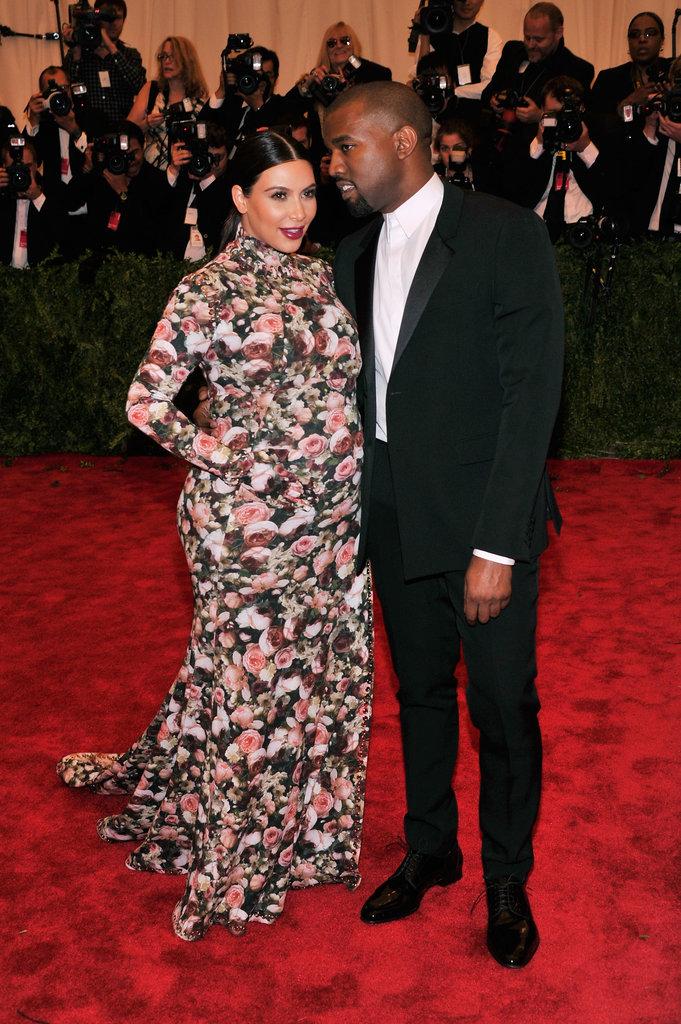 Kanye had pregnant Kim as his date at the Met Gala. Inside the event, he took the stage to perform and defended Kim [19] against haters, saying that she shouldn't worry what anyone says and that she's awesome.
June 2013
Kim was surrounded by friends and family, including Kanye, at her Beverly Hills baby shower. The couple asked for donations to Chicago's Lurie Children's Hospital [20] instead of gifts for their baby girl. They had even more to celebrate, since Kim's divorce from Kris Humphries was finalized [21].
A week later, Kanye's rep responded to rumors [22] that he cheated on Kim with model Leyla Ghobadi, saying, "This most recent attack on Kanye West [23] and his family is totally without merit. It's a blatant attempt by a misguided individual who is clearly seeking publicity and another in a series of malicious stories drummed up by noncredible 'news' sources. This is a sad attempt to hurt two people trying to live their lives."
Source: Instagram user kimkardashian [24]
June 2013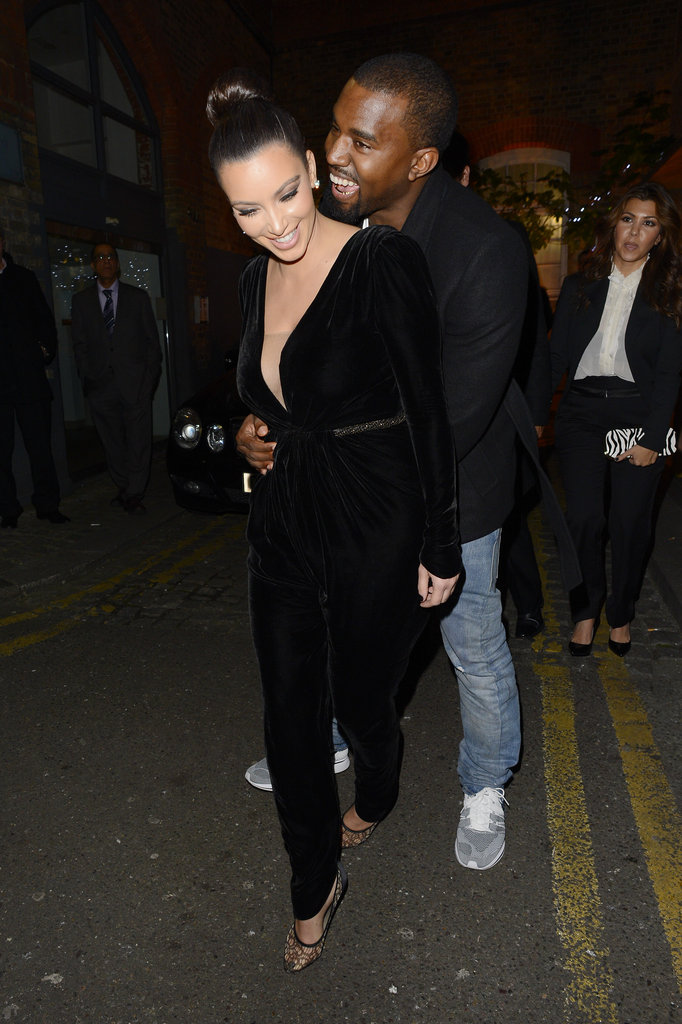 Kim and Kanye welcomed their daughter! The baby girl was born a few weeks ahead of her anticipated due date but was reportedly healthy. It wasn't until almost a full week after her birth, when her birth certificate became public record, that the little girl's name was revealed as North "Nori" West.
June 2013
Kanye told W Magazine [25] the reason that he appeared on Keeping Up With the Kardashians: "Oh, that's just all for love. It's simply that. At a certain point, or always, love is more important than any branding or any set of cool people or attempting to impress anyone. Because true love is just the way you feel. Thoughts and feelings can disagree sometimes."
August 2013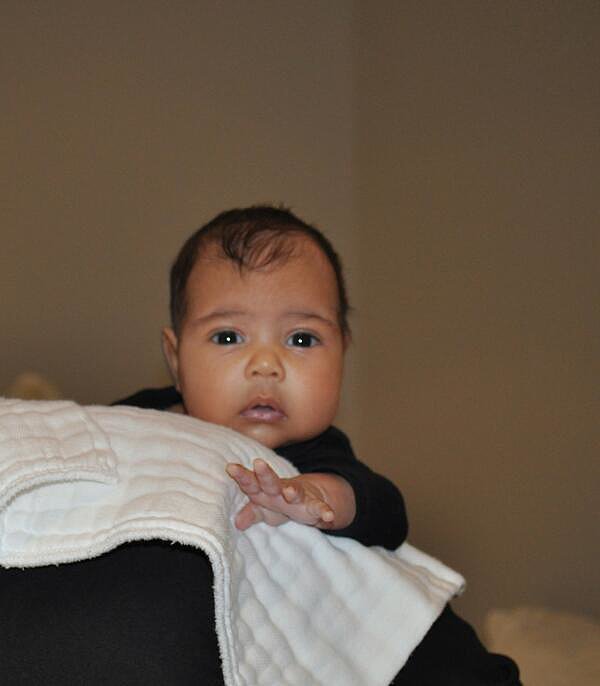 The first photo of North [26] was revealed on Kris Jenner's talk show Kris, when Kanye appeared as a guest.
Source: Twitter user KrisJennerShow [27]
October 2013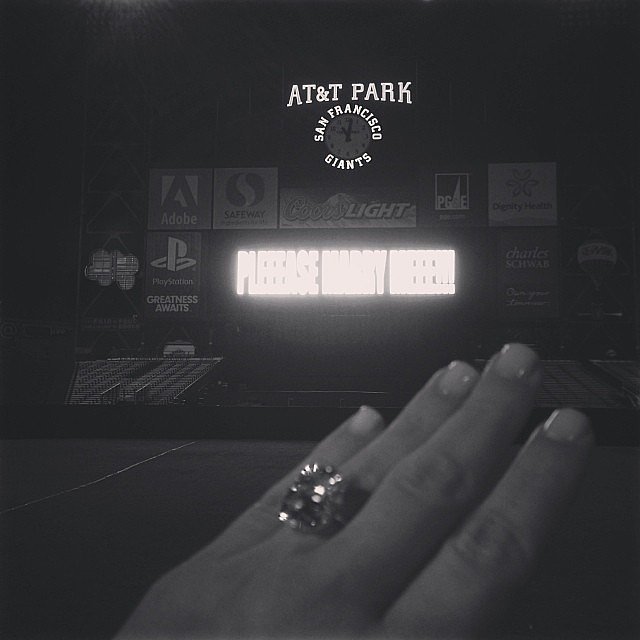 Kim and Kanye got engaged [28] in a surprise proposal at San Francisco's AT&T park. She shared the exciting news on Instagram by posting a snap of her 15-carat diamond ring and the words "Please marry me" on the Jumbotron.
Source: Instagram user kimkardashian [29]
March 2014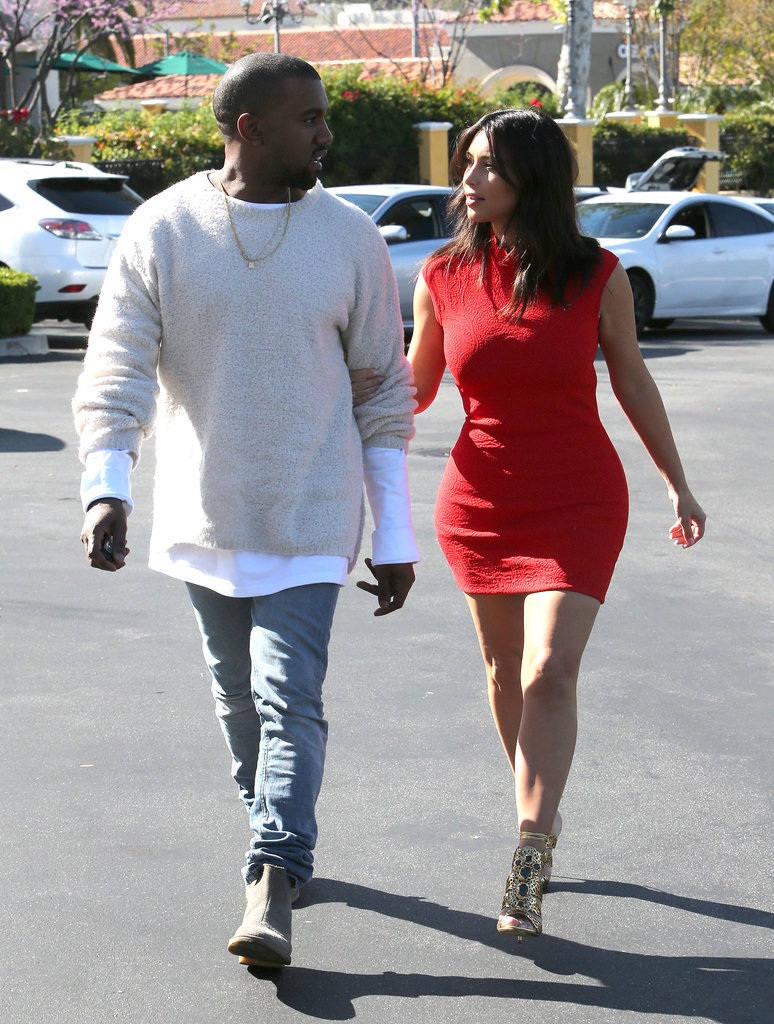 After plenty of talk about the nuptials from Kim over the previous weeks, the couple finally set a wedding date [30], with plans to marry in Paris on May 24.
March 2014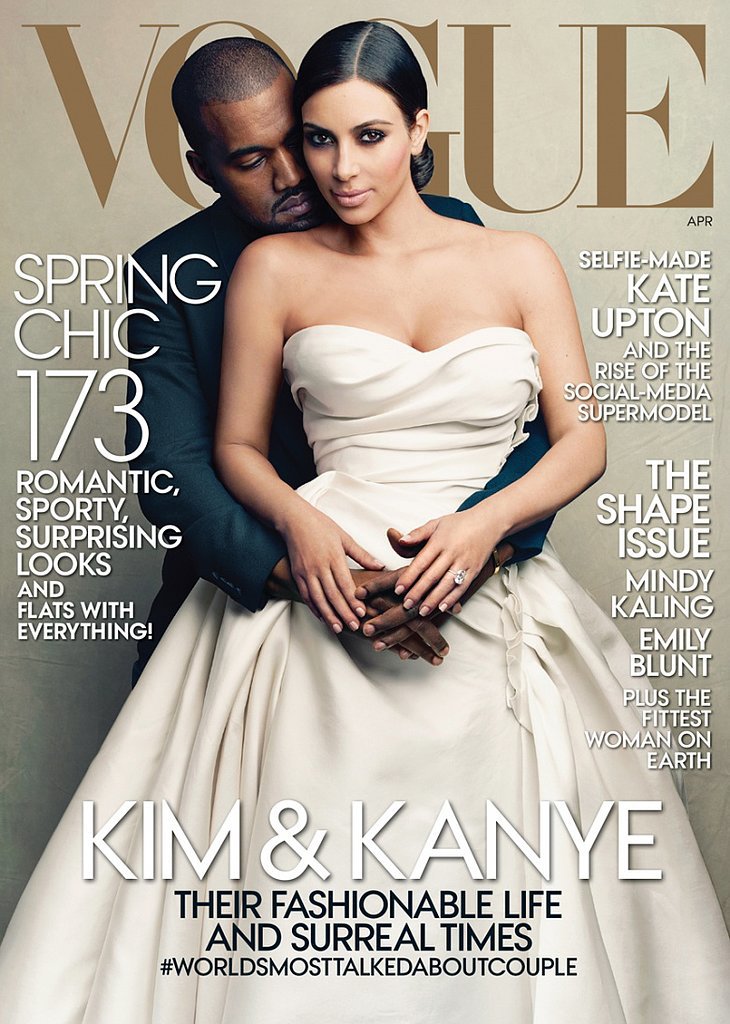 Kim got her Vogue cover [31]! After much speculation [32], she and Kanye landed the coveted spot on the magazine's April issue — North even got in on the action [33]!
Source: Annie Leibovitz for Vogue [34]
April 2014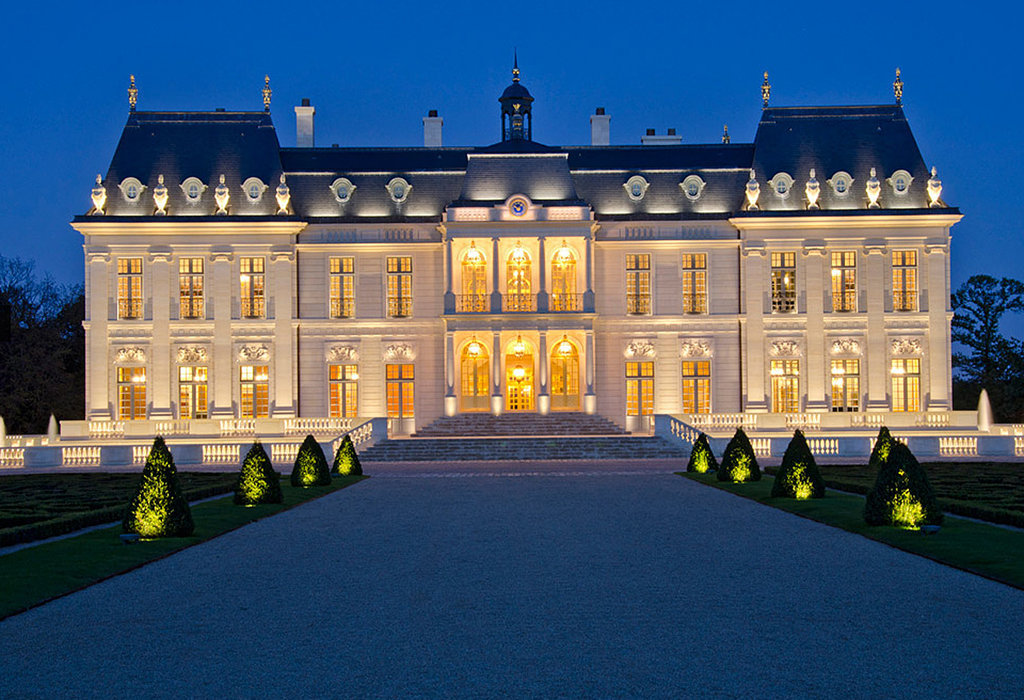 Kim might have given away details about her nuptials in April, when she traveled to Paris and toured the Chateau Louis XIV [35] with Balmain [36]'s creative director, Olivier Rousteing. The trip caused speculation that she and Kanye will marry at the newly built castle and that Kim will wear a gown designed by Olivier for her walk down the aisle.
May 2014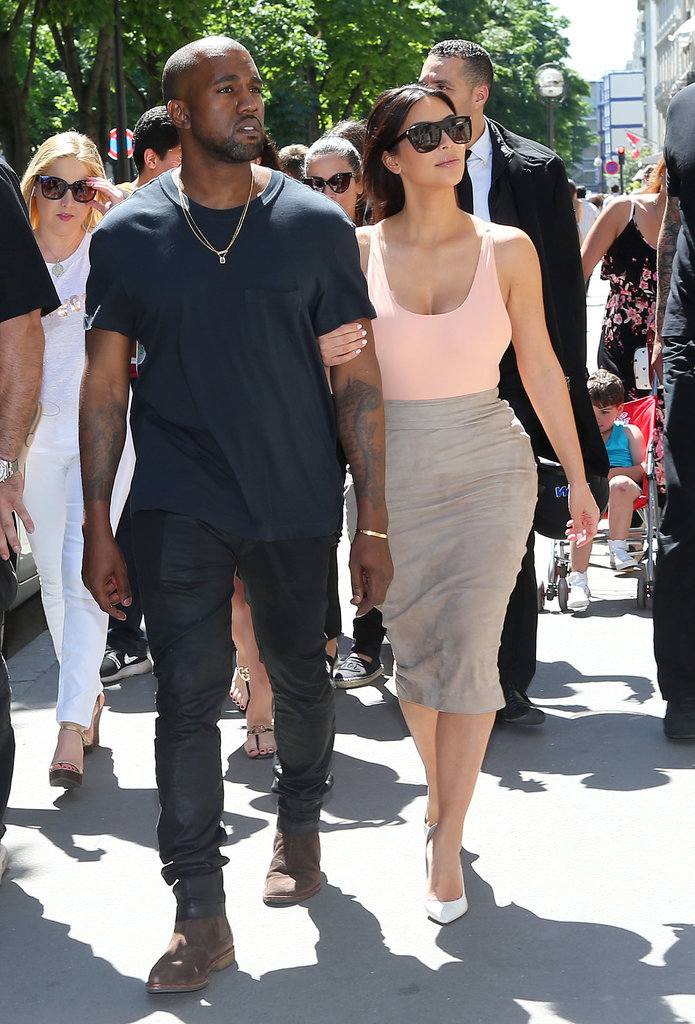 Kim and Kanye, along with Kim's family, arrived in Paris [37] the week before the wedding [38] despite reports that they would actually get married in Florence, Italy [39].
May 2014
After a few days of celebrations with their family and friends in Paris, Kim and Kanye tied the knot [40] in a lavish ceremony in Florence, Italy. They reportedly jetted off to Ireland for their honeymoon following the nuptials.
Source: Instagram user kimkardashian [41]