It looks like Kim Kardashian and Katie Couric's feud is over [1]. Last year, Katie said she didn't understand why the Kardashians were famous, and then Kim slammed her for sending a gift to North West and being a "fake media friend." However, they looked happy posing together in the Hamptons over the holiday weekend.
Zac Efron [2] and Michelle Rodriguez were photographed kissing on vacation [3]. They have been staying very close on their trip and working out together [4] in Italy.
Jessica Simpson married Eric Johnson [5] over the weekend. She wore a custom-designed champagne and gold Carolina Herrera gown, and their kids, Ace and Maxwell, played big roles [6] in their nuptials.
A huge death happened on True Blood last night. Say goodbye to the beloved character with his sexiest moments on the show [7].
In other Kim Kardashian [8] news, she reunited with the pastor who officiated her and Kanye West's wedding [9]. She and her sister Kourtney posed with him after attending his church service:
Novak Djokovic won the Wimbledon men's singles title [10], beating out seven-time winner Roger Federer.
Sixty-three women and girls kidnapped by Boko Haram in Nigeria escaped [11] from their captors and have returned to their village. They were able to get out while the militant group left to launch an attack in a nearby town.
A 51-year-old woman was held down and punched by a California Highway Patrol officer [12] along the Santa Monica freeway last week, and now her family is suing. She reportedly was walking in traffic lanes, ignoring the officer, and became "physically combative."
A man survived a shark attack in California [13] over the weekend by prying its teeth off of his body. The seven-foot great white shark could have bitten off the side of his rib cage.
Richard Dunn, the man behind the "All by Myself" airport video [14], finally met Celine Dion [15]. After she invited him via YouTube, he went to see her show in Las Vegas and scored a meet and greet backstage.
Your daily dose of cute: here's an elephant who is ready for the World Cup.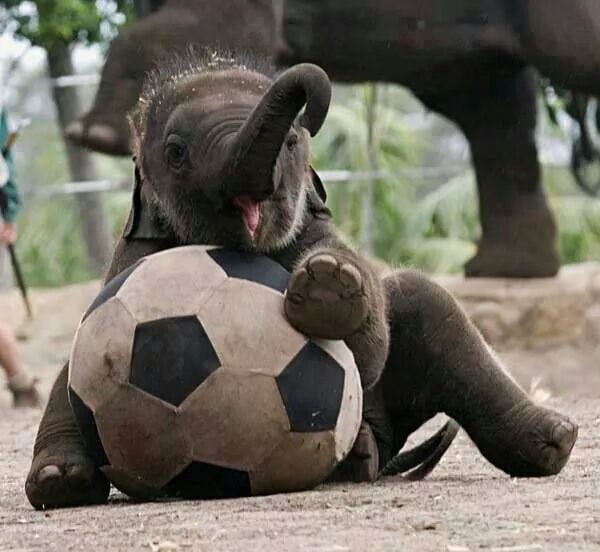 Source: Imgur [16]