Since starting out 2013 with her pregnancy news, Kim Kardashian [1] has taken her growing baby bump on a worldwide tour. She's made stops in Greece, Texas, Vegas, Miami, and Brazil, just to name a few. Many of her travels have been work-related, but her jet-setting also included romantic getaways with boyfriend Kanye West [2], who splits much of his time between Paris and NYC. Along the way, Kim hasn't been shy about sharing details from this exciting time in her life, talking candidly about her pregnancy [3] over the past few months. You won't believe all the places she's been during her whirlwind of a pregnancy — click through to see the destinations Kim conquered before she gave birth to a baby girl [4]!
— Additional reporting by Meg Rooney
Las Vegas
Kanye West announced Kim Kardashian was pregnant [5] during his concert at Revel in Atlantic City on Dec. 30. The pair then headed cross-country to spend New Year's Eve [6] basking in the good news together at a party she hosted at 1 OAK Nightclub in Las Vegas.
Canada
Oh Canada! Shortly after announcing her pregnancy, Kim Kardashian [7] crossed the border to host the annual Iced event at the Cowboys Dance Hall in Calgary, Canada, on Jan. 4.
Miami
On Jan. 6, Kim Kardashian [8] popped up on the beach for a bikini shoot in Miami [9].
NYC
Kim Kardashian [10] was in the Big Apple for a stop by the Late Show With David Letterman on Jan. 16.
Paris
Kim Kardashian [11] headed overseas to take part in the Spring 2013 couture shows at Paris Fashion Week with boyfriend Kanye West [12] on Jan. 25.
Brazil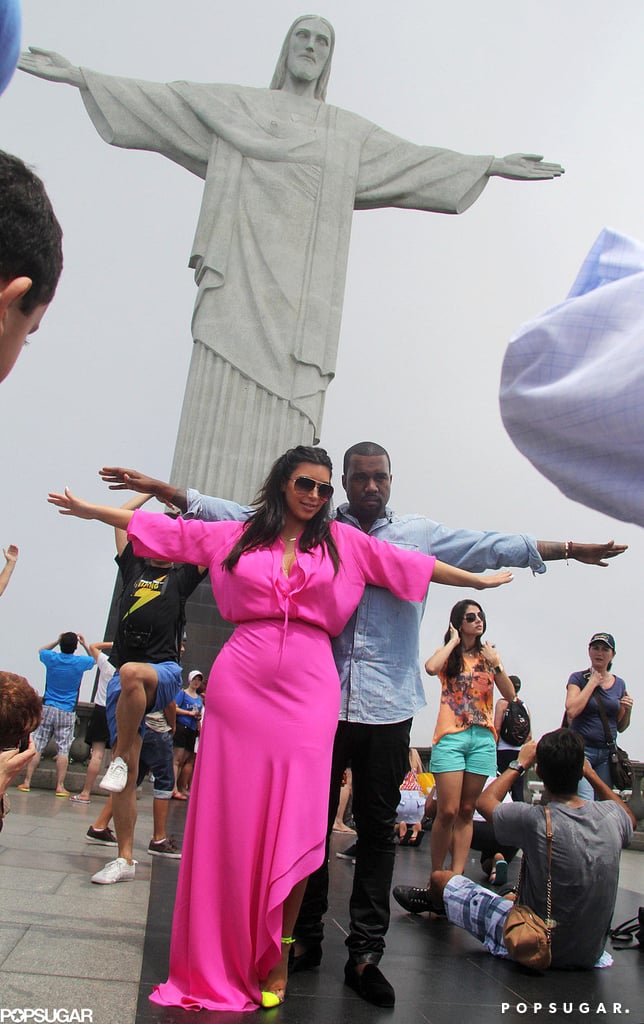 Kim Kardashian and Kanye West traveled to Brazil [13], where they posed with the Christ the Redeemer statue on Feb. 9.
LA
Kim Kardashian [14] was sure not to miss out on the action in LA during the Oscars. She and sister Kourtney linked up with Kelly Osbourne and Miley Cyrus [15] at Elton John's star-studded Oscars party [16] on Feb. 24.
Paris
Kim Kardashian [17] was back in Paris with Kanye West [18] to take in Givenchy's Fall 2013 RTW show during Paris Fashion Week on March 3.
Atlanta
Kim Kardashian [19] headed south for the premiere of her film Temptation: Confessions of a Marriage Counselor in Atlanta on March 16.
LA
Kim Kardashian [20] was back home in LA on March 21 for an outing with friends.
NYC
Kim Kardashian [21] hit the streets of NYC on March 27 for the East Coast celebration of DuJour's Spring 2013 issue.
Paris
Pregnant Kim Kardashian [22] joined Kanye West [23] for a Parisian getaway on April 2.
LA
On April 12, Kim Kardashian [24] was in LA for a court hearing as she was in the process of settling her divorce with ex-husband Kris Humphries, which was finalized on June 4.
Las Vegas
Kim Kardashian [25] brought her baby bump to Las Vegas to promote her perfume Glam at The Mirage hotel and casino on April 13.
LA
Kim Kardashian [26] was back in LA for an appearance at the MTV Movie Awards alongside her sister Kylie Jenner on April 14.
NYC
On April 22, Kim Kardashian [27] had business to take care of in the Big Apple for the E! 2013 upfronts.
Greece
Pregnant Kim Kardashian [28] donned a bikini during a family vacation in Mykonos, Greece, on April 26.
Paris
Kim Kardashian [29] met up with Kanye West in Paris [30] to grab lunch and go shopping on April 30.
London
Kim Kardashian [31] attended Beyoncé's concert at the O2 [32] on May 1 in London.
LA
Kim Kardashian [33] caught a flight out of London's Heathrow airport and landed back in LA on May 2.
Texas
Kim Kardashian [34] made the trek to Texas with her sisters Kourtney Kardashian and Khloé Kardashian to promote their Kardashian Kollection in Houston on May 4.
NYC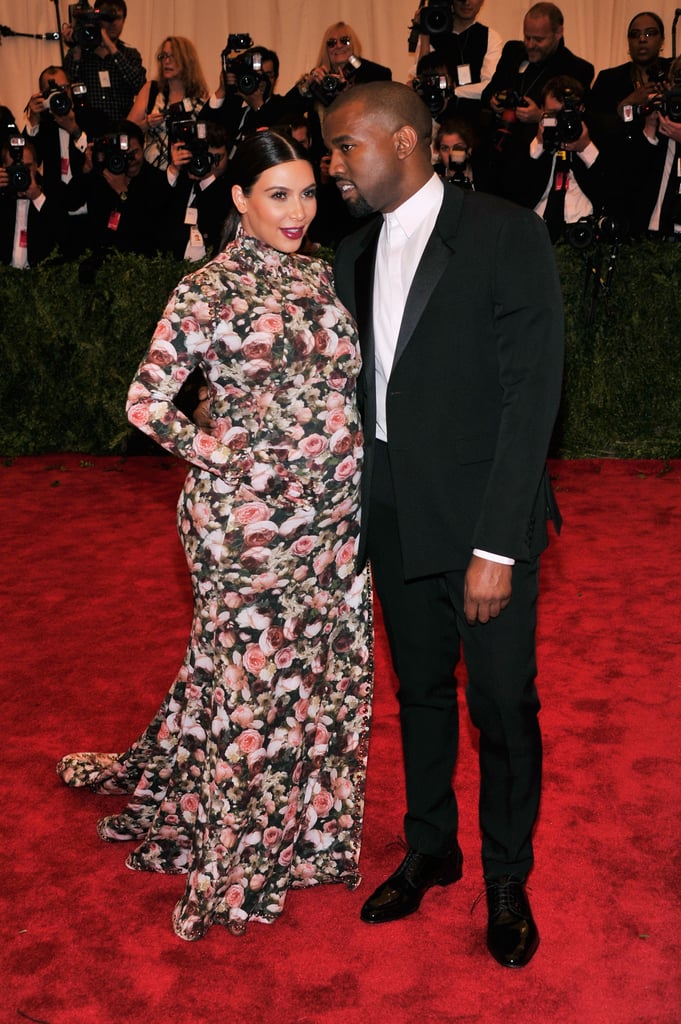 Kim Kardashian [35] hit the Big Apple to walk the Met Gala red carpet with Kanye West [36] on May 6.
LA
Kim Kardashian [37] was back on the West Coast house hunting with Kanye West [38] around Beverly Hills, CA, on May 10.
Paris
Kim Kardashian [39] popped up in Paris shopping around with her mom, Kris Jenner, on May 22.
LA
Kim Kardashian [40] prepped for her baby shower with friends over dinner at La Scala in Beverly Hills on May 29.