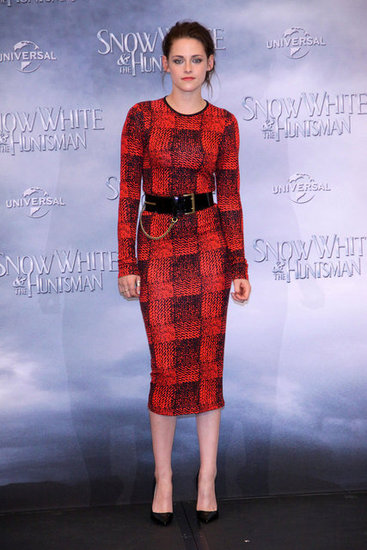 May 16 2012 - 9:16am
Kristen Stewart wore a tight red and black plaid 10 Crosby dress for a Snow White and the Huntsman photocall in Berlin today. She was joined for the press event at the Ritz-Carlton hotel by her costars Charlize Theron and Sam Claflin, as well as director Rupert Sanders. Their leading man, Chris Hemsworth, wasn't able to attend since he's celebrating the birth of daughter India Hemsworth with family and wife Elsa Pataky. Their newborn arrived in the world just last Friday!
Germany is the latest stop on Kristen and the gang's busy European press tour. She arrived on the continent last Wednesday to do a round of interviews in France, then went to England for the world premiere of Snow White and the Huntsman. She'll return to France next week, though for a different purpose. Kristen will debut On the Road at the Cannes Film Festival in the coming days with costars Tom Sturridge, Kirsten Dunst, and Garrett Hedlund.