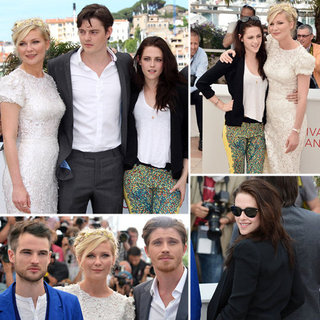 May 23 2012 - 8:39am
Kristen Stewart and her On the Road cast mates gathered this morning for a photocall at the Cannes Film Festival. Kristen paired a white tee and black blazer with a pair of wild printed pants for the press session. She threw an arm around a Dolce & Gabbana-clad Kirsten Dunst for a series of girls-only pictures, then linked up with costars Sam Riley, Viggo Mortensen, Tom Sturridge, Garrett Hedlund, and Danny Morgan. Director Walter Salles was also on hand.Their movie just screened at the Grand Palais — make sure to check out our On the Road review.
Kristen's in France with the picture and her costars just ahead of her boyfriend Robert Pattinson's Cannes debut. He'll hit the Croisette himself with his David Cronenberg-directed Cosmopolis before the festival wraps up this weekend. Kristen and Robert aren't the only couple we're hoping to see making the rounds. Tom may have brought along his pregnant partner Sienna Miller, and Sam makes an adorable pair with his German actress wife, Alexandra Maria Lara. Kirsten was already hanging out with her boyfriend — she's dating costar Garrett.