LL Not Mindful of Paparazzi Speedbump Outside Club
It's been almost five months since Lindsay's last car accident involving paparazzi so we were about due for another one, right? It's just too bad that Lindsay's most recent supposed vehicular pap accident involved car-person contact rather than just a fender bender. While leaving a club in New York last night, Lindsay got behind the wheel (seriously, WHY? You're in New York! No one drives in New York! Especially not after a night in the clubs) and mistakenly hit a paparazzo who was trying to get a shot into her car (See Exhibit A: Pap on ground, drama queen/legit pain, you decide). Whoops!


There are no further details on the photogs condition or Lindsay's ultimate role in the accident, but hopefully everyone is okay! I'd just hate to see Lindsay join the list of starlets with impending court dates!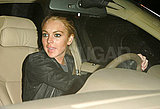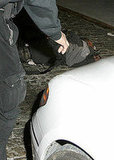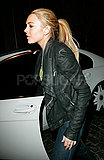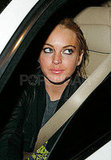 To see more of Linds' nighttime excitement read more