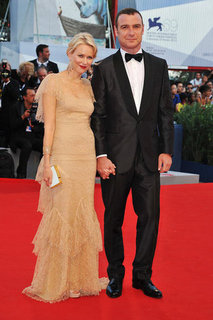 Aug 29 2012 - 12:34pm
Liev Schreiber hit the red carpet at tonight's The Reluctant Fundamentalist Venice Film Festival screening, joined by Naomi Watts, who was dressed in a gold Marchesa gown. Liev and Naomi weren't the only hot couple in attendance, since Kate Hudson arrived on the arm of Matt Bellamy. The festival kicks off today with Liev and Kate's world premiere — check back with us often for all the news and photos from Venice!
Naomi's been shooting Diana on location in London but took a well-deserved break to join Liev in Italy. He may return the favor next month when her upcoming feature, The Impossible, makes its world premiere at the Toronto International Film Festival.