Lindsay Lohan admitted that she wrote her celebrity hookup list [1] in rehab, but she wouldn't "confirm or deny" [2] what she did with the guys. Watch her full interview above.
The explosive Scandal finale [3] aired last night. If you're still reeling, recover with a Mad Libs-style generator of your very own Olivia Pope monologue [4].
Sorry, Dawson's Creek fans — there's not going to be a reunion movie. Creator Kevin Williamson looked back at the series finale [5] and revealed, "I don't want to see it. I want it to be that little piece of the '90s that's forever in its proper place." This is how we feel about the news: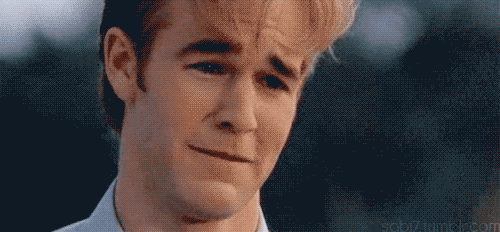 Source: The WB [6]
Though Mara Wilson says she wouldn't join [7] the Mrs Doubtfire sequel, Matthew Lawrence says he'd love to be on board [8]!
Christina Aguilera debuted her baby bump [9] on Twitter with an adorable photo:
Baby loves NYC ❤️ pic.twitter.com/RdG9mMGB9E [10]

— Christina Aguilera (@xtina) April 17, 2014 [11]
Watch Kanye West and Future's new video [12] for "I Won," aka the song that Kanye raps about Kim's butt in.
A high-altitude avalanche on Mount Everest [13] killed 12 Sherpa guides and injured six people in the deadliest incident ever. Three people are still missing.
Salsa legend Jose Luis "Cheo" Feliciano [14] died in a car crash early Thursday morning at 78.
Famed Colombian author Gabriel García Márquez died at 87 [15] from pneumonia. Among his many famous works was Love in the Time of Cholera, and he was also a Nobel Peace Prize winner.
A security breach at Michael's [16] affects 3 million customers' credit and debit cards. There is no evidence that pins or names were stolen, but the breach lasted eight months — from May 8, 2013, to Jan. 27, 2014.
The first potentially habitable, Earth-sized planet was found [17], and it may have liquid water on it. Sorry, Mars — better luck next time.
General Mills' new privacy policy [18] says that if you like them on Facebook, you can never sue them.
Your daily dose of cute: this tiny bunny sitting in an egg shell [19] is the new Easter mascot:

Source: Imgur [20]; Front Page Image Source: Getty / Ray Tamarra [21]