The 2014 MTV Movie Awards on Sunday in LA were jam-packed with unforgettable moments [1], from the sexy (Zac Efron stripping down [2] on stage) to the sweet (Channing Tatum's heartwarming trailblazer acceptance speech [3]). Stars like Lupita Nyong'o, Jared Leto [4], and Rihanna [5] took the stage to present and accept awards and perform, while others gave us hilarious quotes [6] and ridiculous speeches throughout the night. If you missed any of the action, we've got your guide to the can't-miss moments. Keep reading to see some of our favorites, and then check out all the red carpet fashion [7]!
Conan O'Brien and Adam DeVine kicked off the night with a song.
Conan called out Grumpy Cat, who was taking a snooze in Pharrell's hat.
Lupita Nyong'o made her first MTV Movie Awards appearance flawlessly.
Lupita presented an award to Jared Leto, and it was adorable.
Jared also rocked his music festival ensemble on stage later.
Jared presented the best villain award to Mila Kunis, who cradled her baby bump.
Channing Tatum high fived the crowd before accepting his trailblazer award.
Channing embraced friend and costar Jonah Hill before giving his speech.
Notably, Channing's speech also moved us to tears. Maybe.
Rita Ora ripped off Zac Efron's shirt when he won best shirtless performance.
His shirtlessness lasted a long time. It was incredible.
You can go ahead and relive every ab-tastic second [8] in its glory here.
Conan also modeled his best Magic Mike look.
The Fault in Our Stars costars Shailene Woodley and Ansel Elgort presented together.
They also debuted a clip of their upcoming film before the show. Watch that here [9]!
Orlando Bloom turned on the charm while accepting his award for best fight.
Eminem and Rihanna heated up the stage with their performance of "The Monster."
The cast of The Other Woman also brought the heat — and the laughs.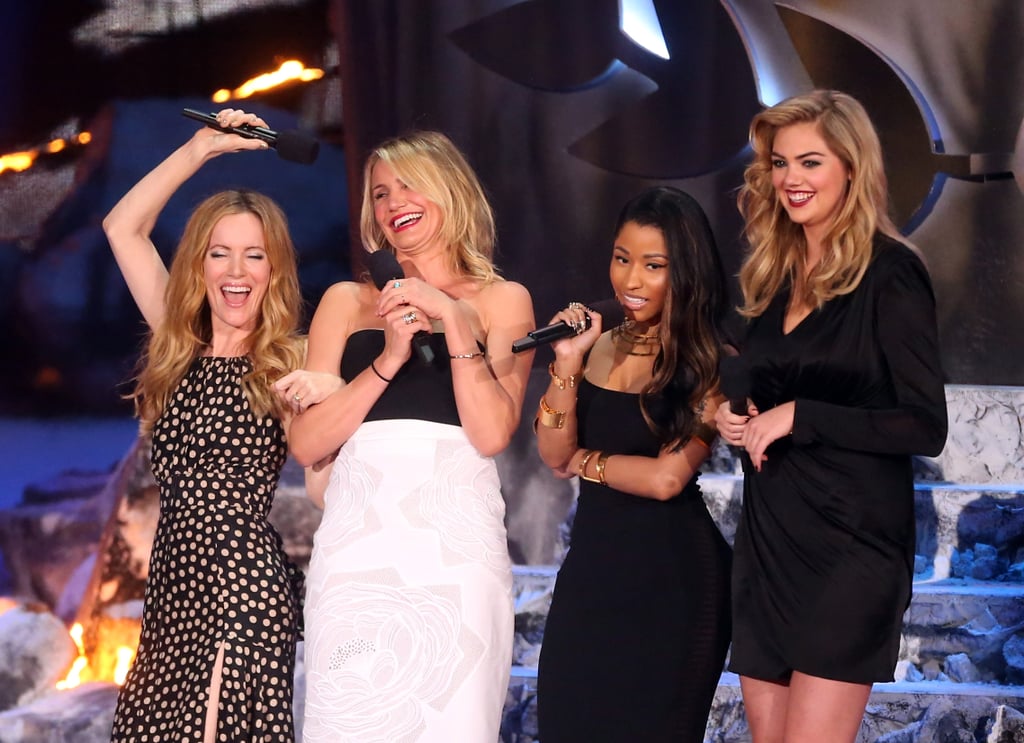 Leslie Mann, Cameron Diaz [10], Nicki Minaj, and Kate Upton all objectified men while presenting the award for best male performance.
Josh Hutcherson ultimately took home the popcorn for that one.
He also commented on how tall all of the presenters were.
Amanda Seyfried and Seth MacFarlane had some trouble with the teleprompter.
And so did Chris Pratt, but he fumbled in a charming way.
The Entourage cast reunited to present Mark Wahlberg with an award.
Mark Wahlberg then gave a bizarre speech that we won't soon forget.
The night ended with this moment between Johnny Depp and Josh Hutcherson.
Johnny presented Josh with the award for best film, and it really made the Hunger Games star's night.