Maple Sweet Potato Hummus with Whole Grain Pita Chips
A new spin on hummus, and with the sweet and savory flavors exploding in your mouth, you'd never know it was...healthy!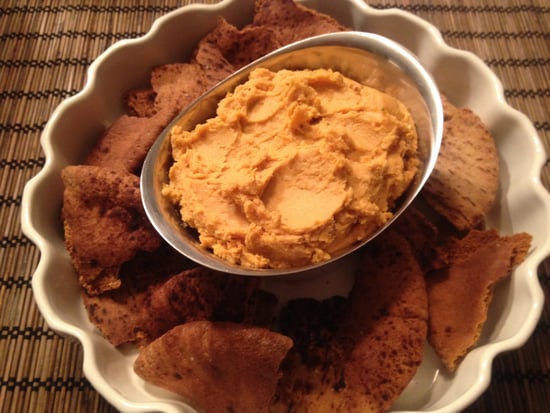 INGREDIENTS
* = good source of fiber
Use organic ingredients when possible
Hummus
1 lb. sweet potato, peeled and cut into 1 inch cubes *
1 cup chickpeas (garbanzo beans) *
¼ cup tahini (sesame paste)
½ lemon, juiced
1 tbsp. virgin coconut oil, melted
2 cloves garlic, minced
1 tbsp. Grade B maple syrup
1 tbsp. fresh chopped sage
½ tsp. smoked paprika
½ tsp. cumin
¼ tsp. cinnamon
Celtic sea salt and ground pepper to taste
Whole Grain Pita Chips
8 large (6 ½ diameter) whole wheat/whole grain pita pockets *
2 tbsp. virgin coconut oil, melted
¼ tsp. Celtic sea salt
¼ tsp. cinnamon
¼ tsp. cumin
¼ tsp. smoked paprika
¼ tsp. garlic powder
PREP
1. Steam sweet potatoes in filtered water until very tender. Remove from heat and reserve ½ cup of steam water.
2. In food processor, combine remaining ingredients for hummus and process until creamy. Add reserved water (a little at a time) until desired consistency is reached. Set aside.
3.  Preheat oven to 350 degrees. Combine spices and set aside.
4. Melt 2 tbsp. of coconut oil in small saucepan. Brush half of oil evenly over each pita and sprinkle combined half of spice mixture evenly over each pita. Bake at 350 for 10 minutes. Remove, flip pitas, and brush with remaining oil and sprinkle with remaining spice mixture. Place back in over for 10 minutes or until browned and crisp. Let cool.
5. Once pitas are cool to touch, break apart, and serve with hummus.
For this and other fiberlicious recipes, visit www.fortheloveoffiber.com.
Nutrition Facts
Serving Size: 3 tbsp. hummus, 2 chips
Calories: 295
Total Fat: 5 g
Saturated Fat: 2 g
Cholesterol: 0 mg
Sodium: 297 mg
Total Carbohydrate: 60 g
Dietary Fiber: 8 g
Sugars: 15 g
Protein: 7 g