Marie Veronique Organics review
Hey, fellow BPJs! :)
I have extremely sensitive skin that tends to get splotchy, itchy and bumpy at the slightest irritation. A friend of mine who works for a dermatologist told me that I should look for products that have the fewest number of ingredients possible (the fewer ingredients, the less opportunity for an irritanting reaction) and to go as natural as possible.
So I started researching organic, natural lines and trying out a few things here and there. I hadn't found anything that I was really happy with, and was seriously contemplating ordering the Kora Organics line from Australia that model Miranda Kerr came out with. Although the line is in the medium price range, there was the issue of paying for shipping from Australia and then the possibility of having to pay duties and taxes when the shipment came through customs that was making me hesitate.
Then I read the posts that BellaSugar had that mentioned Marie Veronique Organics (see the posts I am referring to here and here). I liked what she had to say, and finding out that she was a chemist made me think she really knew what she was talking about. Then Bella posted a photo of her - she is in her 60s with nary a wrinkle! I was sold - I decided I HAD to try her products out.
I first started reading up on things on the MV Organics website. I found it to be such a great resource for natural skin care information that I spent a few hours just reading what was available as far as the blog posts and then pouring over my favorite portion of their website - where they detail what they call "intelligent ingredients". It's such a great resource for the ingredients used in the products, and has a key to tell you if the particular ingredient they use is Organic, Fair Trade, Local and/or Vegan. What I also love about this part of the site is that after each "intelligent ingredient" she has listed the products that contain that ingredient - this way, if you know you have a reaction to something, you can easily tell which products you may want to avoid, or if you are looking for a specific ingredient to get a desired result, you can easily find the products you should be ordering!
I then began scouring the internet for reviews of the products. There are a lot of reviews listed on the website, but I wanted to do my own, independent search. I found many product reviews, and not a single one was bad! In fact, most of them were rave reviews. It made me feel more secure about trying the products out. Since the products aren't cheap (in fact, they fall into the high end of what I am willing to pay for products), I decided to try out one of the travel kits that are on offer, so that I could get a few products for a cheaper price. I chose the Vegan Travel Kit as my first "try out".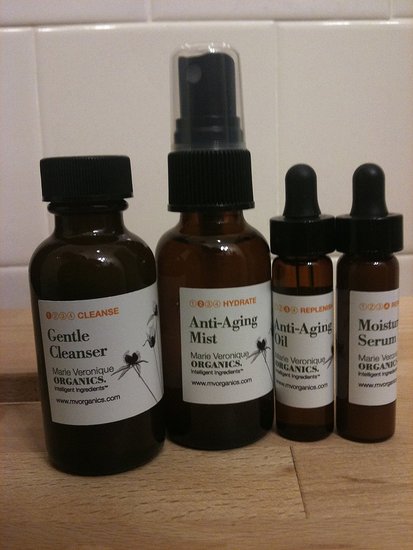 The products included in this kit are travel sizes of the Gentle Cleanser, the Anti-Aging Mist, the Anti-Aging Oil and the Moisture Serum. All of these products smell wonderful. I was worried at first that the cleanser didn't foam at all....I wasn't sure if it would clean my face, but it did a great job. And lives up to it's "gentle" name!
After using the products for 3 days, I can say that I saw a huge change in my skin! It was no longer tight and dry and seemed to be less sensitized. The red, splotchy areas were gone and I didn't have any itching or red bumps. On top of that, my skin seemed to have a more even texture and one of my co-workers actually asked me what I was using on my skin - in her words....."your skin just glows!"
I decided to take the plunge and placed two more orders, which just arrived today! (btw - their service is amazing! Both of my orders shipped the same day I placed them and were here within 2 days!)
The first order was for things I had tried and knew I liked from the travel kit - the Gentle Cleanser, the Anti-Aging Mist and the Anti-Aging Oil Plus.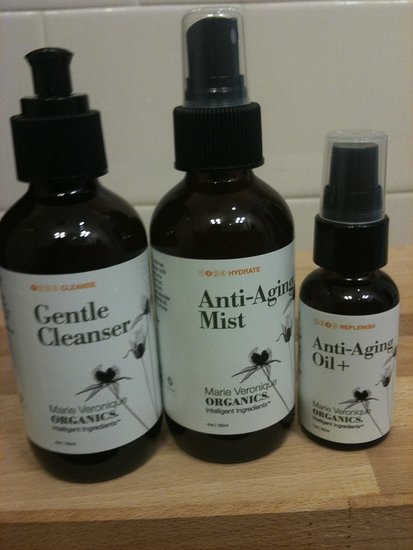 By using code DaySerum at checkout with this order (and spending at least $50), I got a sample trio of the Anti-Aging Day Serums (no tint, light tint, and medium tint) for free! And, to my surprise, they also threw in a sample size of the Eye Serum.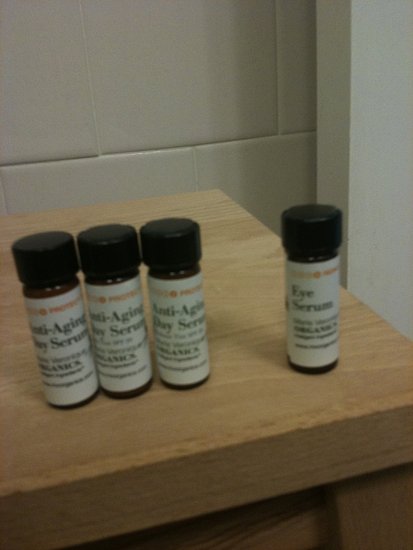 (sorry, the photo is a bit blurry! :( )
The second order was for the Repair Duet, to use as my night treatment. I chose this set because I have noticed some "sun spots" showing up on my skin and it was what was recommended for sensitive skin (which I definitely have!).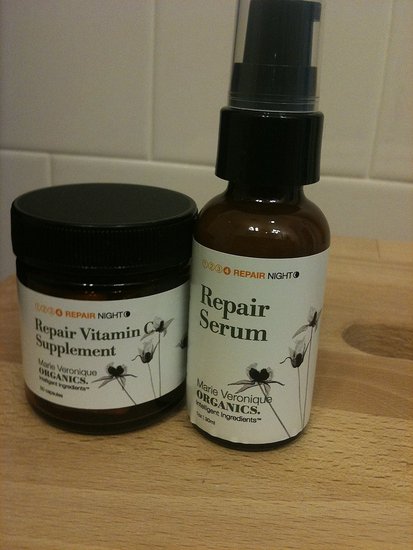 By using code EyeSerum at checkout on this order (and spending $100), I got a full-sized Eye Serum for free ($80 value!). I was also happy to find additional samples included with this order - sample sizes of the Anti-Aging Day Serum and the Anti-Aging Oil Plus!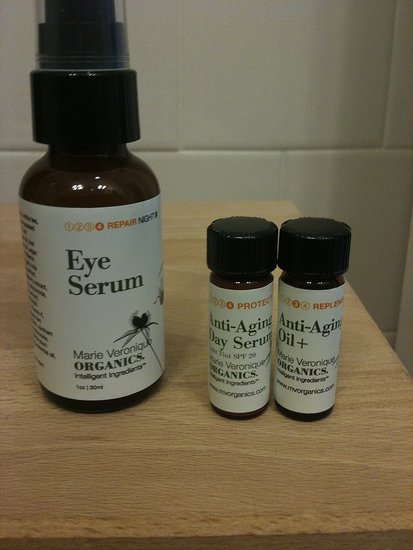 I will be sure to report back on these products once I have had a chance to use them for a few days - I have nothing but the highest expectations for these additional products based on my experience with this line so far!
I would also note that the products are a very good size - while the price is high, it seems that what you get for the money is a good bargain. I was a bit worried, since there are no preservatives used, that these products would have a short shelf-life and might expire before I used them up. Each product has an expiration date on the bottom, and I was pleasantly surprised to see that they had about a one-year shelf life, so I think I won't have a problem using them before the expiration.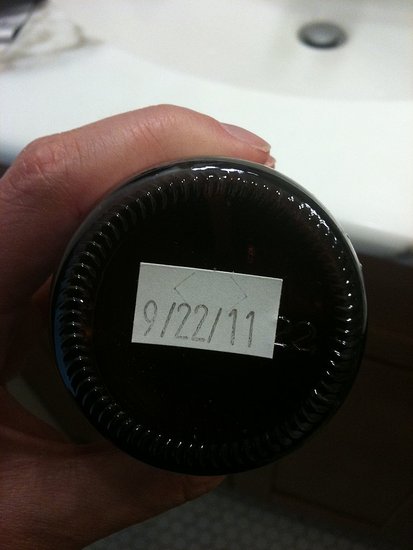 I am excited to continue using these and to add in the new products that I haven't tried yet. My skin has been feeling and looking so good for the past week since using these - I think I have finally found the skincare line for me!