Marilyn's Make-up Secrets: Take Two!
Marilyn's Make-up Secrets: Take Two!
:star: Another look into Marilyn's Make-up secrets! I have been trying to recreate Marilyn's look...which pretty much is a process of trial & error! I have also been looking for the ever "hush hush" secrets of her make-up. Marilyn did not reveal much so this was a tough feat! Let's take a look at how she highlighted certain features and how she lined her eyes (which is very specific even though most websites just say that she used liquid liner, that is false!).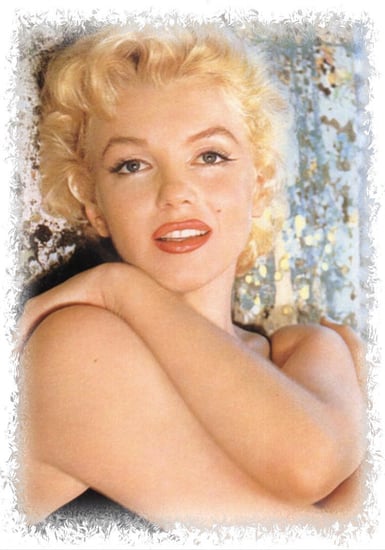 :star: Tip #1: Setting the Base ♠
Marilyn didn't wear much as far as the base goes but here are a few products that she used as foundation!
1. Anita d'Foged Day Dew Make-up in Ivory Medium
(now known as Anita of Denmark these products are available at this website: http://www.anitaofdenmark.com/, just a warning though, the website is very illusive and it seems as though you will have to call to get info & there aren't any images).
2. Erno Laszlo

Duo-pHase Loose Powder in Transluscent Light
Still available at: www.ernolaszlo.com

Active pHelityl Cream
Marilyn used this as a face protector as well as a moisturizer.
Normalizer Shake-it Tinted Treatment
♥ Application:
Apparently Marilyn washed her face with Shu Uemera cleansing oil and then would splash her face 15 times with cold water to seal the pores. She would then wear Vaseline on her face as a moisturizer and would alternate between thin layers of Vaseline(or you could use Active pHelityl Cream, as she did later in her life) and powder(from the ones above and she also used Elizabeth Arden's Pat-a-creme) to create a base. This is what gave her that beautiful glow. Although she did grow a thin layer of little baby-fine blonde hairs on her face for using hormone cream all of those years, it just added to her glow in the studio lighting.
:star: Tip #2: Accenting Her Features
Marilyn was described as a true "artist" when it came to applying her make-up and she definitely knew how to accentuate her features. Here is a break-down of what she did to highlight her face, cheekbones, nose and eyes.
1. ♥ She used blush to enhance her cheekbones and shorten her nose. She would dab the blush on the tip of her nose and then would go over it with vaseline and powder. She probably would do this until the desired affect of the perfectly shaped nose was achieved. This way in photos she wouldn't have a nose that looked too elongated.
2. ♥ Next, she would sweep blush across her cheekbones, underneath the top of the cheekbone(ever so lightly) and this would accent her cheeks. Her blushes were generally pink or coral.
3. ♥ Using a light light illuminating powder and/or a highlighter creme(I have been using Benefit LemonAid which works perfectly, sounds weird I know but it works wonders) blend around the nose, avoiding the tip of the nose but blend everything else around it! Blend the LemonAid in a highlighting motion above the cheekbones, under the eyes and over the eyelids(I would not recommend doing this part with the powder, never put powder around the eyes it will enhance the fine lines in that area). So use a cream to do this part and then put it in between your eyes(in those dark crevices by your nose). SO the whole idea here is to highlight the whole area of your face that you want to look flawlessly light and also wider, which would be the eye area and the forehead area. Here is a good picture of Marilyn that will kind of show you that the top of her face is highlighted and the bottom is shadowed and contoured.

Here is LemonAid from Benefit, it's what I used to highlight my skin.
♥ Quick-tip: You can always find your own little niches with make-up through trial & error. That's what Marilyn did! I did too and that's how I found the LemonAid "secret".
:star: Tip # 3: Eyes eyes eyes!
So, Marilyn would call her own eye make-up "the Greta Garbo eye". She took cues from the sultry star from the Golden Era, and tried to re-create that look. Here is how she did it!

Greta Garbo
1. ♥ She would cover her eyelid with a lustrous white stick shadow, which she would use White Lustre by Elizabeth Arden, which I haven't been able to find but you just need a shadow that is silky and won't crease. She would apply it liberally all over the lid up to the brow bone.
2. ♥ After that she would apply(with a brush) a smoky-toned color into the outer crease of her eyelid. The colors she used were Autumn smoke and Pearly Blue By Elizabeth Arden. So light silvery blue or a soft smoky brown are two options. She also used light green at times depending on her wardrobe.
3. ♥ Eyeliner. So, she would use a black or brown eye stopper Elizabeth Arden eye-liner, or a fluid liner(black liquid liner), to line her eyes. It all depends on your eye-shape, but the idea is to make your eyes look wider.
There are three-steps to this process: the upper lashline, the lower lashline and the gap in between the liners on the outer edge of eye (sound confusing? I know, but hopefully it will make sense below).
♠ Upper lash-line: Marilyn would line the whole top lash-line starting from the inner corner of the eye going all the way to the outer corner and sweeping the line up and out.


♠ Lower lash-line: This is the secret of all secrets to achieving the Marilyn eye. Take the pencil and start at the beginning of where your iris starts and line out and downward (not too far downward but just enough to look like it's a line created by the shadow of your top lashes). This may sound silly but once you get it down it creates the illusion that you have a lower lashline that is to die for! It also opens up your eyes a tremendous amount!
♠ Lastly, the gap between the two lines you created on the outer edge of the eye should be about a millimeter wide. So in that gap use a white highlighter pencil (any white eyeliner pencil will do) or brush (like Benefits High Beam) and sweep a little white line in.

see the white in between the outer corner lines of the eye?
4. ♥ The last part of the eye includes curling the lashes and putting on some falsies if you would like to(just put them on the outer corner of the lids, not the whole eye). Add a little bit of mascara and then you're done!
Quick Tip: Make sure that your eyes are highlighted all over! On the brow bone, in the inner corners of the eye and underneath the eye! It really lightens everything up, it takes practice but it's worth it.
:star: Tip #4: The Lips
I know I touched on this before but I thought that I'd go-over it again with the information that I now know about Marilyn's lipstick regimen.
She would use a lip brush and she would use five different shades of lipstick to achieve her look. She also would use a white highlighting color of some kind that she would put on the middle of her lips after the layering of the reds were all done. This would give the illusion of plumpness. So it was pretty much as follows:
1. ♥ Red liner(a little dark but not too dark) would go on the outer line of the lips.
2. ♥ She would then apply with a lip brush three different layers of red lipstick. I'm assuming she used Guerlain lipstick, Elizabeth Arden lipstick and Max Factor lipstick. So these were the basic layers that were put on first.
3. ♥ The way she would shadow her lips was to give the effect that they were voluptuous and plump. She shadowed her lips so the darker reds were on the outer edges of her lips and the lighter were in the middle of her lips.
4. ♥ The white highlighter was put in the middle of her lips to soften the middle and leave the edges of the lips stunningly dark.
5. ♥ Her gloss was also added intermittently in this process, so a layer gloss (known as a concoction of beeswax and vegetable wax) and a layer of lipstick, then the shadowing happened and then the last layer of gloss was used. I have no idea what gloss she used but people say it was her own invention and a mix that she would not tell to anyone what was actually in it!

The highlighted portion of lips in middle, darker on outer edges.
:star: So hopefully this make-up lesson helps clear up the mystifying look into Marilyn's make-up! It really just takes practice and soon it won't be that hard to make yourself up in no time. Although it took Marilyn about and hour-and-a-half everyday to do her make-up, beauty is sacrifice & also fun at the same time! I will do another blog in the near future focusing on how she dyed her hair, but for now I better go move around, this has been a lonnnng blog! Talk to you all soon!