After all those years playing Mr. Belding on Saved by the Bell, actor Dennis Haskins has plenty of fun stories to share from his time on the show. We interviewed Haskins for a behind-the-scenes glimpse at the '90s phenomenon, and he opened up about everything from off-camera pranks to working with Mark-Paul Gosselaar. Today Saved by the Bell: The Complete Collection was released, and earlier this month, we got a TV blast from the past when Elizabeth Berkley channeled Jessie Spano with her "I'm So Excited" performance" on Dancing With the Stars. See what Haskins had to say about Berkley's dancing, his favorite episode of the show, and more.
POPSUGAR: You were part of the series from Good Morning, Miss Bliss through Saved by the Bell: The New Class.
Dennis Haskins: I was there from day one when we did Good Morning, Miss Bliss, and the focus was on Hayley Mills, who was the only person I'd ever written a fan letter to. I was glad to have a job and to work with one of my idols, and we were having a good time. It was new. No one had done this, and we had potential.
PS: Do you have a favorite scene or episode from Saved by the Bell?
DH: My favorite episode is when my brother, Rod Belding — not my brother, Mr. Belding's brother — came to school. When Rod came to school, he became the fan of all the kids, and Mr. Belding was a little jealous. Rod was going to take the kids on a rafting trip, and then he abandoned them. And Mr. Belding, away from everybody else, said, "Get out of my school." Because even his brother was not allowed to abuse or mistreat his kids. He didn't know Zack was listening in the hallway, so Mr. Belding goes in and covers for Rod and says, "Look, I don't know about rafting, but I'll take you." That was the real bonding of Mr. Belding and those students.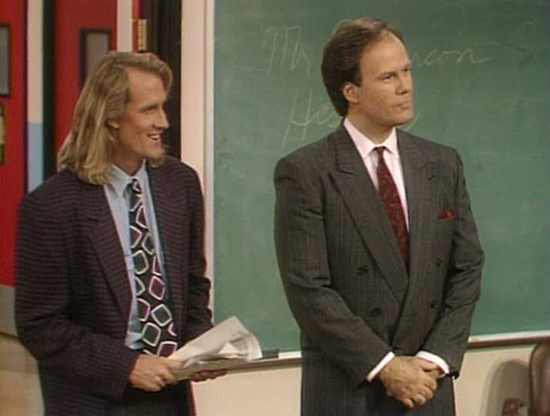 PS: Which Saved by the Bell character would you say you were the most like in high school?
DH: In real life? All of our students were the pinnacle of each role. Zack was the best con but also very smart and also had a heart. Slater was the biggest athlete but also a hunk and a romantic lead. I think I would've been just below the cool kids but occasionally get to hang out with them, you know?
PS: And which cast member is most like their character in real life?
DH: Wow, that's a really good question. I would say that Mario is probably closest to his character. And the writers, as they learned more about each actor, they would add things that were them. Like his wrestling.
PS: And the dancing and everything?
DH: Yeah, Mario was on Kids Incorporated. He had all this musicality to him. And whatever Mario did, he did 110 percent. He gave everything he had to it. There's no idol in Mario's gear system, you know what I'm saying? Mario's the hardest-working guy I've ever met. He does Extra all week, he does a radio show, and on the weekends, he goes and does appearances. It's unbelievable.
Keep reading for the rest of our interview with Dennis Haskins.