Matthew McConaughey [1] took award season by storm, and wrapped up his big run with a best actor Oscar on Sundaynight. His role in Dallas Buyers Club also landed him a best actor Golden Globe, a Critics' Choice Award, and a SAG honor. What might be more exciting than Matthew getting honored, though, is how he accepts his awards. His speeches have had a perfect mix of important elements, from Matthew's signature "just keep livin'" phrase to his favorite chest-pounding move. He brought it full circle with his Oscars acceptance speech [2] so lets take a look back at all the ingredients that made his speeches so memorable.
Start With Three "Alrights"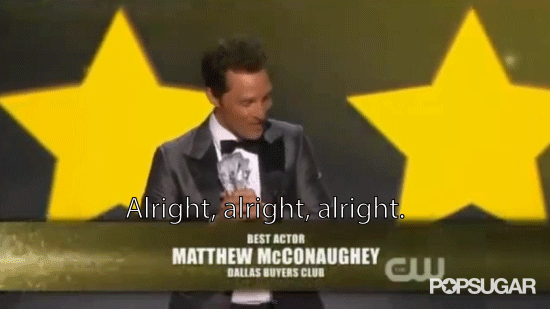 Matthew's famous line from Dazed and Confused, "alright, alright, alright," lives on in many of his acceptance speeches, and he used it at the Golden Globes and the Critics' Choice Awards — though we had to wait until towards the end of his speech for the line at the Oscars.
Throw in a Memorable Quote
Matthew is full of catchy phrases and he keeps them coming in his speeches. At the Globes he proclaimed that the award was "unexpected, but graciously accepted" and at the Critics' Choice Awards he gave thanks to the "many people that left skin in the game, blood on the table, and some cash out of their pocket to get this made." He rounded out his SAGs speech with a quote from a man he met 20 years ago who said, 'A genius can be anybody he wants to, but a genius is always one person at a time.' At the Oscars, he quoted the late Charlie Laughton, saying, "When you've got God, you got a friend. And that friend is you."
Add a Ron Woodruff Mention
Matthew hasn't failed to mention the real man behind his Dallas Buyers' Club character in any speech yet this award season. At the Critics' Choice Awards he thanked Woodruff "for living a life that was damn well worth putting on the big screen."
Don't Forget The Chest Pound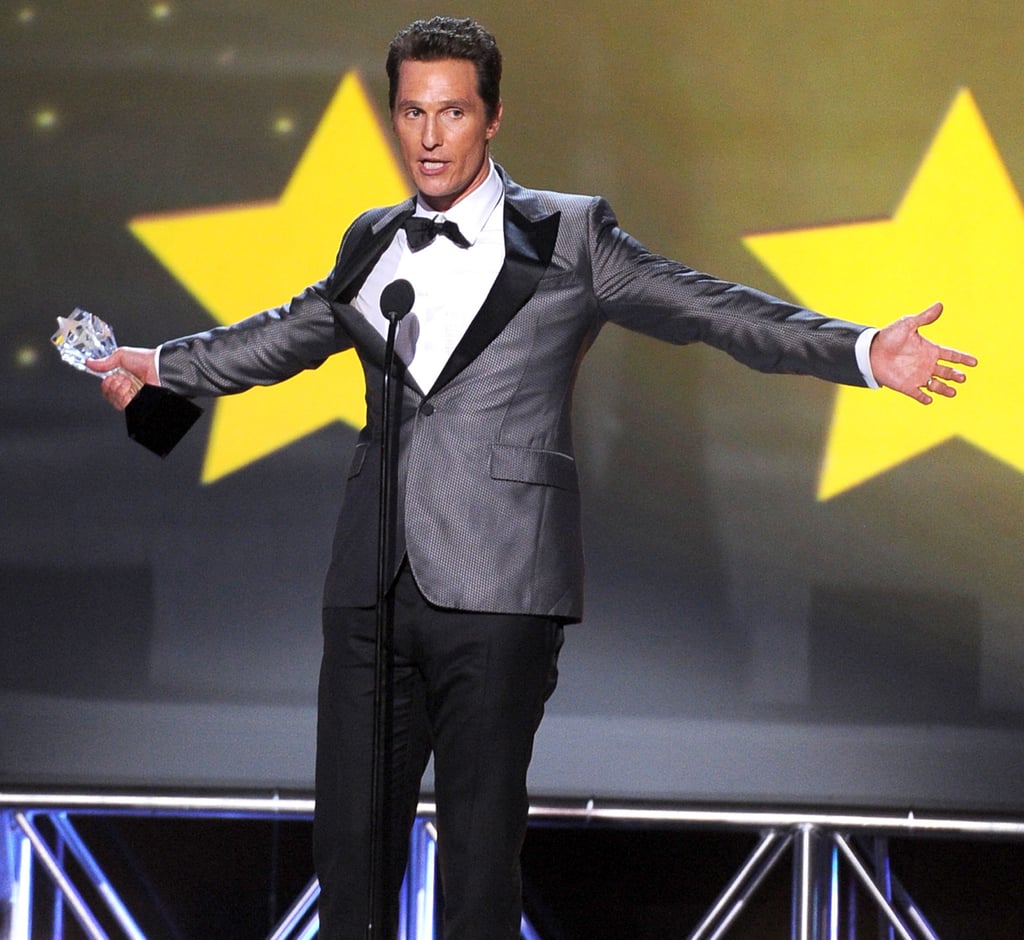 He did it in The Wolf of Wall Street and again at the Critics' Choice Awards.
Sprinkle in Some Special Thanks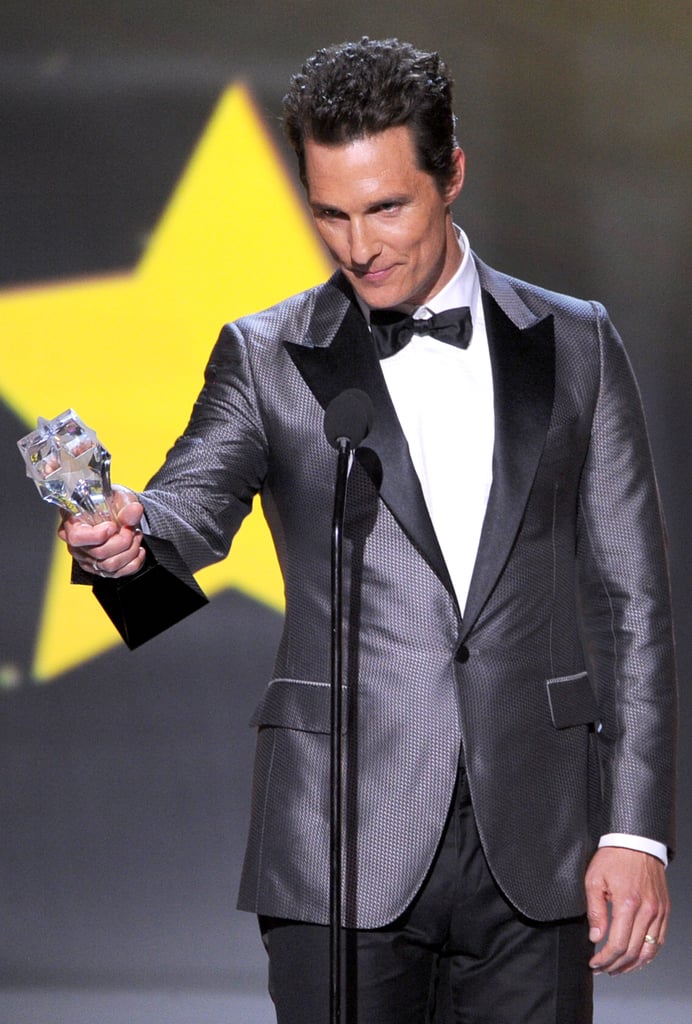 It wouldn't be an acceptance speech without a lot of gratitude. His wife, Camila Alves, and three kids, Levi, Vida, and "Mr. Stone" got special mention at the Globes and the Oscars while he thanked his agent, Jim Toth, for sticking with him while it got "dry for a while" at the Critics' Choice. At the SAG Awards Matthew shouted out to the SAG-AFTRA members and the other nominees of the night.
Tell a Story, For Good Measure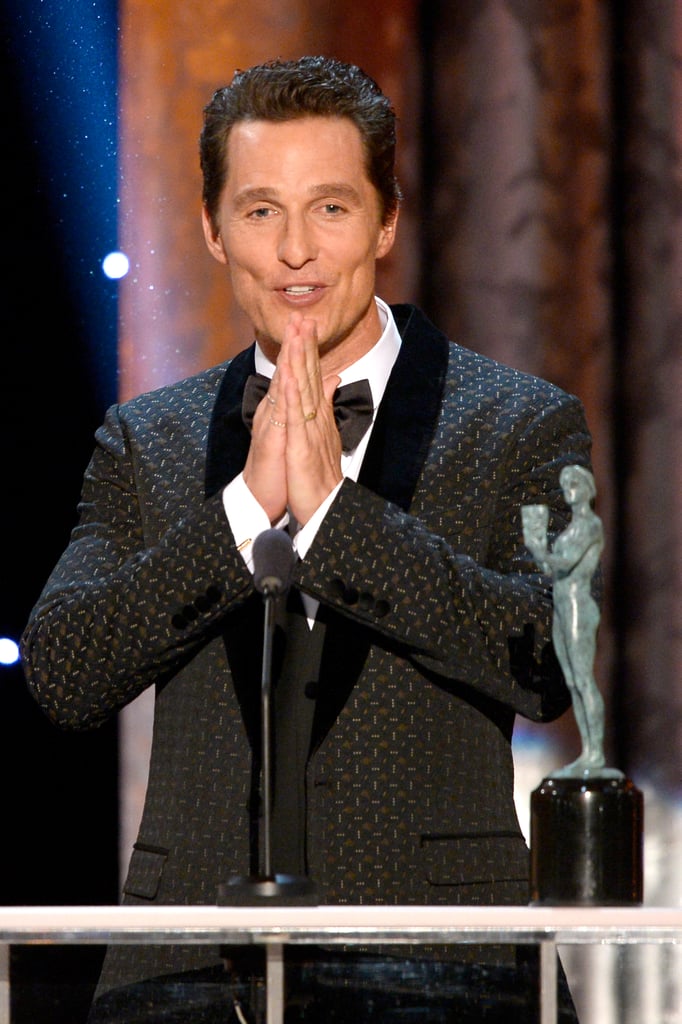 At the Golden Globes, Matthew shared a story about how when he was growing up his mom demanded that "if it was daylight you had to be outside playing" and at the Critics' Choice he went into detail about how hard it was to get the film made. Matthew's most random story came during his SAGs speech [3], when he took off on a tangent about Neptune: "it feels like they could put a blindfold on you and put you on a spaceship and take you to Neptune and you could hop off on the planet and they better have the sprockets rolling and when you get off that spaceship because you are going to behave as your man. That is a glorious feeling!" Ya, we're not sure what that space talk was about, either.
And Finish Off With a Favorite Phrase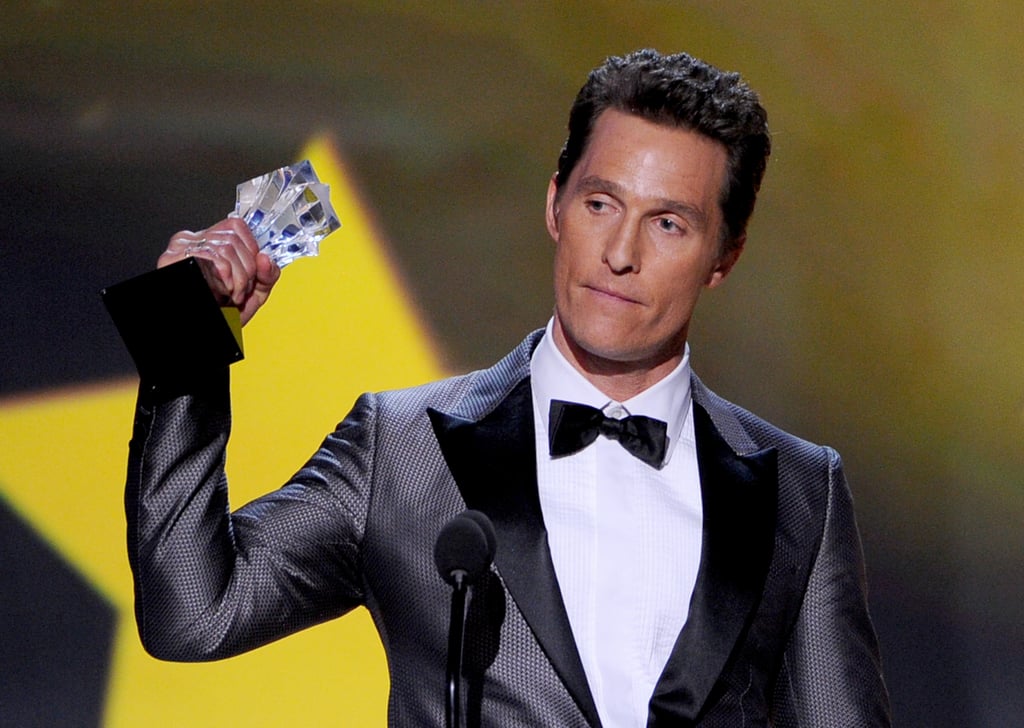 It wouldn't be McConaughey without a "just keep livin'" quote, and he's made sure to end each of his big speeches with the phrase.