Each year during President Barack Obama's State of the Union, First Lady Michelle Obama makes a statement — and we don't mean the fashion kind. Those invited to join the FLOTUS in her box are chosen carefully, and the list always mirrors the president's message. Whether they're everyday Americans or prominent ones, these guests put a human face to headlines or policy. This year, Michelle has invited a diverse group [1], including CVS CEO Larry Merlo, astronaut Scott Kelly, Ebola fighter Dr. Pranav Shetty, State Senator Catherine Pugh, LAPD veteran Captain Phillip C. Tingirides, community college student Chelsey Davis, and Malik Bryant, a 13-year-old Chicagoan who made headlines after he wrote a letter to Santa asking for safety, eventually getting a response from President Obama. Expect to hear a few shout-outs to these individuals in the president's speech, a tradition Ronald Reagan started. Ahead of tonight's pomp and politics, let's see who had the honor in the past, and be sure to find out where to watch the State of the Union online [2].
2014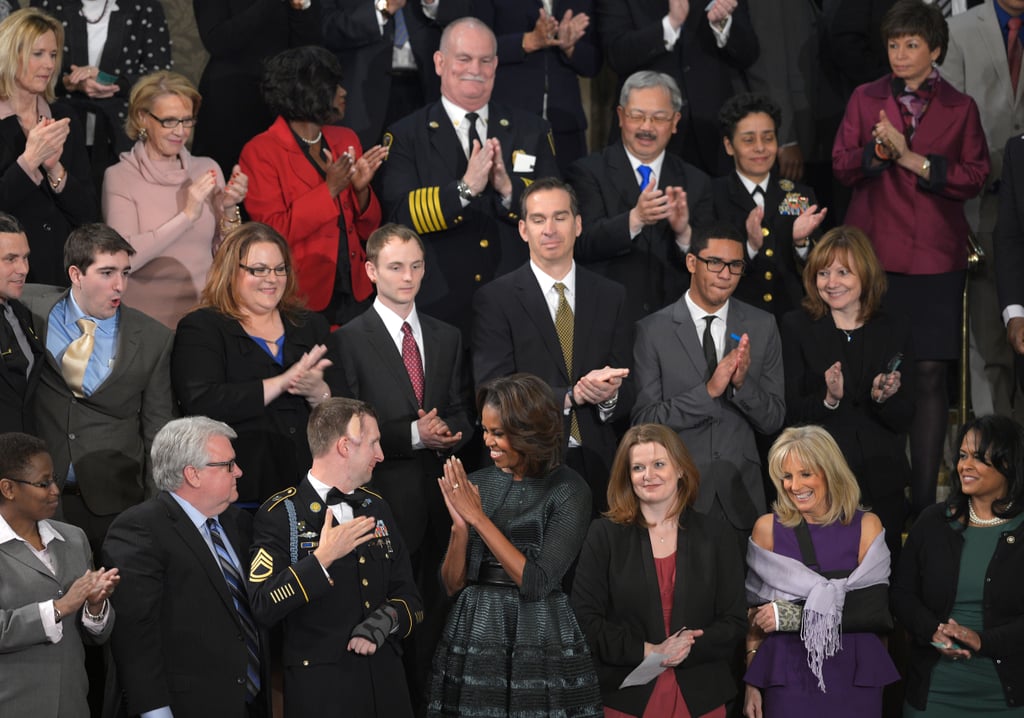 In 2014, Michelle was joined by a group that included:
General Motors CEO Mary Barra
The governor of Kentucky
The mayor of San Francisco
Boston Marathon bombing survivors Carlos Arredondo and Jeff Bauman
Jason Collins, the first openly gay NBA player
Fire Chief Gary Bird from Moore, OK
US Army Ranger Sergeant First Class Cory Remsburg
Punch Pizza CEO John Soranno
2014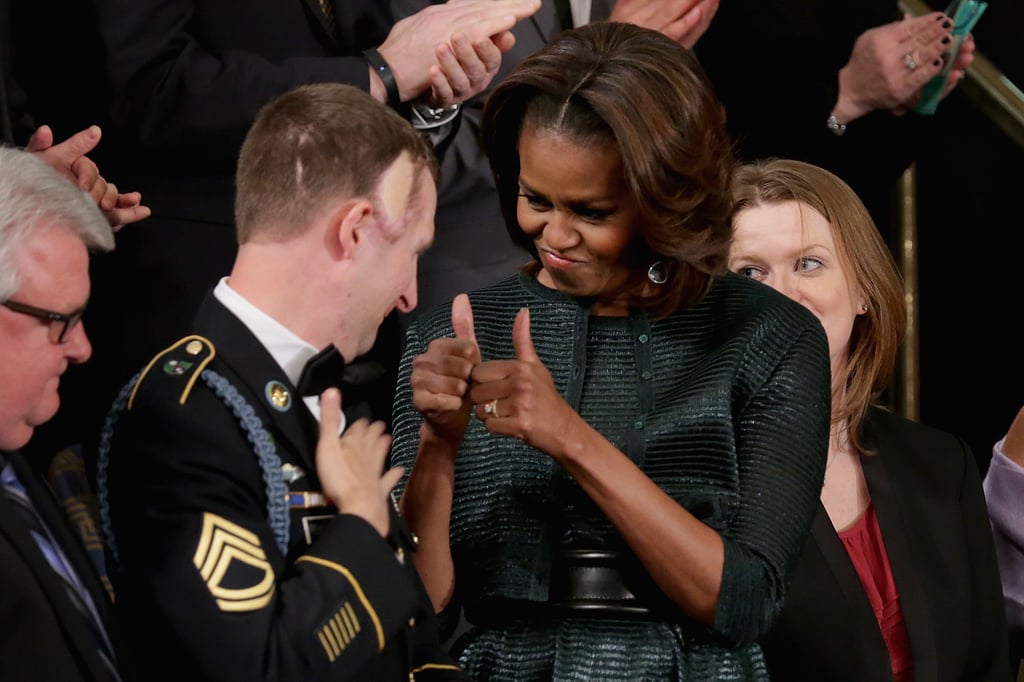 First Lady Michelle Obama gave Sergeant Cory Rembsburg a thumbs up [3] after his story nearly moved Congress to tears.
2013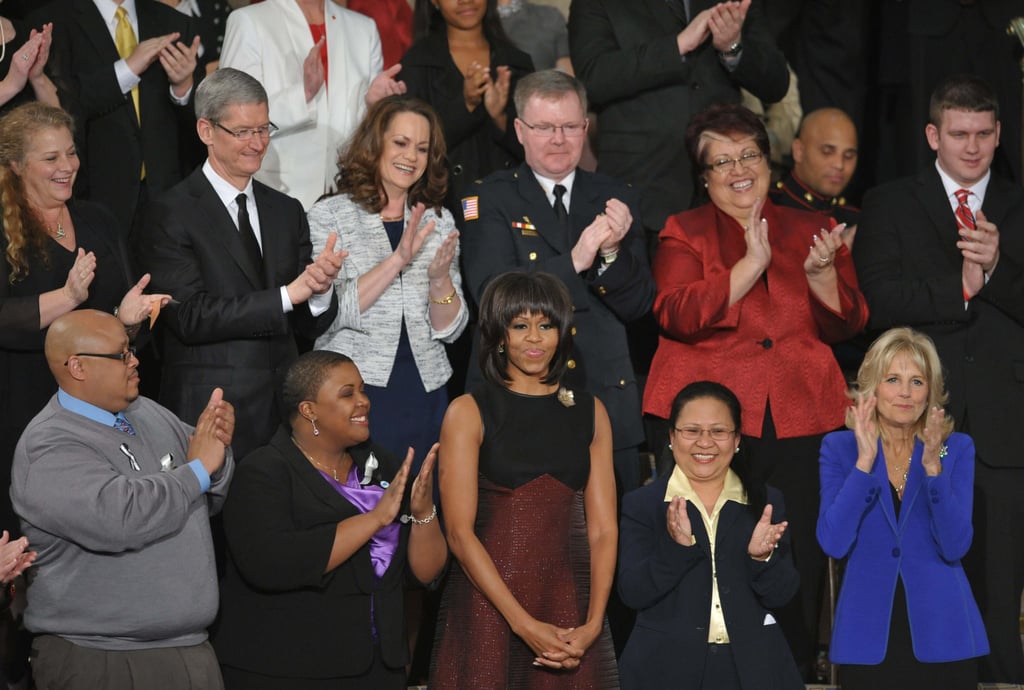 In 2013, Michelle was joined by the following:
Tim Cook, the CEO of Apple
Tracey Hepner, the wife of America's first openly gay military general, Brig. Gen. Tammy Smith
John Kitzhaber, governor of Oregon
Bobak Ferdowsi, NASA's "Mohawk Guy"
Kaitlin Roig, a heroic first-grade teacher from Sandy Hook Elementary School
Cleopatra Cowley-Pendleton and Nathaniel A.

Pendleton

Sr., the parents of a girl who was killed in Chicago gun violence shortly after performing at the inauguration
Gun violence and technology were among the issues reflected in the guest list.
2013
Michelle gave Cleopatra Cowley-Pendleton a hug during the speech.
2012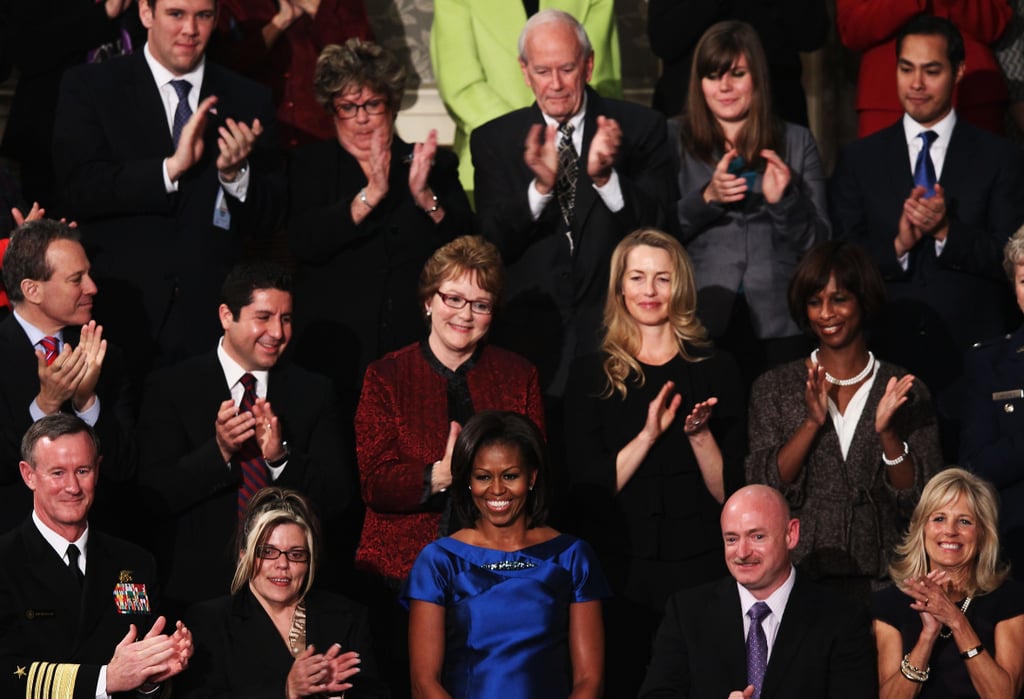 In 2012, Michelle Obama invited several well-known people:
Mark Kelly, US astronaut, husband of US Rep. Gabby Giffords, and gun control advocate
Laurene Powell Jobs, a philanthropist and the widow of Steve Jobs
Mike Krieger, the cofounder of Instagram
Debbie Bosanek, Warren Buffett's secretary who paid 35.8 percent in taxes compared to Buffett's 17.4 percent
Julian Castro, mayor of San Antonio, TX
Navy Adm. William McRaven, United States Special Operations Command
Air Force Col. Ginger Wallace, an openly gay service member
The guest list reflected priorities including immigration, gun control, innovation, income inequality, and gay rights.
2012
Michelle and astronaut Mark Kelly waved. Kelly's wife, Gabby Giffords, also made an emotional appearance on the floor of Congress that year.
2011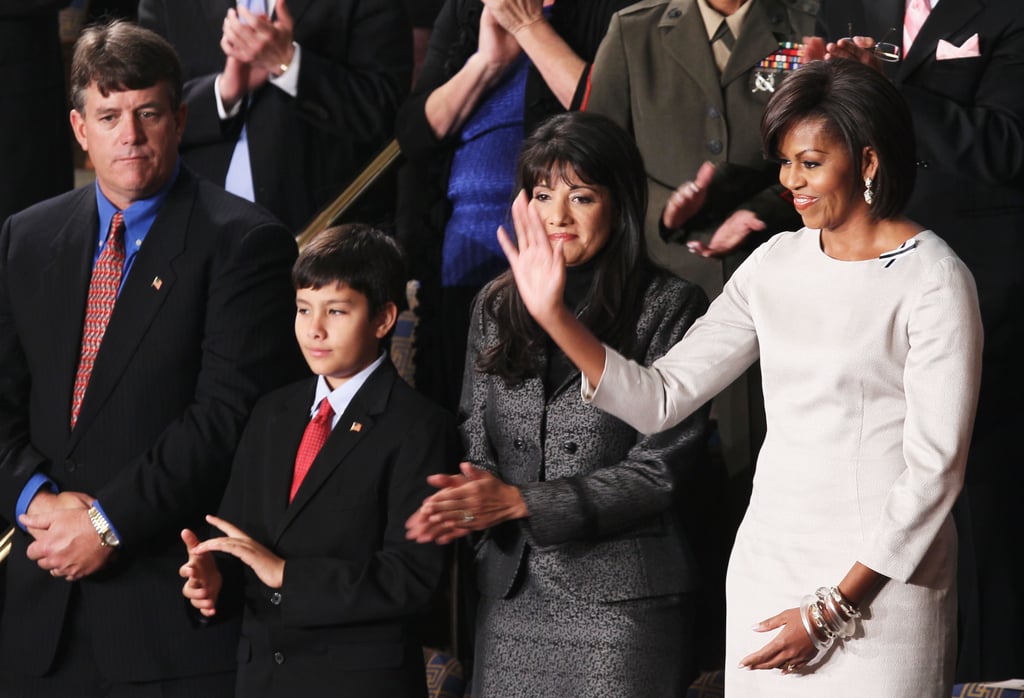 The 2011 State of the Union came just weeks after Arizona Rep. Gabrielle Giffords was shot in Tucson. Michelle invited the following:
Mark Kelly, Gabby Gifford's husband
The former military doctor treating Giffords
John, Dallas, and Roxanna Green, the family of Christina-Taylor Green, the 9-year-old girl killed in the Tucson shooting
The theme of this State of the Union was national unity, and members of Congress decided to sit together, undivided by political party.
2011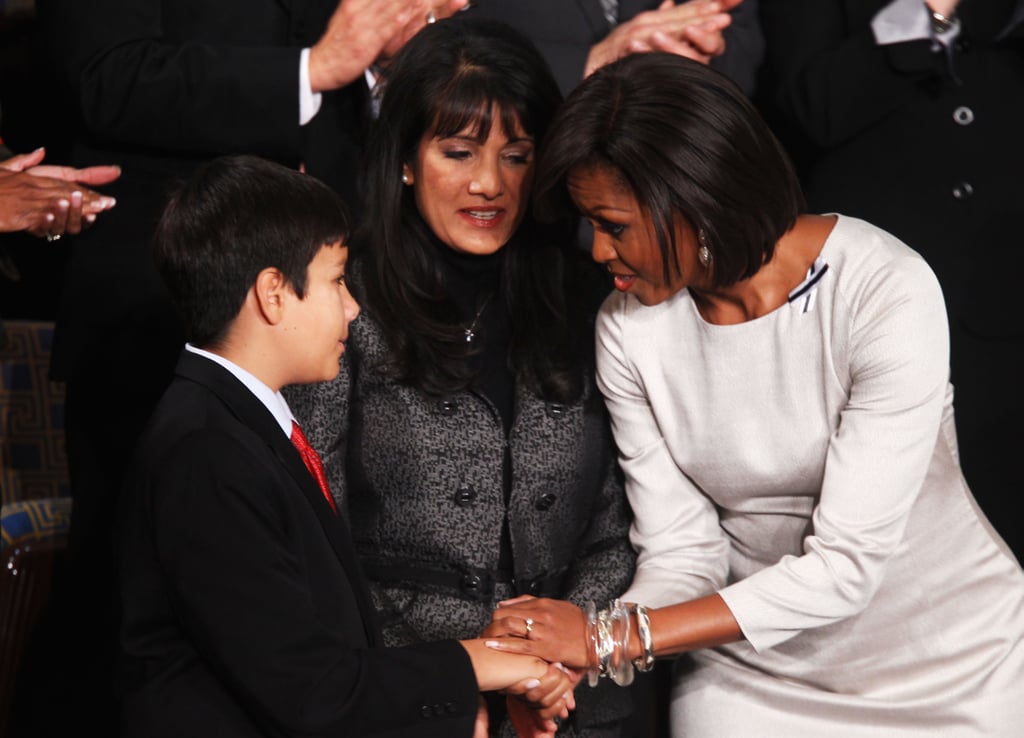 Michelle shared a moment with Dallas Green, Christina-Taylor's brother.
2010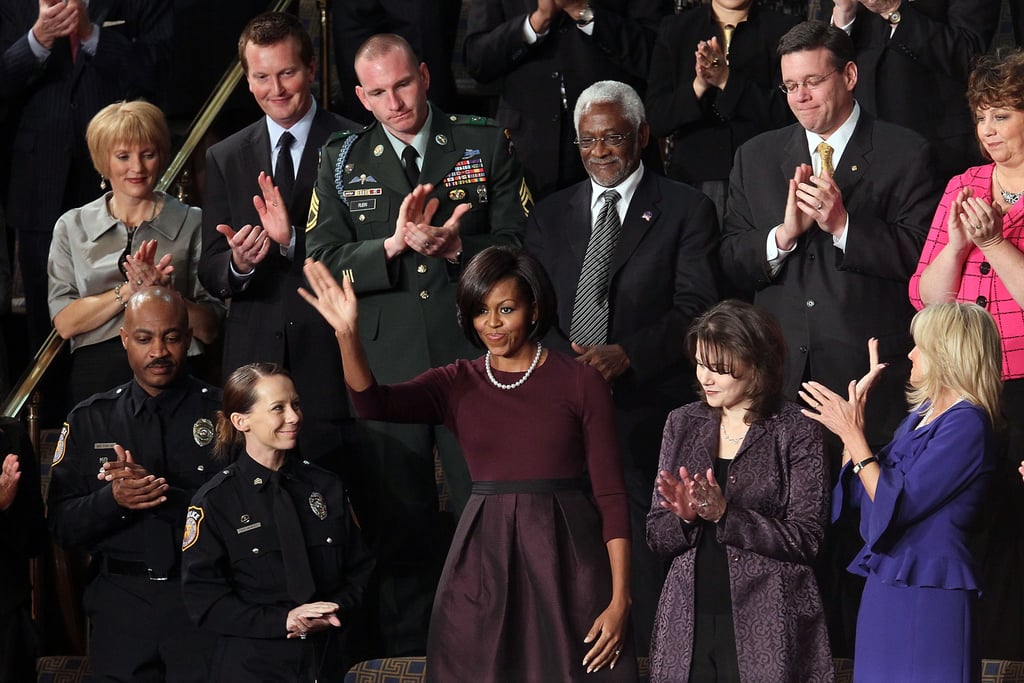 Obama's first official State of the Union took place in 2010, and Michelle's long guest list included the following:
Mark Todd and Kimberly Munley, both police officers
Mick Cornett, mayor of Oklahoma City
Jeffrey Brown, president and CEO of Brown's Super Stores, Inc.
A range of high school and college students who had benefited from government programs
Many of the guests had felt the positive effects of the Recovery Act, aka the stimulus bill.
2010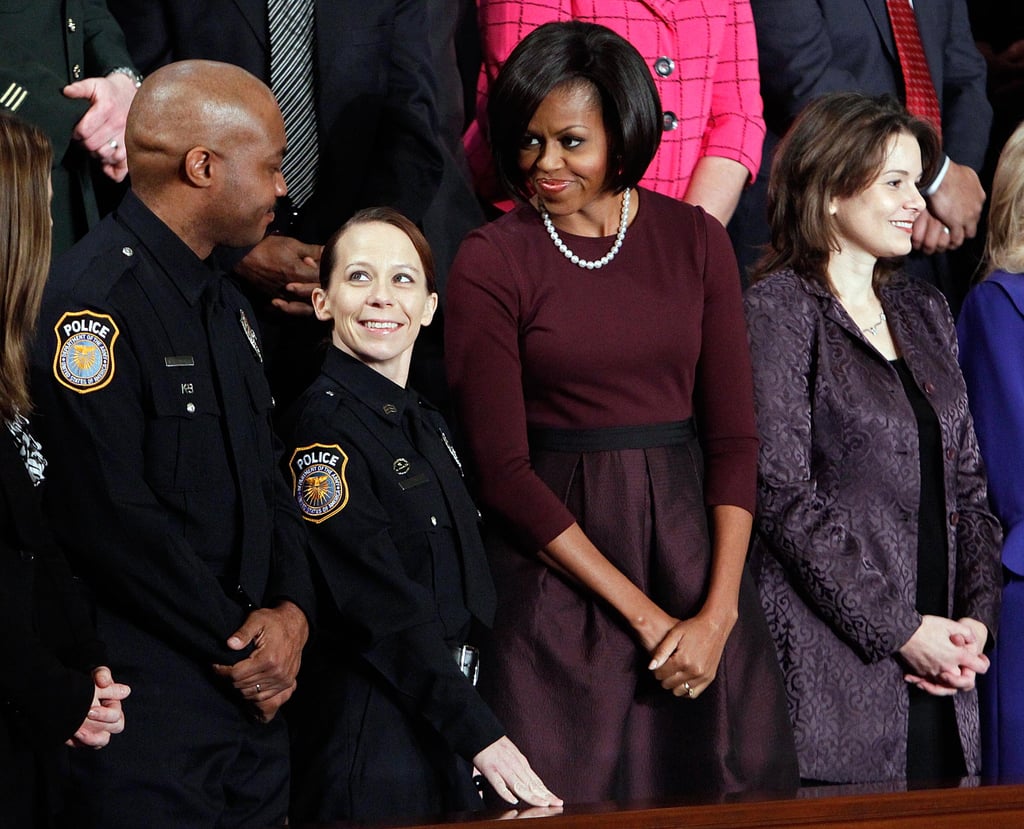 Michelle shared a moment with the two officers.
2009
While 2009 was not officially a State of the Union, since President Obama had not been in office for very long, he did address a joint session of Congress. This time, the newly minted first lady invited the following:
Lilly Ledbetter, the plaintiff in an employment discrimination case and namesake for the president's first piece of legislation, the Lilly Ledbetter Fair Pay Act
Ty'Sheoma Bethea of Dillon, an eighth grader from South Carolina who had written the president asking for help for her school
Leonard Abess, a bank executive who had given part of his fortune to his employees
Akrem Muzemil and Francisco Rodriguez, DC high school students
The guests reflected the president's message of recovery and fairness for the start of his presidency.
2009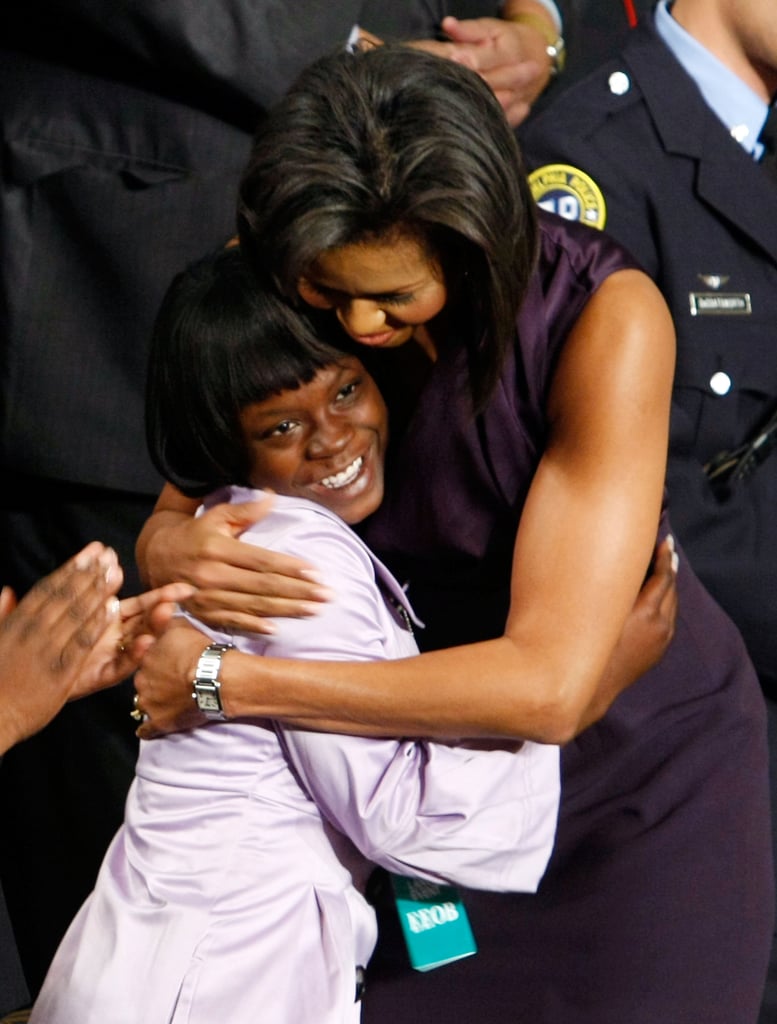 The first lady hugged Ty'Sheoma Bethea, who had never been on a plane before heading to DC for the big address.