Miley Cyrus [1] lit up a joint while accepting her award for best video at the MTV Europe Music Awards in Amsterdam on Sunday. She was given the honor (her first-ever EMA) for "Wrecking Ball" and wasn't shy about smoking on stage during her acceptance speech. Miley arrived in true Miley fashion for her night at the EMAs. She was clad in a revealing minidress — emblazoned with photos of Biggie and Tupac — and thigh-high Tom Ford boots for the red carpet before changing into a space-age, metallic silver dress to hit the stage. The singer successfully followed up her now-infamous MTV Video Music Awards performance with her intergalactic-inspired set, dancing with a group of little people while singing into a spaceship-shaped microphone. While she did twerk on some spooky space goblins, overall the performance was pretty tame. Miley later changed again, this time slipping into a white one-piece leotard to belt out "Wrecking Ball" in front of a video of her crying face. Miley could be giving fans a taste of what they can expect from her Bangerz tour, which kicks off [2] on Valentine's Day 2014.
Miley spent most of the past week in the Netherlands capital while gearing up for her EMAs gig and seemed to be, um, enjoying all that the city has to offer. She hung out at the cannabis cafe Greenhouse with Dutch DJ Afrojack after touching down last Sunday, and was spotted leaving the same spot with model Cara Delevingne on Friday night. Miley referred to Amsterdam as the "happiest place on Earth" in a recent Instagram snap [3] that she shared while relaxing in bed.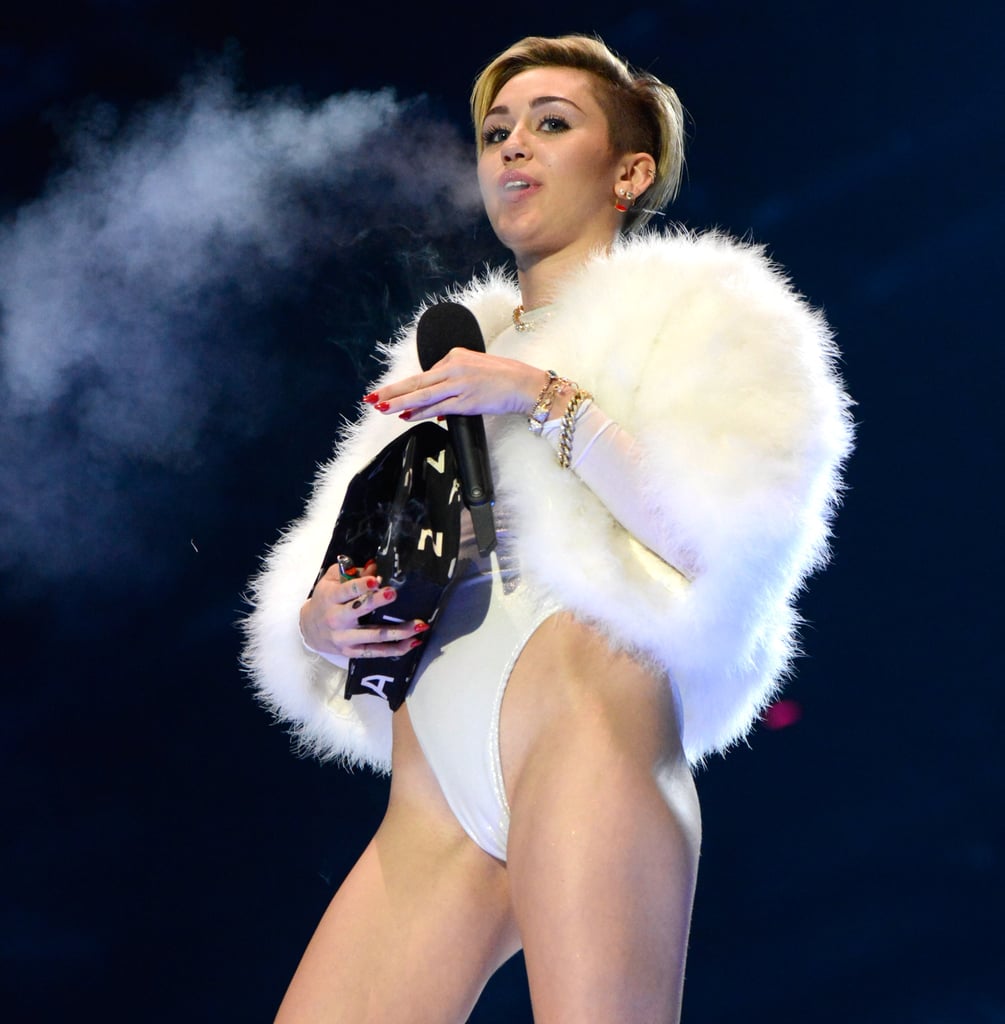 Miley Cyrus [4] rocked a risqué rap-inspired look at the MTV EMAs in Amsterdam.
Miley Cyrus [5] showed off her sexy MTV EMAs look.
Miley Cyrus [6] performed "Wrecking Ball" at the MTV EMAs.
Miley Cyrus [7] sported a space-age look for her "We Can't Stop" performance.
Miley Cyrus [8] wore a white leotard to perform "Wrecking Ball" at the MTV EMAs.
Miley Cyrus [9] twerked on stage during her opening performance.