Old-Fashioned Icebox Cake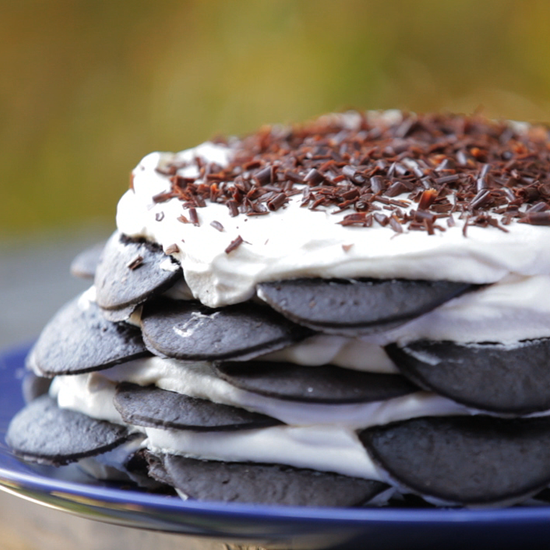 There's actually no cake at all in this icebox cake. Chocolate wafers soak up the moisture from whipped cream to create a soft, cake-like texture. Watch the video to see how it's done, and then print out the recipe.
View Transcript »
Transcript
The Icebox cake is the easiest no bake cake of all time. All you need is five simple ingredients. Three cups whipping cream. One tablespoon vanilla extract. Three tablespoons granulated sugar. One and a half boxes of chocolate wafers and one high quality dark chocolate bar. I am going to start by whipping my cream. I am going to combine my vanilla and my granulated sugar. And I'm just going to beat it in a stand mixer or hand mixer on high. You're looking for just a little bit of texture right there. See how it just sort of holds it's shape? Those are perfect soft peaks. I'm going to start with just a little bit of whipped cream to keep the cookies in place. I'm just going to smooth it into a round circle. Turn the plate and not the spatula so you can get a nice circular shape. I find that an offset spatula works really well for this. Allow about 3/4 of a cup for each layer of whipped cream. I'm gonna need 7 cookies for each layer. These chocolate wafer cookies can be hard to find, but I found them at a specialty grocery store. Check the ice cream aisle or the cookie aisle. Another thing to keep in mind is that these cookies break really easily. So I like to buy an extra box just to account for the extra breakage. Although the broken ones aren't a bad thing. They're perfect for dipping. So you start by placing the very center cookie in the middle and then I'm just gonna go around with the rest of my cookies. Now comes the next layer. This cake makes roughly six layers, with an extra layer of whipped cream on the bottom and another one on top, and don't forget when your icing to leave a little border so you can really let the cookies shine. This is my sixth and final layer. Now that I've used all of my cookies the top layer is just whipped cream. I am going to be extra generous here. The very last step is dark chocolate shavings. You can add as little or as many chocolate shavings as you want. And there you have it. Some recipes call for wrapping the icebox cake in plastic wrap, but since I don't want to ruin our gorgeous presentation, I'm going to use a cake caddy instead. Now this cake goes into the refrigerator for at least five hours but ideally overnight. Waiting is the hardest part. Unbelievable. For summer, you just can't beat it. Thanks for watching, and see you next time for another taste of YumSugar TV.