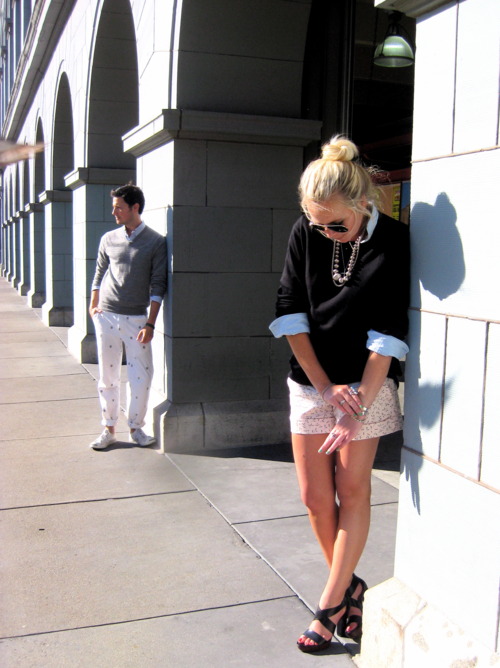 http://wearitbothways.tumblr.com/
Printed pants and shorts have been traipsing down runways for a handful of seasons now: this Spring Dries Van Noten showed exotic ethnic prints, Etro showed paisleys, and HIS + HERS showed accidental wine stains.  These days, however, this forward look has cracked through the 4th wall of the high fashion hierarchy and is landing on streets near you!  Sometimes it's amazing!  And 3 hours later we are still surfing the internet trying to find that exact pair of shorts (this is important, work e-mails can wait!).  But oftentimes, printed pants can go terribly, terribly wrong.  Pajamas at the office?  Keep your zoobas in the top drawer, here's how it can look super chic: 
1.  Use light grounds in your prints, they're easier to match.
2.  Keep your shirt pretty basic, this way you won't look like a magic eye.
3.  It's all about confidence.  Who wears the pants in this relationship?? YOU DO.
 HIS - Sweater: J Crew, Shirt: Club Monaco, Pants: Club Monaco, Shoes: Jack Purcell
HERS - Shorts: Club Monaco, Shirt: J Crew, Sweater: Banana Republic, Shoes: Nordstrom