Paleo Blueberry Crumble (Grain-free, refined sugar free)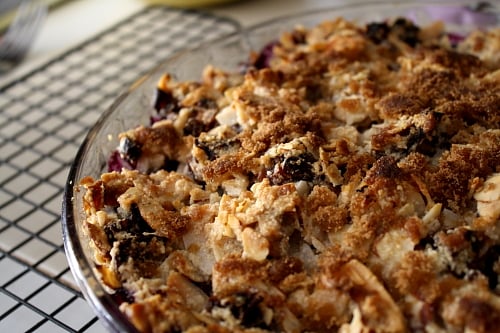 Blueberry Crumble
2 pints minus one handful of blueberries
1 Tbsp raw honey
1/4 tsp ground ginger
1 Tbsp arrowroot
3 Tbsp lemon juice (about 1/2 lemon)
1 cup almond flour
1 cup unsweetened coconut flakes
1/2 cup sliced almonds
5 Medjool dates
1 tsp cinnamon
1/2 cup coconut oil
Directions:
Preheat the oven to 375 F.
First, wash blueberries and extract a handful of blueberries from one of the pints. Shove this handful into pie hole. Add the remaining blueberries, lemon juice, honey arrowroot and ginger to a medium-sized mixing bowl and stir gently until the blueberries are covered.
Pour the blueberry mix into a glass baking dish– I used a pie pan and it worked wonderfully.
Pit and chop the dates into small pieces.
Combine all of the dry ingredients to another bowl– the almond flour, coconut flakes, sliced almonds, cinnamon and dates. Stir in the coconut oil–I like to soften it just a little before adding to give it that "crumble" texture.
Pour the crumble evenly over the blueberries and pop in the oven for 25 to 30 minutes– until the top is browned and the blueberries are bubbling.
Cool for 15 minutes to let the blueberries congeal a bit, and then serve!
For more pictures and info on this recipe, visit Frisky Lemon!