Paris Extends Herself To the Windy City
It's no secret that Paris is one of the many celebrities that sports hair extensions almost year-round. Now she's taken the wide world of processed hair one step further and is designing her own line called DreamCatchers. Paris spent the weekend in Chicago launching the product line, but it wasn't her first visit to the Midwest. In fact, she often frequents Chicago for the shopping and the... shopping. She said: "I love Chicago, I think it's great... Great shopping, it's a little cold. But, I've been here. I went to the Chicago Bears game and been to movie premieres here and come here for shopping."


Luckily Paris had these super long curls to keep her warm in the windy city. Paris is taking on Jessica in the fake hair department. We smell a QVC sales competition!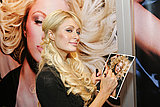 More pics of Paris signing autographs so just read more