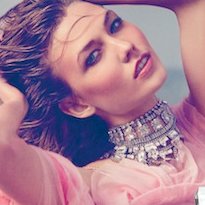 Your daily news roundup.
After hurting some men on the beach for Juicy Couture's Fall 2012 campaign, Karlie Kloss is showing her softer side as the face of the brand's new scent, Couture La La. [Fashionologie Inbox]
Speaking of Kloss, it seems she is dabbling in art, and Patrick Demarchelier is helping her. [NY Post]
Manolo Blahnik will be honored with a BFA Outstanding Achievement Award. [Vogue UK]
The latest photoshop fiasco comes courtesy of Vogue Spain. (NSFW) [FashionCopious]
Christian Louboutin's dream client? The pope. [WWD]
Cindy Crawford's latest cover for Shape is just as beautiful as the first. [Huffington Post]
Leandra Medine has released a line of hats with Gigi Burris. [Gigi Burris]
She may look exotic but Jacquelyn Jablonski is a Thanksgiving traditionalist. [Modelinia]
LVMH Group has pledged $1 million for Hurricane Sandy relief. [WWD]
Versace has launched a new online flagship store. [Fashionologie Inbox]
Talk about extreme fashion. Shawn Heinrichs photographed an underwater fashion shoot with an unusual costar: a whale shark. [GrindTV]
More women than ever are opting for foot surgery in order to be able to wear their favorite stilettos. [Styleite]
Rachel Zoe styled musical duo Karmin in her favorite pieces from the Coach holiday line. [Coach]
Those stories and more in our daily news roundup.
Photo: Models exit L'Wren Scott's Fall 2012 runway show.