Phillie's (Baseball) Themed Open House Shower
Phillie's (Baseball) Themed Open House Shower
My little sister is due with her first little one in a few months (a boy!) and requested a very large (65+ people) and very casual shower.  She's very down-to-earth and requested "real" food like Tomato Pie/Pizza and Soft Pretzels and no games/girly stuff for her special day.  She and the father are HUGE Philadelphia Phillie's fans (the nursery theme is "Vintage Phillies" and is in cream/burgundy), so we thought a Phillie's themed shower would provide the casual atmosphere that she wanted while still making it personal.
She knew the date of the shower, so the theme was the big surprise.  Here she is as she walked in (top left) and saw everything!  We had balloon centerpieces weighted in buckets of peanuts (right, and detail in lower left) and a "Souvenirs" table (which was actually a covered hot tub!) for the gifts (bottom center).
I photoshopped a recent photo of the parents-to-be into a photo of the Jumbotron and had it hanging on a gate as people walked in (top right).  I made logo cupcake toppers for the cupcakes and topped the cupcake stand with cut outs of the mom-to-be and dad-to-be playing baseball when they were little (middle).  I had "Team Photos" printed of each side's immediate family and hung them in the tents (bottom left).  On the right you see the favors-- Cracker Jacks in (Homemade) Logo Koozies displayed in our red wagon with a different Jumbotron photo thanking everyone for coming to the party.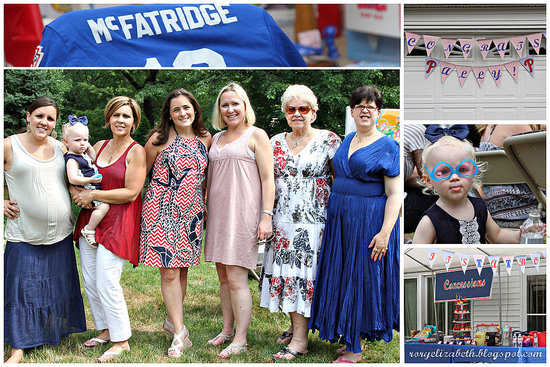 My Mom found some of my sister's old baseball jerseys and we displayed them on chairs (top left).  I had a pennant banner hanging on the front of the house to welcome guests (top right) and a similar one hanging over the "Concessions" tent (bottom right).  As food is not my forte, her in-laws created an amazing spread of the required tomato pie and soft pretzels, hot dogs, fruit kabobs, antipasta kabobs, southwest roll-ups, and hoagie trays.  We had a candy bar at the desert table with sunflower seeds, cotton candy, Baby Ruth bars, and Big League Chew.