The amfAR charity managed to get big names to come out in the NYC snow last night for its annual gala. The year's event honored longtime friend of the organization Natasha Richardson, whose mother Vanessa Redgrave posed with her sister Joely Richardson on the red carpet. Joining the women were other stars gearing up for Fashion Week, which starts today, like Mary-Kate Olsen, Ashley Olsen, and Zoe Saldana. Heidi Klum took time off from working on Germany's Next Top Model, while Chloe Sevigny enjoyed her second evening out in a row after Tuesday's party celebrating How to Make It in America's upcoming debut.
The gang was treated to a performance from Lady Gaga, who was back in top form wearing one of her typically eclectic costumes with pearls on her face. Right by Gaga's side was Cyndi Lauper, with both ladies enjoying some fun after their long day of interviews promoting their new lipsticks benefiting MAC's AIDS fund. Meryl Streep also took the stage to address a crowd that included Eliza Dushku and Rick Fox. The party was all about philanthropy, but there were good times to be had for Heidi Klum, Michael Kors, Zoe Kravitz, and Doutzen Kroes.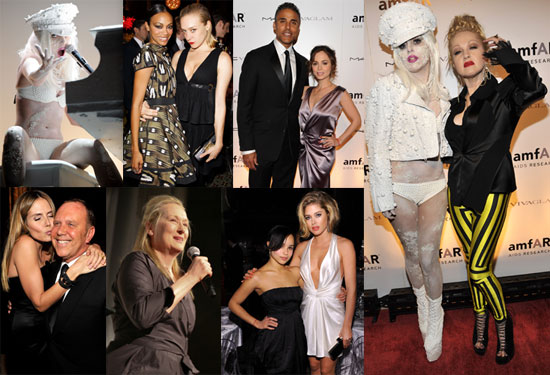 To see more from the bash, just read more.
Images include: Ashley Olsen, Mary-Kate Olsen, Heidi Klum, Brooke Shields, Julia Stiles, Julianna Margulies, Zoe Saldana, Meryl Streep, Sigourney Weaver, Chloe Sevigny, Christian Siriano, Cyndi Lauper, Lady Gaga, Zoe Kravitz, Vanessa Redgrave, Joely Richardson, Michael Kors, Kenneth Cole, Stanley Tucci, Lorraine Schwartz, Doutzen Kroes, Karolina Kurkova, Cynthia Nixon, Paulina Porizkova, Eliza Dushku, Rick Fox